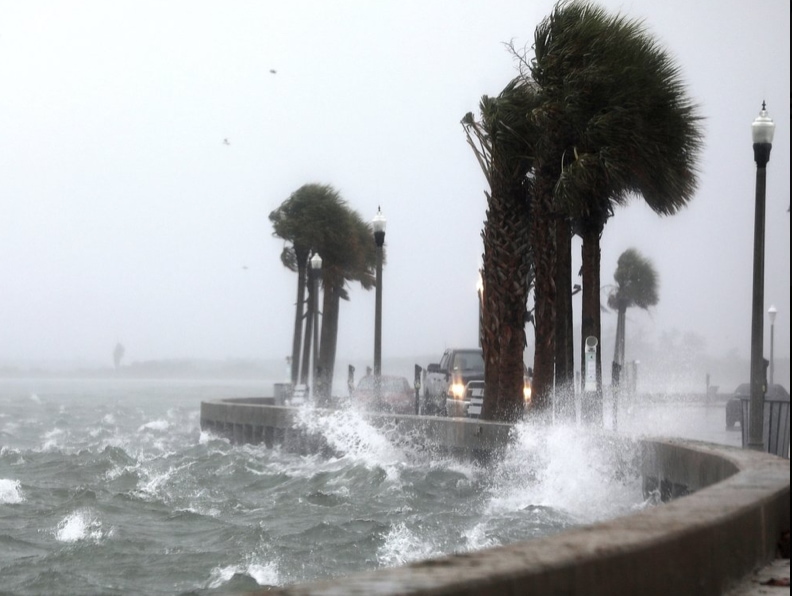 Tropical Storm Eta set for landfall early Thursday.
Tropical Storm Eta's projected path nudged a little southward Wednesday afternoon, adjusting the aim for an early Thursday morning landfall in either Levy or Citrus counties.
The storm's maximum sustained winds remained in the range of 70 mph, slightly below hurricane level in the 4 p.m. advisory, from the National Hurricane Center reported that Eta's wind speeds decreased to 70 mph. That compared with the hurricane-strength 75 mph recorded late morning.
As the storm crept along through the Gulf of Mexico, it lashed Florida's west coast, including Tampa Bay, home too 3.5 million people across five coastal.
No mandatory evacuations were immediately ordered but authorities began opening shelters for anyone needing them. No serious damage or flooding was immediately reported.
Tampa Mayor Jane Castor said special care is taken at shelters to protect people from the coronavirus, such as social distancing, and suggested people bring their own masks.
"Everything will be done to make sure all of our residents are safe," Castor said.
The forecast prompted school officials in Pinellas and Pasco counties to send students home early Wednesday. Both counties announced schools would remain closed Thursday, as did neighboring Hillsborough County.
The Florida Highway Patrol closed the Sunshine Skyway Bridge that links Pinellas and Manatee counties because of high winds. Tampa International Airport tweeted that it would suspend operations at 3 p.m. Wednesday.
In Pasco County, officials set up four do-it-yourself locations for people to fill sandbags. In Tampa, the Busch Gardens theme park announced it was closed Wednesday and several Veterans Day events in the area were canceled.
Florida Gov. Ron DeSantis issued an expanded emergency declaration to include 13 counties along or near the Gulf coast, adding them to South Florida counties. DeSantis also asked for an early emergency order from the Federal Emergency Management Agency to free resources needed to tackle the storm.
A coronavirus testing site at Tropicana Field was also closed Wednesday.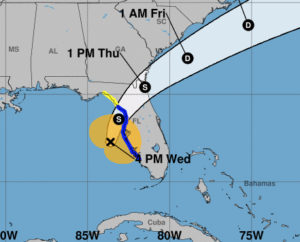 Tropical Storm Eta is projected to make its second Florida landfall in around Levy or Citrus counties early Thursday. From there it is likely to track quickly across north Florida and exit as a tropical depression into the Atlantic Ocean north of Jacksonville.
The NHC continued its storm surge warning for the Florida west coast  from Suwannee River to Bonita Beach, including Tampa Bay and  Charlotte Harbor. That remains. A storm surge warning means there is a danger of life-threatening inundation, from rising water moving inland from the coastline, in this case within 24 hours.
A tropical storm warning remained in effect from Bonita Beach to the Suwannee River. Tropical-storm-force winds extend outward up to 115 miles from Eta's center.
A tropical storm watch was in effect from the Suwannee River to Aucilla River Florida, for 48 hours.
At 4 p.m. Wednesday Eta was centered 85 miles southwest of Tampa.
The storm had a maximum sustained wind of 70 mph and was moving north-northeast at 12 mph. The central pressures measured at  990 millibars.
Eta comes as the 28th named storm in the historic 2020 Atlantic hurricane season. Notably, it was the first to make landfall in Florida.
____
The Associated Press contributed to this report.