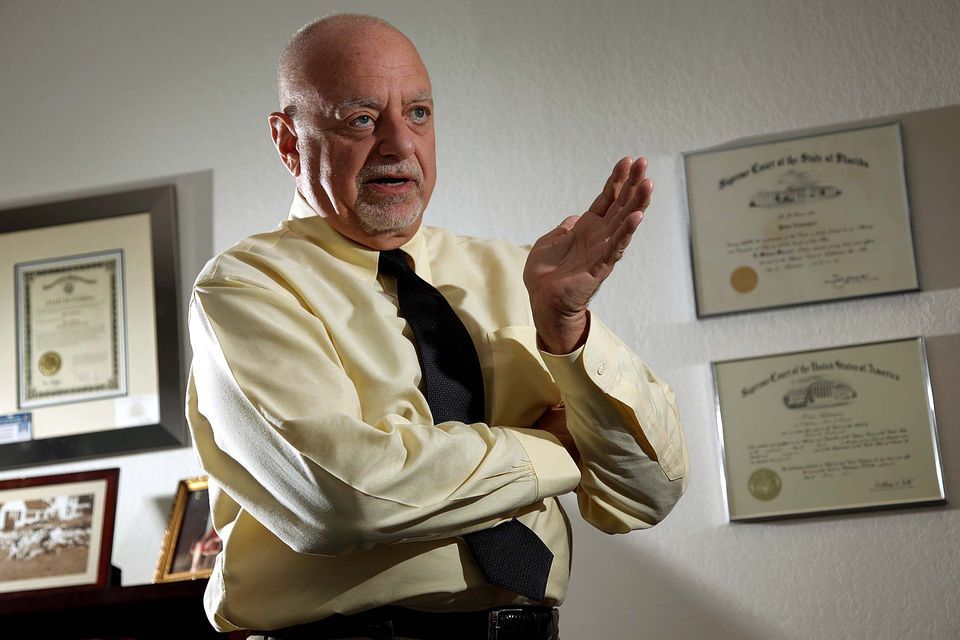 The perennial government official landed a new position Tuesday.
Broward County Supervisor of Elections Pete Antonacci has been selected chief judge of the state Division of Administrative Hearings after the Florida Cabinet's 3-1 vote Tuesday.
After lengthy testimony from the field of applicants, Gov. Ron DeSantis, Attorney General Ashley Moody and Chief Financial Officer Jimmy Patronis voted in favor. Agriculture Commissioner Nikki Fried, the sole Democrat on the panel, cast the lone vote against him.
"This is a legal position, and it's also an administrative position, and I think it's really important to have somebody there who is going to run it in a really effective way," DeSantis said.
Broward County's quick turnaround on Election Night was impressive, the Governor added, crediting Antonacci's experience for the smooth evening.
"I think Broward posted their vote at like 7:30, and I had never seen that before, so congratulations," DeSantis said.
Antonacci was named Broward County Elections Supervisor in 2018 by then-Gov. Rick Scott and has held a series of high-level jobs, including Palm Beach County State Attorney, General Counsel to Scott and Executive Director of the South Florida Water Management District. Democrat Joe Scott will be sworn in as the next Broward County Supervisor of Elections after securing the post in the November election.
Antonacci oversaw the 2020 election cycle but opted against running for a full term in the role.
"All of these experiences have given me the opportunity to see government operate around the state, and we have an enormous state, and there are very few people in the state that appreciate that, how big and complex our state is," Antonacci told the Cabinet.
The chief judge job opened when John MacIver, an ally of DeSantis, stepped down in June after the Florida Senate did not confirm his appointment during this spring's legislative session. MacIver now serves as Patronis' General Counsel.
MacIver's resignation also followed a controversy in which Administrative Law Judge John Van Laningham, another applicant for the chief judge role, received a five-day unpaid suspension this spring after he accused MacIver of making what are known as improper ex parte communications when reviewing an order in a case about a South Florida horse track.
DOAH typically plays a low-profile yet critical role in deciding cases involving government agencies. Administrative law judges, who have employment rights similar to other state workers, oversee cases ranging from detailed disputes about state awards of multimillion-dollar contracts and regulatory decisions to challenges over sanctions on barbers.
Along with Antonacci and Van Laningham, other applicants included Administrative Law Judges Mary Li Creasy and J. Bruce Culpepper; Tallahassee lawyer Colin Mark Roopnarine, former general counsel to the Florida Office of Financial Regulation; Patrick Wheeler, a staff attorney at the Florida Supreme Court; and Tom Thomas, deputy general counsel at the Florida Department of Business and Professional Regulation, according to resumes posted on the Cabinet website.
Other candidates were James D. Molenaar, a lawyer who previously worked for Collier County Clerk of Clerk Crystal Kinzal; Jacksonville lawyer Anthony Paul Penoso and Winter Park lawyer Elizabeth Renee Dilts.
"This appointment is basically a mulligan," DeSantis said. "We did this, and I think we had two people. Nothing against them, but I think clearly we've got a lot of really qualified applicants this time."
___
The News Service of Florida contributed to this post.