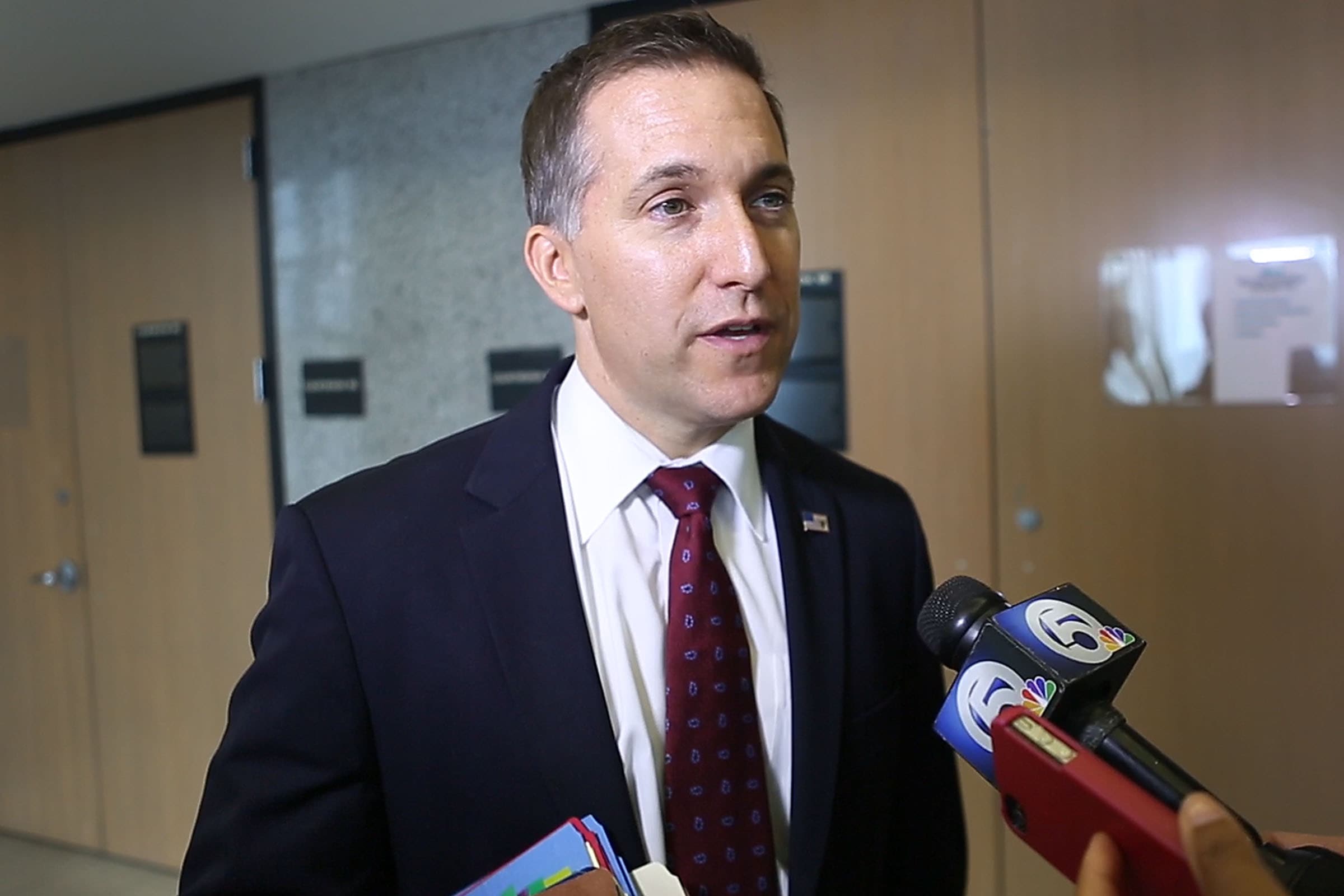 Panel rejects Dave Aronberg's, Sherry Plymale's complaints against 'write-in loophole' candidates.
Here's the 2020 election scoreboard so far in Commission on Ethics battles involving crusaders trying to go after what they call "sham" write-in candidates whose appearances close primaries.
Write-in candidates: 4; Dave Aronberg and Sherry Plymale: 0.
Aronberg is the Democratic Palm Beach County State Attorney who has been attacking a "write-in candidate" loophole in Florida elections law since he was in the Florida Senate more than a decade ago. Plymale is the Palm City Republican who, as a member of the 2018 Constitution Revision Commission, proposed a constitutional amendment to close the loophole.
Aronberg's best legislative effort was struck down in court. The commission rejected Plymale's proposal.
Since 1998, if the only candidates for an office are of the same party, the Primary Election for them is opened to all voters, as a de facto General Election for that office. Yet if a write-in candidate gets qualified for the November General Election, primaries remain closed to all but the one party's voters. So independent voters and other parties' voters only get to vote in November, when there really is no contest; write-in candidates normally have zero chances in General Elections.
In the past couple of election cycles, Aronberg and Plymale have been trying to hold accountable the write-in candidates they call "sham" candidates, whose candidacies appear to be arranged by party operatives in order to shut out non-party voters.
The pair file complaints against people of either major party who file, usually on the last day of qualifying, to run as write-in candidates in elections where only one party has qualified candidates. What the pair look for are write-in candidates' failures to comply with the details of financial disclosure laws, common problems for candidates who aren't serious enough to make such public disclosures.
"We want to impose repercussions. We want these people to know that they would not be allowed any longer to hide beneath their promised anonymity after disenfranchising thousands and thousands of Florida voters," Aronberg said. "So we target these sham candidates if they mislead the public on their financial disclosure forms. And we do it on both sides of the aisle."
For the 2018 election, the commission found three such write-ins targeted by Aronberg and Plymale had violated Florida elections laws and fined the candidates.
This year, zero out of four, so far, earned such sanctions after the commission heard their cases.
That includes Tyler Adam Groves, a substitute teacher who lives in Bradford County who filed to run as a write-in candidate for Clay County Superintendent of Schools. At its Dec. 4 meeting, the Commission on Ethics concluded there was probable cause that he filed inaccurate disclosures. But then the commission essentially let it slide, citing the "totality of facts and law" while deciding to take no further action.
"This person disqualified thousands of voters in Clay County, even though he lives in Bradford County. He misrepresented his finances on his disclosure forms, and he will receive no sanction for any of it," Aronberg said.
Reached by phone Wednesday, Groves insisted he was not a sham candidate. He said that he had no idea when he filed that his candidacy would create a closed, Republican-only primary. He said he ran for the experience, and said he learned a lot. He did, however, acknowledge he ran in Clay even though he lived in Bradford.
He characterized his financial disclosure errors essentially as rookie mistakes — such as rounding numbers or neglecting to check a box — made by someone who tried to fill out the forms himself without a lawyer or accountant. He filed an amended disclosure, on Dec. 3, the day before the hearing.
Meanwhile, Interim Clay County Schools Superintendent David Broskie, a former high school principal who had been appointed to that open superintendent post by Gov. Ron Desantis earlier in the year, defeated two former superintendents, Charlie Van Zant and Ann Wiggins, in a high-stakes, high-profile, yet closed Aug. 18 Republican primary. The General Election became a rubber stamp for his election, with Broskie taking 97% of the vote.
The commission found no probable cause against write-in candidates in three other cases opened because of complaints from Aronberg and Plymale: Kristen Nicole Harmon who ran for the County Commission in Lake County, Rhonda Renee Buice who ran for the County Commission in Palm Beach County, and Thomas H. Platt who ran for Tax Collector in Clay County.
In all three cases, the commission's advocate, based on staff investigation, recommended that probable cause existed for the commission to find that elections laws were violated. But early on, those candidates filed amended disclosures taking care of the paperwork problems. Aronberg said the amendments came only after they learned of the complaints. The commission concluded those amendments were satisfactory, ultimately found no probable cause that laws were violated, and dismissed the cases.
Harmon said she filed her amendment before the primary.
"There was no wrongdoing. It was a simple mistake on the form. I am proud to have run even though I did not win," she said in an email.
The weakness in Aronberg and Plymale's strategy is that they can only complain about paperwork problems, which can look petty. They cannot seek sanctions for what they truly charge, that the write-ins are not legitimate candidates, but shams whom both Republicans and Democrats plant to disrupt elections. Even if a candidate were to admit to such, it is not illegal in Florida. For that, Aronberg said he hopes his and Plymale's crusade continues to focus public attention on the practice until there is pressure to change the law, or at least to discourage the practice by making ethics complaints loom over them.
Aronberg said he was disappointed by how the commission was presented with recommendations of probable cause but then dismissed them.
"There's no penalty for it, other than having to deal with the hassle of an ethics complaint," he said. "Hopefully the court of public opinion will remember his (Groves') candidacy for what it was, a sham that suppressed the vote."
Are more cases to come from the 2020 elections? Florida law does not allow disclosure of other complaints until the commission hears them.
"These are the ones I'm allowed to discuss," Aronberg said of the four.