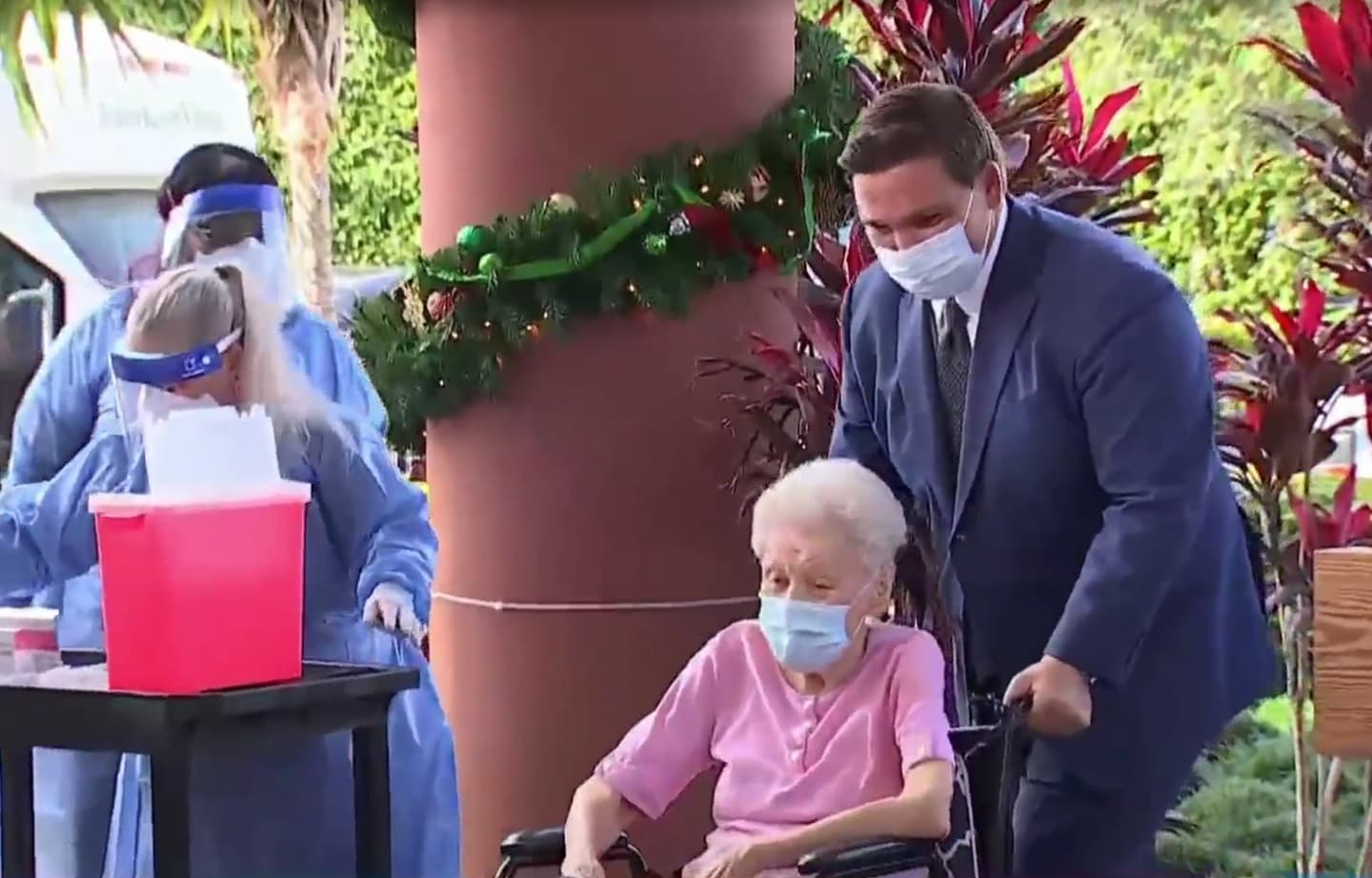 Strike teams are administering 21,450 doses split between Broward and Pinellas counties.
Florida didn't want to wait until Monday to start vaccinating nursing home residents against COVID-19, so state health officials began administering the vaccine Wednesday.
Walgreens and CVS have contracted with the federal government and will handle 60,000 doses in Florida, which could last the state a week to 10 days. But Gov. Ron DeSantis told reporters outside John Knox Village in Pompano Beach that time is of the essence.
"We're not waiting. We cannot just wait 'till Monday," the Governor said. "We've got to use what we have, and we're going to continue in that mission until the job is done."
Instead, he asked the Department of Health and the Division of Emergency Management to assemble strike teams, which have started vaccinating long-term care facility staff and residents with 21,450 Pfizer vaccine doses split between Broward and Pinellas counties. In those counties with a high concentration of nursing homes, strike teams are entering 112 facilities, and six nursing homes in Miami-Dade County will begin providing vaccines themselves.
"We wanted to cut through bureaucracy, we didn't want to see delays, we didn't want the entire fortunes to be in the hands of what those companies did," DeSantis said.
That makes Florida the first state to administer vaccines in long-term care facilities, the Governor relayed from Army Gen. Gustave Perna, chief operating officer for the federal government's Operation Warp Speed.
Hospitals began vaccinating health care workers with the Pfizer vaccine Monday in the first phase of the nationwide distribution. The U.S. Food and Drug Administration is expected to approve the Moderna vaccine this week, and 367,000 of those vaccines could be in 181 of the state's hospitals by next week.
Vaccinating frontline health care workers is an attempt to keep hospitals operating at full capacity as the nation faces a surge in cases expected to worsen over the holidays. But hospital staff typically aren't in high-risk demographics for severe outcomes, including the elderly and people with heart conditions.
Giving the vaccine instead to people who are susceptible to negative outcomes would allow them to return to a sense of normalcy and improve their quality of life, DeSantis said.
Division of Emergency Management Director Jared Moskowitz added that the coronavirus wasn't the only pandemic to strike long-term care facilities.
"It was isolation, it was being disconnected from their family members, it was not being able to have visitors," Moskowitz said. "This is the beginning of the end to all of that for all of these people who've had to suffer with being alone and the mental health impacts of that in their elder years."
Strike team members gave Vera Leip, a former school teacher from Ferguson, Missouri, a shot at the end of the press conference. With DeSantis looking on and offering an encouraging "let's let her rip," she became one of several nursing home residents to receive the vaccine Wednesday.
With the shot administered, DeSantis stepped in to push Leip and her wheelchair back inside without fielding questions from reporters.
"I'll do it. I'll do the honors."