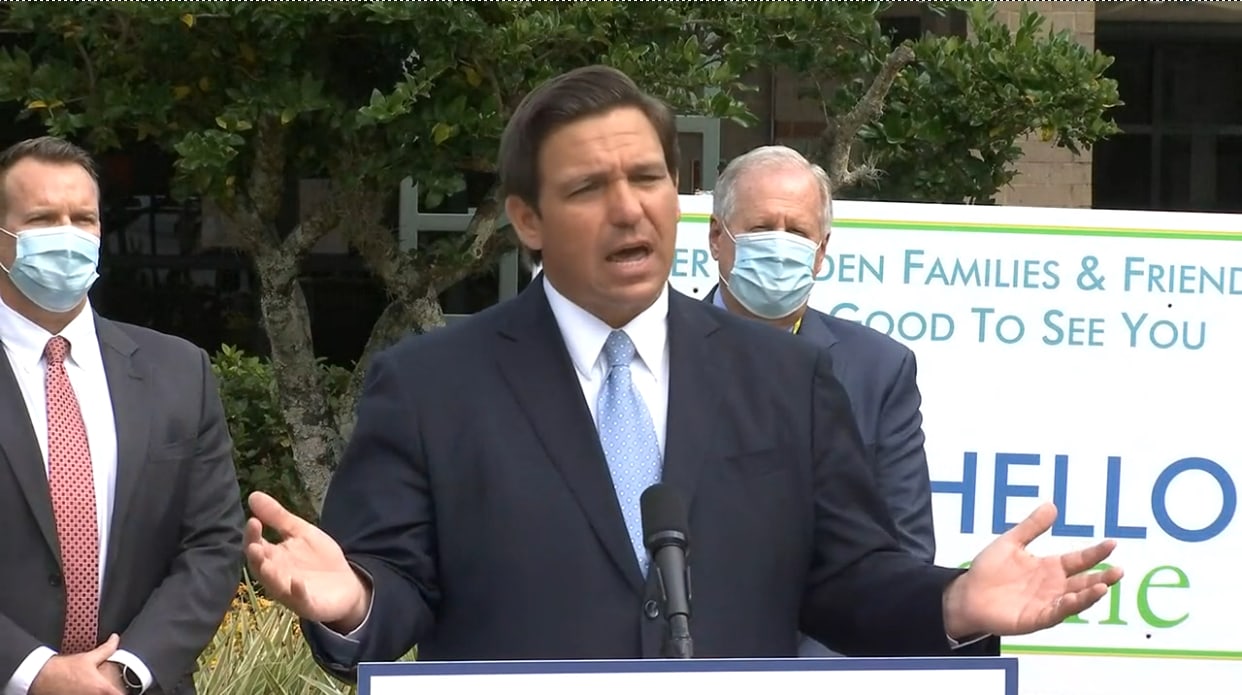 The Trump administration did have a rollout plan, the Governor says.
Democrats have politicized the vaccine rollout since President Joe Biden assumed office, Gov. Ron DeSantis suggested Monday.
During a press conference in The Villages, the Governor continued making thinly veiled attacks at the new administration, which he began before Biden was inaugurated.
Florida is prioritizing vaccinating people 65 and older, and DeSantis has made a point of the state's success so far in that cohort. More than 1.2 million of the state's nearly 4.5 million residents in that age group have received at least one COVID-19 shot, a share the Governor touts as a success.
"Our goal is putting 'Seniors First,' and that means putting seniors ahead of politics," DeSantis said. "What I've seen since January 20th is too much politics thrust into the COVID response."
Biden took office on Jan. 20. Since then, CNN and other outlets have reported that his administration inherited no rollout plan from Donald  Trump's administration, crediting sources close to the Biden administration's work.
"When they're saying that there was no plan for vaccine distribution by the federal government, that's just factually false," DeSantis retorted. "I had meetings with governors, conference calls, I met with Warp Speed multiple times in the White House."
The Governor's latest volley comes a week after White House Press Secretary Jen Psaki said Florida has used only half of its available vaccine doses. That elicited counters from a spokeswoman for the Governor, who called the claim "misinformation," and the Governor himself, who called it "disingenuous."
Attacks on Trump and his administration have continued, and he will remain in the national spotlight as his impeachment trial begins next week.
"I understand it was a campaign. Campaign's over, and now let's just focus on putting seniors first regardless of policy or regardless of politics or regardless of party," DeSantis said of recent attacks against the Trump administration's vaccine rollout.
DeSantis has long criticized Biden, but tension heated up even more the day before the President took office, when DeSantis critiqued the incoming administration's plan to use "FEMA camps" to distribute the vaccine. The federal government should instead focus its effort on increasing doses, DeSantis argued.
However, the Governor relented slightly against Biden's plans to involve the Federal Emergency Management Agency and the National Guard to hasten the vaccine rollout.
"If the choice is, 'Hey, we have 50,000 doses for you, but you only get it if we administer it,' then I'll say, go ahead and do it," he said.