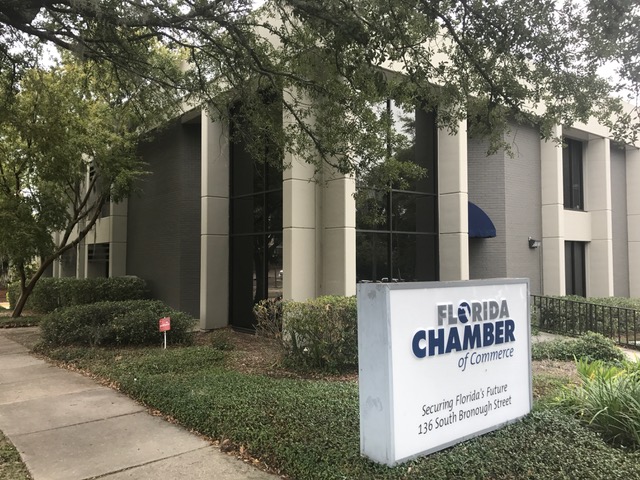 The Chamber also wants infrastructure, education and tourism investments.
The Florida Chamber of Commerce will spend the 2021 Legislative Session advocating for COVID-19 liability protections and online sales tax reform as well as "key investments" to boost the economy over the long-term.
The organization detailed its 2021 priority list Tuesday and said passing liability protections, in particular, was imperative for the state's economic recovery.
"Personal injury trial lawyers are planning to make this already formidable challenge even more wrought with uncertainty by using the pandemic as a reason to sue local businesses," said Chas Bailes, the CEO of ABC Fine Wine & Spirits and Chair of the Florida Chamber Policy Council.
"Most all local businesses, and the Floridians that we employ, are working hard to follow the most recent guidance from public health officials and keep our employees and customers safe. Many of these lawsuits will be frivolous and not intended to ever go to trial, while putting local businesses in a position of absorbing costs that they cannot afford.
Bailes said the Chamber wants "timely, targeted and temporary" protections, not "blanket immunity" and cited a recent poll showing broad support for the protections among Florida voters.
The Legislature has fast-tracked the bills (HB 7 and SB 72), and Bailes said he appreciates the "sense of urgency" from Senate President Wilton Simpson and House Speaker Chris Sprowls.
Online sales tax collections may be a tougher sell, with opponents — including some lawmakers — labeling it as a tax increase. But Debbie Harvey, the President and COO of Ron Jon Surf Shop, said it was a matter of "leveling the playing field" for brick and mortars.
"Florida is one of only two states that do not require out-of-state vendors to collect online sales tax at the time of purchase. It is extremely important to Florida businesses to level the playing field for those of us with physical presence in Florida and who employ Floridians," said Harvey, who is also a past Chair of the Florida Chamber's Small Business Council.
The Senate has been more amenable to the so-called "e-fairness" legislation In the lead-up to the Legislative Session, with a bill sponsored by Sen. Joe Gruters (SB 50) already clearing its first committee. The House companion (HB 15) has yet to receive a hearing, however.
Florida Chamber President and CEO Mark Wilson reiterated the need for liability protections and sales tax modernization, but he said lawmakers needs to focus on the long-term when crafting the state budget.
To the Chamber, that means investing in infrastructure, education and tourism marketing.
"Florida expects to have about 4 million more residents over the next decade. That means more drivers on our roads. That means we have to move things around. We have to move people around. We're going to have a lot more visitors 10 years from now than we did 10 years ago. And that means we have to get infrastructure right," he said.
On education, the Chamber wants policies to ensure the future workforce "meets the needs of Florida's employers."
"We'll work with the Legislature to continue to pursue legislation that will incentivize high-value credentials, targeted degrees and certifications with a goal of upskilling unemployed Floridians so that over the next 12 to 18 months, as our economy recovers and rebounds, the business community will, in fact, have America's best talent," he said.
Finally, he stressed the need for continued tourism marketing funding, asserting there is a "pent up demand" to travel among domestic and international tourists alike and Florida stands to benefit.
"The Florida Chamber knows that $1 of taxpayer investment in VISIT FLORIDA, taxpayers get a $3.15 return," he said, adding that VISIT FLORIDA head Dana Young is doing a "great job" leading the tourism marketing arm.