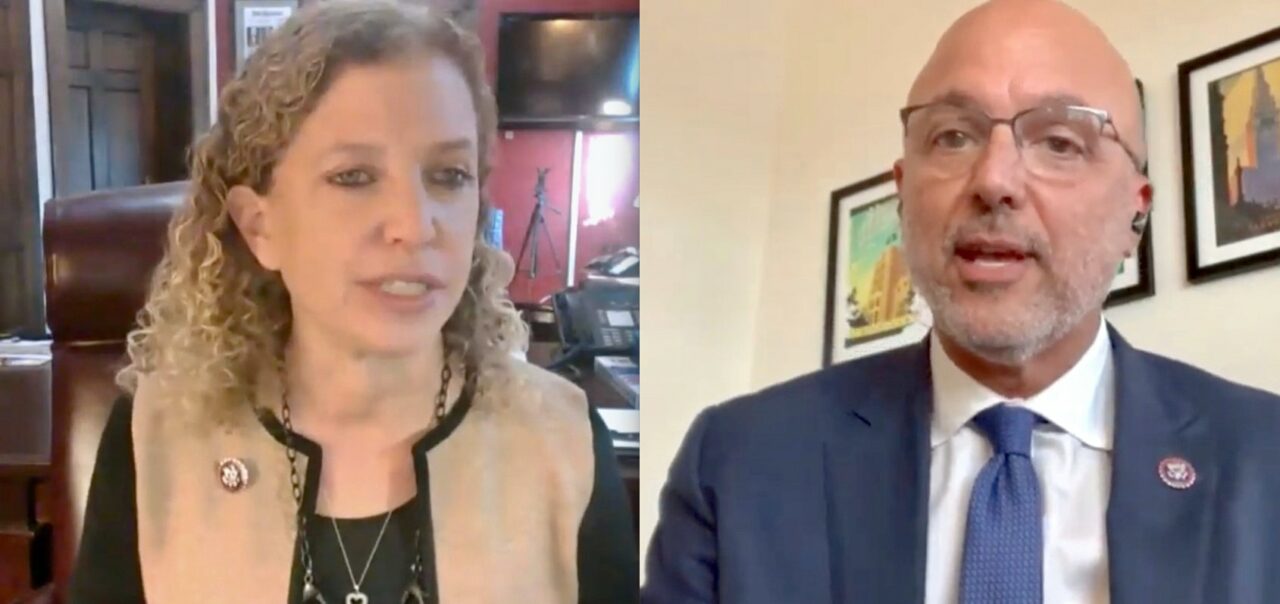 Taylor Greene received little help from her fellow Republicans.
U.S. Rep. Ted Deutch condemned Republican colleague Rep. Marjorie Taylor Greene as "harmful and dangerous" and U.S. Rep. Debbie Wasserman Schultz called her a "clear and present danger to our democracy" in leading Democrats' effort to strip the Georgia Republican of her committee assignments Wednesday.
Deutch, of Boca Raton, and Wasserman Schultz, of Weston, were the principal witnesses against Greene during Wednesday's House Rules Committee hearing on Wasserman Schultz's resolution. That measure calls for Greene to be removed from the House Budget and Education and Labor committees.
The House Rules Committee Wednesday approved HR 72 Wednesday afternoon, sending it to the floor for debate and a final vote Thursday by the full House.
Greene's actions prior to entering Congress last month ranged from stalking and harassing a teenage survivor of the Parkland massacre, which she contended was faked with "crisis actors" to justify gun control legislation; to promoting calls for the assassination of key Democrats including former President Barack Obama and House Speaker Nancy Pelosi; to supporting notions that the California wildfires were started by lasers put in space by Jews; to calling for a right-wing insurrection of Congress, which then actually occurred on Jan. 6.
"It is important for this committee to remember why Ms. Greene's conduct is so harmful and so very, very dangerous. Ms. Greene peddles conspiracy theories that radicalize people online. These theories aren't just deluded. They also advocate violence. They promote harassment. They dehumanize and devalue large swaths of our population based on race and on faith," Deutch said in his testimony on HR 72.
Deutch chairs the House Ethics Committee, which could not handle the matter, because it is not yet organized, because Republican leadership has not yet appointed members to the committee. His district includes the Parkland site of the mass murder at Marjory Stoneman Douglas High School.
"Ms. Greene is now a member of Congress, one who has publicly expounded, publicly expounded, racist, anti-Semitic, Islamaphobic garbage, has harassed survivors of mass shootings, denied their very occurrence," Deutch added.
Wasserman Schultz's district is adjacent to Parkland. She and Deutch have been leading critics of Greene.
"Unprecedented action by a Member of Congress, which this certainly is, requires — necessitates — an unprecedented response," Wasserman Schultz said.
"Confronted with her statements and actions in recent weeks, as a sitting member of this body — since she joined this Congress — Congresswoman Greene has expressed no remorse. None," Wasserman Schultz said. "She remains a clear and present danger to our Democracy."
Greene received little defense during Wednesday's committee meeting, except for from Texas Republican Rep. Michael Burgess, who falsely claimed that Greene has apologized for her comments and actions, and so should be accepted.
Even Rules Committee Republican Ranking Member Rep. Tom Cole of Oklahoma called Greene's comments and actions "absolutely repugnant" and "unbecoming" of a member of Congress.
Instead, Cole and other Republicans tried to attack the process that had Democrats using the Rules Committee to remove a Republican from committee assignments. They also contended that Congress could not hold Greene accountable for things she said and did before she entered Congress.
"I do worry about the precedent," Cole said.
Republican Rep. Jackie Walorski, of Indiana, the ranking member of the Ethics Committee, called HR 72 and the Democrats' desire to punish Greene "a power grab."
Rules Committee Chair Rep. Jim McGovern, a Massachusetts Democrat, responded to that, and to other Republican complaints, by blaming Republican leadership for not dealing with Greene themselves. The House cannot afford to do nothing, he insisted.
"To have people in our midst advocate for violence, to advocate for assassinations, I think what we are doing here is a minimum we should be doing," McGovern said. "I personally think she should resign. I don't think she is fit to serve in this institution."