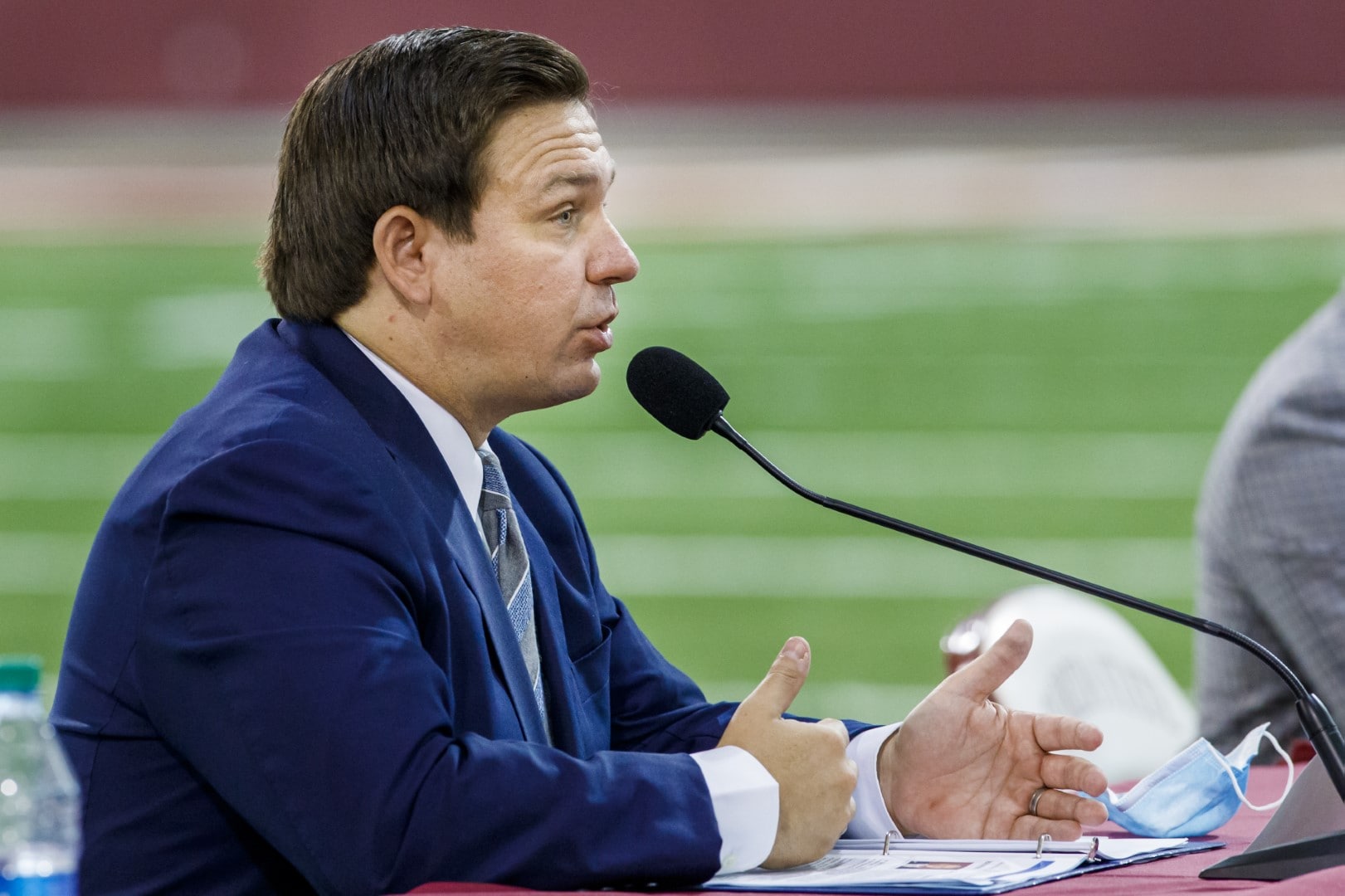 Tough words in Port Charlotte.
Florida's Governor blasted as "unconstitutional" a trial balloon floated from the Joe Biden administration that would see domestic travel restrictions imposed on the state, setting up a day of what would be aggressive messaging and fundraising appeals to his base.
"Any attempt to restrict or lockdown Florida by the federal government would be an attack on our state, done purely for political purposes," Gov. Ron DeSantis said in Port Charlotte Thursday morning, leading off a news conference with a warlike speech aimed at some reported considerations from the Biden administration.
The Governor added that "if anyone tries to harm Floridians or target us, we will respond very swiftly," wrapping up nearly four minutes of remarks alternating between the defense of the state's coronavirus record and seeming anticipation of a confrontation with the Democratic presidential administration.
DeSantis was referring to a Miami Herald report, in which Biden White House members mulled what DeSantis called "some type of travel restrictions on Americans and on Floridians." The concern is the B.1.1.7 strain of COVID-19, of which Florida has the most cases of any state.
The Governor was not sold.
"I think it's an absurd report that they are thinking about doing that. It would be unconstitutional. It would be unwise. And it would be unjust," DeSantis decried, before serving up a slab of red meat for Fox News and the rest of the national conservative media.
"And if you think about it, restricting the right of Americans to travel freely throughout our country, while illegal aliens pour across the southern border unmolested, would be a ridiculous, but very damaging, farce. So we will oppose it 100%," DeSantis added. "It would not be based in science. It would be a political attack against the people of Florida."
"It's unclear why they would even try talking about that," DeSantis said, noting Florida is middle of the pack in caseload and hospitalizations, with "much worse COVID results" in over half the country.
"Over the winter … we were way less per capita than a whole lot of lockdown states who are always cited as 'the right way to do it,'" the Governor added.
Both of the state's U.S. Senators, unsurprisingly, sided with Florida over Biden.
Sen. Marco Rubio called it an "authoritarian" proposal. And Sen. Rick Scott, no particular ally of DeSantis, nonetheless got in his critique of the concept.
The "Florida travel ban idea is crazy. The seesaw policy 'considerations' from the Biden admin only hurt Florida's working families whose livelihoods depend on tourism dollars," Scott said.
Scott re-upped the condemnation in a Fox and Friends interview over the weekend.
"This is just a wishy washy policy consideration from the Biden Administration that would hurt Florida's businesses and families," Scott told host Jedidiah Bila. "This makes no sense. Look, Biden and the Democrats around the country are jealous of Florida. They're jealous that everybody wants to move [here]."
Scott added that "this is just an attack on Florida businesses, an attack on Florida families. It makes no economic sense."
GOP members of Florida's delegation also joined the fray via a letter penned by U.S. Rep. Byron Donalds.
"As members of the Florida Republican Congressional Delegation, we are concerned about recent reports that your Administration is considering implementing travel restrictions to our beloved home, the Sunshine State," the letter reads. "This decision not only lacks merit but is also unequivocally unconstitutional and reeks of partisanship that will only cause reprehensible damage to our state and the more than 21 million Americans who call Florida home."
Eight other Florida Republican House members signed on to the letter including Sarasota Rep. Greg Steube, Lakeland Rep. Scott Franklin, Gainesville Rep. Kat Cammack, North Florida Rep. Neal Dunn and Melbourne Rep. Bill Posey. South Florida Reps. Maria Elvira Salazar, Carlos Gimenez and Mario Diaz-Balart also signed.
Meanwhile, the Governor quickly capitalized on the opportunity to showcase conflict with Biden, even as a conservative media DeSantis for President boomlet has again emerged. And to fundraise off it.
A fundraising email went out early Thursday afternoon, claiming, "Biden thinks I'll roll over."
"Joe Biden and his Big Tech overlords think they can silence me and the millions of patriots who are fighting for America First instead of the World Health Organization, the United Nations, and the rest of the China-loving globalists," the pitch claims, urging a "contribution to support my America First agenda," and to send a message to every "RINO, Socialist, and fake news media that you are in this fight."
A text message blast went out Thursday afternoon also from the Republican Party of Florida, but with a more familiar name speaking words that were said at a state press conference just hours before.
"Biden is trying to shut FL's border while letting illegals pour over our southern border," read the message from "Gov DeSantis," soliciting donations.