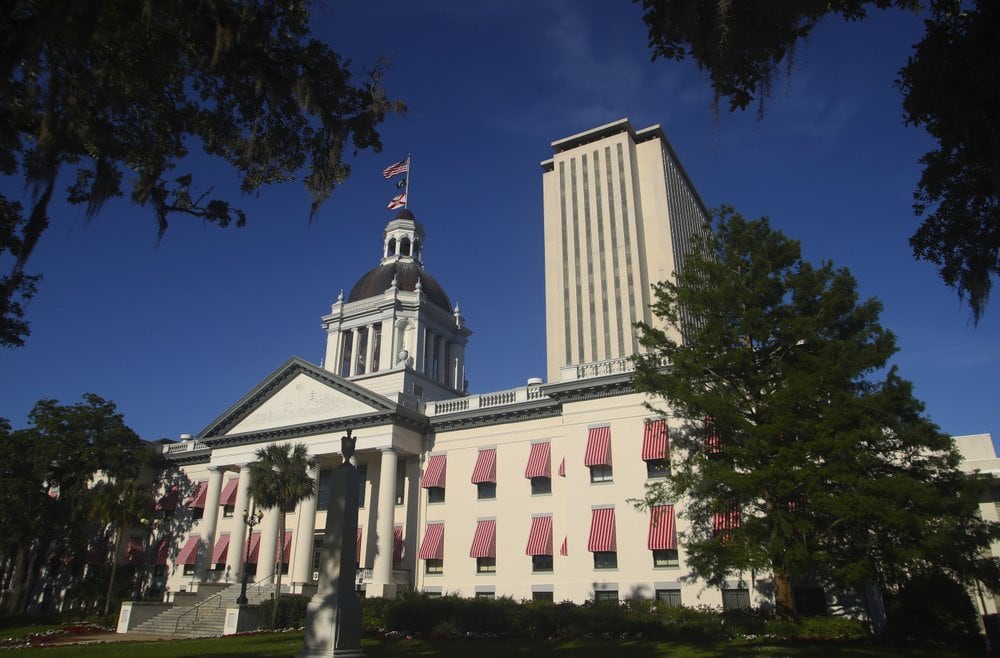 Here's how some firms with a nationwide reach fared in the statewide lobbying game.
Florida loves its homegrown businesses, but sometimes a national name has something to offer.
That doesn't mean anyone should try to build a Harris Teeter in Lakeland or anything. If you're looking for a lobbyist, however, there are some benefits to snagging a firm that has sway outside of the Sunshine State.
As the third-largest state in the country, powerhouse firms from all corners are scrolling Zillow and ready to pounce as soon as they see some primo office space.
Some come and go, but others have the formula for success — or they've at least mastered the art of hiring smart locals.
Here's a rundown of how some law firms with a nationwide reach fared in the statewide lobbying game last year.
Greenberg Traurig
Greenberg Traurig's Florida team represented nearly 150 clients last year and collected more than $7 million in pay.
Reports show the firm earned $4.67 million from its 111 legislative lobbying clients and another $2.76 million from its 143 principals in the executive branch.
Working under the Greenberg Traurig banner last year were lobbyists David Ashburn, Fred Baggett, Kerri Barsh, Gus Corbella, Hayden Dempsey, Elizabeth Dudek, Leslie Dughi, Richard Fidei, Fred Karlinsky, Barry Richard and Timothy Stanfield.
A dozen of their clients broke the six-figure mark in legislative lobbying pay, many of them from the insurance or health care industries.
A sampling: Heritage Property & Casualty Insurance Company paid $180,000; Humana Medical Plan paid $180,000; Baptist Health South Florida paid $170,000; Centauri Specialty Insurance paid $140,000; Risk Management Solutions paid $140,000; and Narragansett Bay Insurance Company paid $100,000.
GTLaw's represented big-name clients from several industries, including AT&T, Florida Power & Light, Ford Motor Company, the Seminole Tribe of Florida.
There were also several statewide associations on the list, among them the Florida Hospital Association, Florida Developmental Disabilities Council, Hemp Industries Association of Florida and Florida Association of Court Clerks & Comptrollers.
Greenberg Traurig also represents several entities that are sure to be involved major policy food fights this year, such as CorneaGen, a for-profit company spun off from a rom a nonprofit called SightLife. The company was at the center of a proposed for-profit eye bank ban in the 2020 Legislative Session.
The executive reports were likewise stocked with insurers. The top-5 most lucrative contracts on the year-end listing: Heritage Property & Casualty Insurance Company at $140,000; Seeman Holtz Property & Casualty at $140,000; Guy Carpenter & Company at $100,000; Narragansett Bay Insurance Company at $100,000; and Ventura Services – Florida at $85,000.
The overall ranges on GTLaw's quarterly reports indicate it pulled in at least $6 million in lobbying pay last year. At the top end, the firm could have banked $10.4 million.
Hopping Green & Sams
Hopping Green & Sams earned an estimated $1.68 million in lobbying pay from its three-dozen clients last year.
Per the firm's official provenance, HGS was founded 42 years ago in Tallahassee with five lawyers and has grown significantly, as have their clients, in the decades since.
Hopping Green & Sam's lobbying compensation reports tell a similar tale — it has a fleet of lobbyists and they represent some of the biggest corporations out there.
Their 2020 team included Joseph Brown, David Childs, Michael Eckert, Carl Eldred, Gary Hunter, Jonathan Johnson, Jennifer Kilinski, Robert Manning, Eric Olsen, Michael Petrovich, Timothy Riley, Amelia Savage, Susan Stephens, Cheryl Stuart and Eileen Stuart.
The client sheet was brimming with Fortune 500s, starting with Mosaic Fertilizer. The Tampa-based phosphate mining company was Hopping's top-paying client last year, spending $150,000 on legislative lobbying help and another $130,000 in the executive.
Another multi-billion-dollar multinational on the list: Exxon Mobil. The oil company cut checks totaling $60,000 for the firm's expertise in the Legislature.
For something a little closer to home, Disney and the University of Florida were also marquee clients — they paid $50,000 and $55,000, respectively.
Among the other notables on Hopping Green & Sams' list were Ducks Unlimited, the Florida Chamber of Commerce, JEA, Rayonier and Waste Management.
In all, the firm reported 27 paid contracts in the Legislature and 11 paid contracts in the executive. Their quarterly reports indicate the firm earned at least $1.2 million last year, including $850,000 in the Legislature.
Hopping Green & Sams may have earned as much as $2.25 million.
McGuireWoods
McGuireWoods Consulting's Florida lobbying team ended 2020 with nearly $2 million in receipts.
The firm has been around since 1998 and has a presence in DC as well as the capitols of many large states.
Compensation reports show that Florida SVPs Rhett O'Doski, Ryder Rudd and Sean Stafford and lobbyists Sara Clements, Cole Ginther and Robert Wasinger repped 37 clients for all or part of last year.
Those contracts netted the firm an estimated $1.49 million in legislative lobbying fees and another $440,000 in executive fees.
Their year-end figures show United Healthcare Services and CIGNA were top-paying principals last year, sending the firm $150,000 and $120,000 respectively.
As the top of the list portends, many of McGuireWoods' clients hail from the insurance industry.
The firm also received $85,000 from Northwestern Mutual, $80,000 from FCCI Insurance Group, $70,000 from the Florida Association of Health Underwriters, and $40,000 from State Farm
However, there is some diversity on the client list.
McGuireWoods was the go-to for agriculture clients such as ALICO and Florida Crystals, which both paid $100,000 in retainers last year.
Their higher-ed clients included standardized testing organization ACT ($70,000), Florida Poly ($35,000), Florida International University ($60,000).
They also represented a smattering of high-tech outfits such as the Institute for Human and Machine Cognition ($30,000) and Google's autonomous vehicle branch, Waymo ($90,000).
Range reporting pegs the McGuireWoods' earnings floor at $850,000 in the Legislature and $100,000 in the executive branch. The firm could have earned as much as $2.05 million.
The Advocacy Group
The Advocacy Group at Cardenas Partners banked $4.8 million in lobbying pay last year.
The firm led by Al Cardenas represented more than a hundred clients last year, collecting $2.18 million lobbying the Legislature and another $2.6 million lobbying the Governor and Cabinet.
The firm's 2020 lineup included Cardenas, Slater Bayliss, Christopher Chaney. Steve Schale, Stephen Shiver, Sarah Suskey and Jeffrey Woodburn.
The cohort listed 79 clients across their four quarterly legislative reports, with Disney taking the top spot with a $100,000 payment.
The Florida Hospital Association showed up with $90,000 in legislative pay. Health insurance tech company Benefytt was a late addition to the client roster. It has paid $70,000 in retainers since it inked a deal with TAG in the third quarter.
On the executive side there was a three-way tie at the top between government payment platform PayIt and disaster recovery companies Plexos Group and Tidal Basin Group. Each of them paid $140,000 for the year.
Aliera Healthcare checked in with $105,000 in executive lobbying fees, followed by Centennial Management Corp. at $100,000.
Several household names were featured on TAG's long list of clients. Notables include Anheuser-Busch Companies, AT&T, IBM, JetBlue, Marriott and Instacart.
The Advocacy Group's quarterly reports were consistent throughout the year, each showing approximately $1.2 million in earnings.
Using the bottom dollar from each range, The Advocacy Group would have earned an even $4 million last year. At the other extreme, the firm could have raked in $7.1 million — 3.16 million in the Legislature and $3.94 million in the executive branch.
___
Lobbying firms report their pay from each client in ranges covering $10,000 increments. Florida Politics uses the middle number in each range to estimate total revenue for the quarter. The annual earnings estimate is the sum of the firm's four quarterly reports.