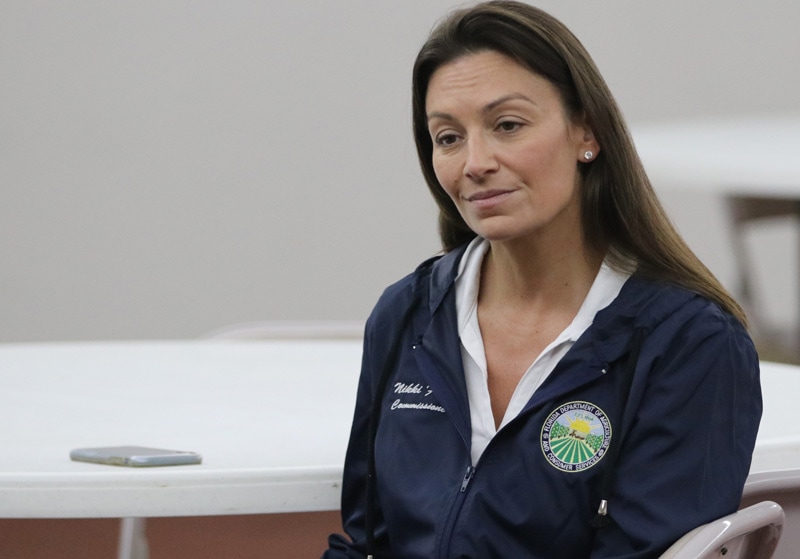 'We will not celebrate hate speech, bigotry, and division.'
Gov. Ron DeSantis promised flags would be lowered for a fallen radio talk show host. But one Cabinet official will resist.
Nikki Fried, a Democrat who serves as Commissioner of Agriculture and Consumer Services, announced Monday she will not comply with any directive from Republican DeSantis to lower flags under her control when the order is finally issued. DeSantis plans to order flags at half-staff to honor conservative talk show host Rush Limbaugh once funeral arrangements have been made.
"Lowering to half-staff the flag of the United States of America is a sacred honor that pays respect to fallen heroes and patriots. It is not a partisan political tool. Therefore, I will notify all state offices under my direction to disregard the Governor's forthcoming order to lower flags for Mr. Limbaugh – because we will not celebrate hate speech, bigotry, and division. Lowering the flag should always reflect unity, not division, and raising our standards, not lowering them. Our flags will remain flying high to celebrate the American values of diversity, inclusion, and respect for all," Fried vowed.
A media release from Fried's Cabinet Office also contends that lowering flags for Limbaugh would run counter to flag protocols from the Governor's Office itself, as Limbaugh is not a former federal or state official or an armed forces or law enforcement member killed in the line of duty.
In West Palm Beach Friday, DeSantis confirmed expectations that he would order flags to half staff to memorialize Limbaugh's death.
The lowering will happen when funeral arrangements are announced, which DeSantis spokesperson Meredith Beatrice confirmed was protocol.
Announcing the lowering of the flags came at an event flush with enthusiastic partisans. DeSantis clearly timed it to please a stacked crowd.
But Fried was among the first Democrats to voice displeasure with the decision.
"DeSantis is lowering Florida's flags to half–staff for Rush Limbaugh. But he had no words for Congressman John Lewis. Priorities," she tweeted Friday.
With Fried expected to run for Governor next year, the fight over flags in the wake of Limbaugh's death on Ash Wednesday appears to be just one of many Plaza Level back and forths in the time between now and next November.
Meanwhile, other leading Democrats in the state are following Fried's lead.
"Not lowering flags for Rush. In St. Pete we don't honor hatred, racism, bigotry, homophobia, or anything else he has spewed over the years," tweeted St. Petersburg Mayor Rick Kriseman Monday.