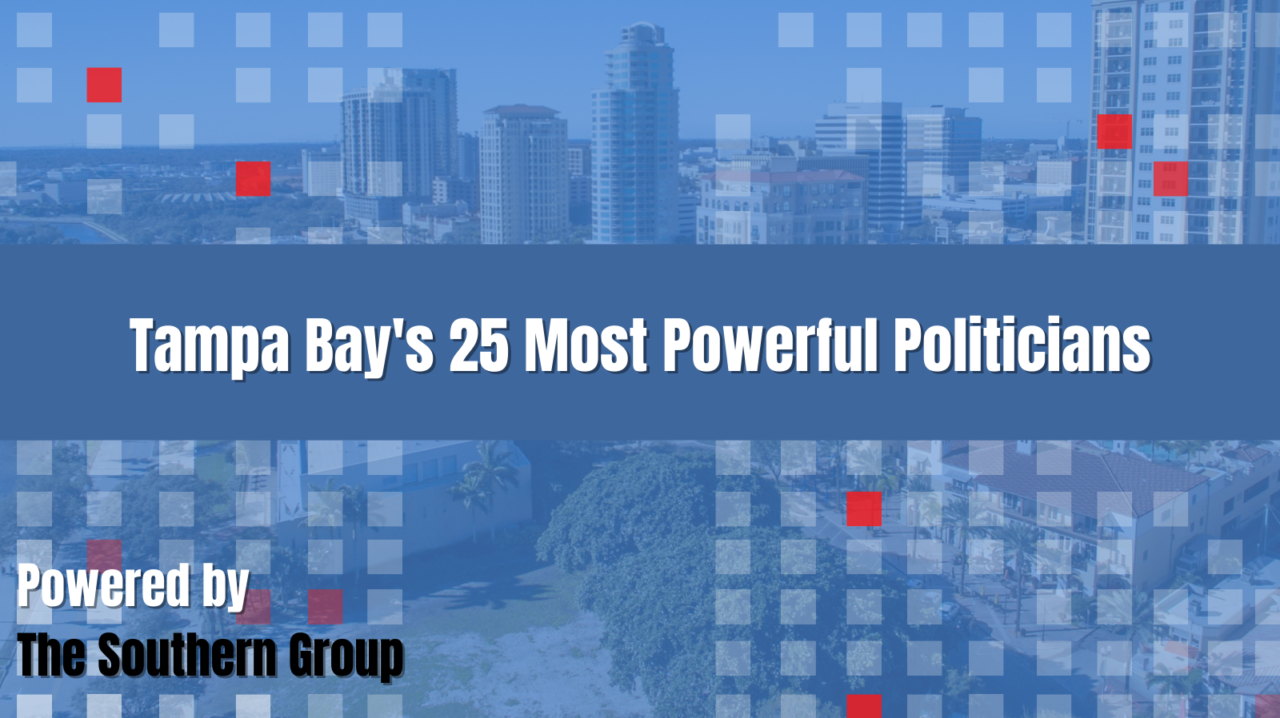 It may not have been an apocalypse, but sometimes, it sure felt like one.
Declare this an emergency
Come on and spread a sense of urgency
And pull us through
And pull us through
— Muse's Apocalypse Please, from the Absolution album (2003).
It wasn't an apocalypse, but there were times during 2020 when it sure felt that way.
Elected officials at every level of government — from city councils and the halls of Tallahassee to the Governor's mansion and Capitol Hill — all played a role in ushering Florida, and the Tampa Bay area, through the COVID-19 crisis.
The most interesting thing on this year's list of Tampa Bay's most powerful politicians, in some instances, reflects how an elected official handled the crisis. You'll notice, as we begin to fire through these several a day, there is one notable omission from the list, for example.
(Two quick asides: First, thank you to The Southern Group for, again, sponsoring this year's list of the TBMPP. Also, we owe a debt of gratitude to Scott Maxwell of the Orlando Sentinel, who, ten years ago, compiled a similar list for Central Florida. I liked what he did there, so I brought it to Tampa Bay. After all, imitation is the sincerest form of flattery.)
In Tampa Bay, like many regions across the Sunshine State, it was local officials who were left calling the shots on virus mitigation. Tampa Mayor Jane Castor and St. Petersburg Mayor Rick Kriseman both garnered national media attention for their responses.
And in the waning weeks of 2020, two of Tampa Bay's powerbrokers, Senate President Wilton Simpson and House Speaker Chris Sprowls, prepared the chambers they will lead for the next two years for an unprecedented Legislative Session — one marked by COVID-19-protocols and a budget crisis unrivaled since the Great Recession.
Meanwhile, Florida's Legislative Delegation was hard at work battling in a partisan Washington to bring home COVID-19-relief for residents.
But this year's honorees showed more than just COVID-19-worry. There were election wins. Republicans cleaned up in races up and down the ballot, improving their performance at the top of the ticket with gains for former President Donald Trump over his 2016 performance. Republicans claimed two South Florida congressional seats and five in the Florida House.
And while Democrats suffered a bruising 2020, those who came out unscathed have victory stories all their own, with Hillsborough County going solidly blue in county constitutional offices and with a supermajority on the Hillsborough County Commission.
The Top 5 this year might not come as too much of a surprise, though the particular order of those five might. And further down the list shows a bench of rising stars in Florida politics to watch in the coming years as they make their way up the rungs of power.
In compiling this list, Florida Politics queried a panel of the region's leading political consultants, activists, operatives and local lobbyists to give hot takes on who they consider the most powerful pols in the area. We did not suggest any names.
This year's panel includes Tom Alte of Blue Ticket Consulting, strategist Christina Barker, Joshua Baumgartner, Director of External Affairs at TECO, Laura Boehmer of The Southern Group, Ricky Butler of the Pinellas County Sheriff's Office, strategist Reggie Cardozo, Ronald Christaldi of Shumaker Advisors, Justin Day of Capital City Consulting, consultant Barry Edwards, Joe Farrell of the Pinellas Realtor Organization, Shawn Foster of Sunrise Consulting, former Greater Tampa Chamber of Commerce Chairman Mike Griffin, Tampa Bay politico Carrie Henriquez, Natalie King of RSA Consulting, Democratic activist Shannon Love, Amy Maguire of Shumaker Advisors, Seth McKeel of The Southern Group, Martin Merritt of Moffitt Cancer Center, consultant Brock Mikosky, lobbyist Travis Moore, Jennifer Motsinger, Executive Vice President of the Tampa Bay Builders Association, Travis Norton of the Pinellas Realtor Organization, Ron Pierce of RSA Consulting, Darren Richards of Tucker/Hall, Catalyst Communications Group founder Preston Rudie, Meagan Salisbury of Blue Ticket Consulting, Adam Smith of Mercury, Alan Suskey of Suskey Consulting and Michelle Todd Schorsch, as well as the staff of Florida Politics.
Being listed first on a panelist's list earned 25 points, second earned 24 points and so on. Listing as 25th received one point. Scores were then added up and — voilà — the list was created.
With that introduction, we ask you to please stay tuned to Florida Politics throughout the rest of the week as we count down the 25 Most Powerful Politicians in Tampa Bay.
Follow the list here, on Facebook and Twitter at #Top25inTB.