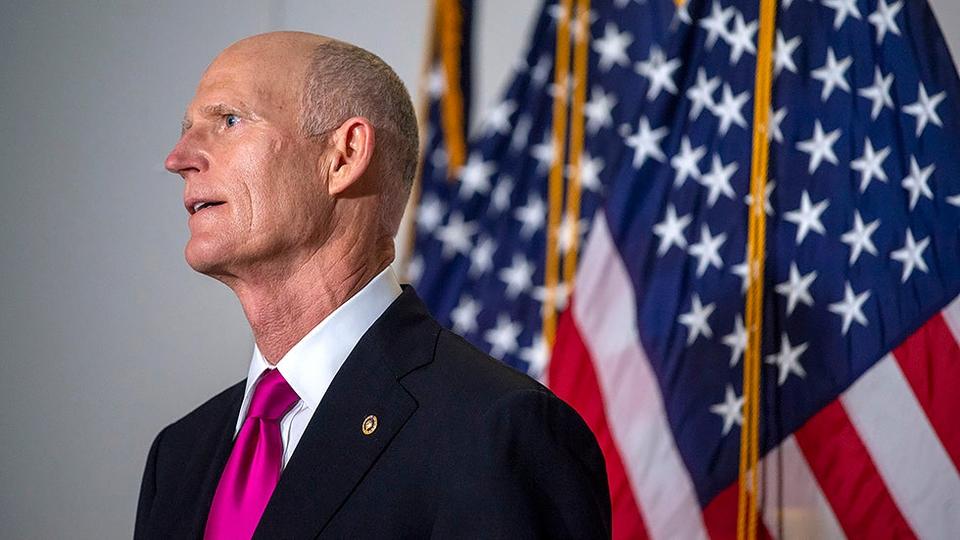 Scott described the presence as having occurred for 'months on end.'
U.S. Sen. Rick Scott drilled down on the continued National Guard deployment at the U.S. Capitol Tuesday, saying he was "flabbergasted" and bemoaning a detail he claims has lasted for "months on end."
By mid-afternoon, Scott was calling for those troops to return to their home states.
"Thankful for the [troops] keeping us safe. These brave individuals have been away from their homes & families for weeks. But no one from today's Senate Homeland Security and Governmental Affairs Committee hearing seemed to know why. It's time to reevaluate the rationale for keeping them in D.C. & get them back home," Scott tweeted.
Scott's tweet followed up comments in that hearing Tuesday afternoon in the Senate on the Capitol Riots, in which he asked various law enforcement officials who were in place that fateful day about the decision to have an ongoing National Guard presence.
"We've had National Guards up here, I guess, since around the 6th. Can you tell us how you made the decision to bring the National Guard here, each of you," Scott asked.
He went on to clarify, "the National Guard presence that's here now."
"As a result of the riot, the National Guard has put up the fencing and all that," Scott added.
As Scott asked questions of various law enforcement officials who were in place during the siege of the Capitol, he continued to introduce editorial comments, including wondering "why was it set up so they would be there for what seems like now months on end?"
"What was the purpose of the original — the National Guard that came and put up the fencing? What was the rationale and what was the threat assessment," Scott asked former Capitol Police Chief Steven Sund, who left the department on Jan. 8.
Sund noted the insurrection on Jan. 6 drove the decision, but Scott was undeterred.
He posed the question to the rest of the witnesses, goading for "threat assessments" with statements like "nobody has any idea why we have the National Guard here."
Scott continued to stack quotes along the same theme, as if setting up a case against ongoing deployment. He asked at one point: "Who would be making the decision and where does the threat assessment come from? Does anybody know?"
"I'm flabbergasted that there's no public information about why we have these National Guards here," he said at another point to a witness.
Scott, who helms the National Republican Senatorial Committee, has been in the limelight since the Capitol attacks.
He was one of just a handful of senators to vote against the certification of all states' electors, objecting to Pennsylvania's slate even after the pro-Trump rioters successfully waylaid the certification process. He dealt with questions about his viability heading up the Senate campaign arm in the weeks after the Capitol riots.
Florida troops are not up there, however. Weeks back, Gov. Ron DeSantis called for the end of what he called a "half-cocked mission."