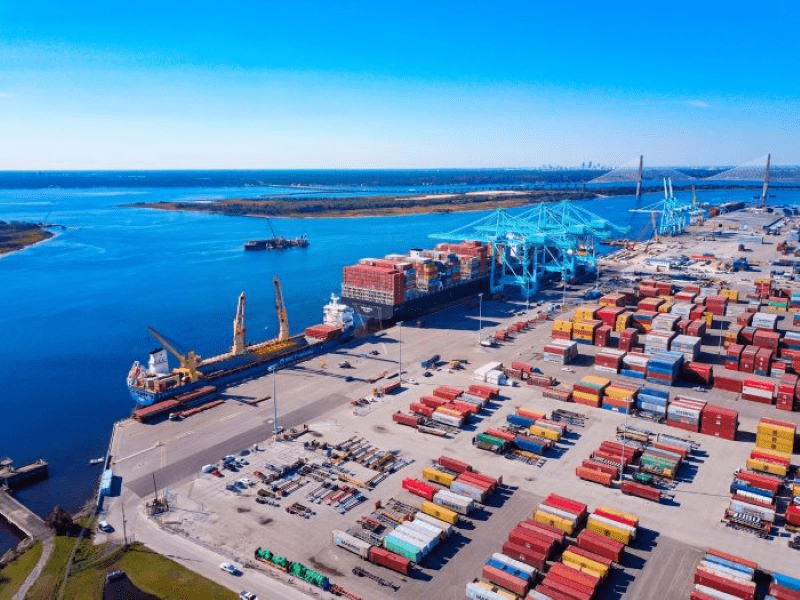 A new master plan seeks to improve and expand service for customers.
Jacksonville Port Authority officials unveiled their master plan for the transportation and cargo hub for the next five years Tuesday and they're ramping up efforts to expand services and property.
JAXPORT's five-year plan running through 2025 shifts focus from infrastructure to expansion of many of the services the port offers. Acquisition of new land also plays into the updated master plan.
The Strategic Master Plan was developed by JAXPORT's senior leadership team as a follow up to the 2014-2019 master plan. Those port leaders compiled data from marketing and economic analysis of JAXPORT's operations to help formulate the plan for the next five years.
"A lot of plans just go up on the shelf and never are executed. But that's not the case here. We are embracing this opportunity to take JAXPORT to the next level," said Eric Green, JAXPORT CEO.
JAXPort provides about 138,000 jobs on the First Coast and the agency estimates it contributes about $31.1 billion in annual economic impact for the region.
The new five-year plan has 10 overall goals in four specific areas.
Those four components to the JAXPORT Master Plan include:
— Expansion of the container business.
— Expansion of vehicle cargo capacity and volume.
— Expansion the breakbulk (loading and unloading of ships) business line.
— Acquisition of additional land in proximity to the port.
"This plan was developed with our customers in mind, ensuring we continue to meet their needs while maximizing the opportunities our deepwater seaport creates for the people of Northeast Florida," Green said.
Federally-funded dredging near Jacksonville's port is expected to be completed by the end of 2022. Those channels are being deepened from 40 feet to 47 feet to allow larger vessels to enter the port.
JAXPORT Chairman Jamie Shelton said even in the face of the coronavirus pandemic, the port managed to keep operations moving at a high level and he anticipates that will only improve in the next five years. There was a drop in some cargo business initially, though.
"In 2020, JAXPORT continued to hold the line keeping cargo volumes and revenue steady," Shelton said. "It's a testament to the strength and dedication of our entire port community, especially the men and women who have worked hard to ensure the goods we use every day continue to move through JAXPORT on their way to store shelves."