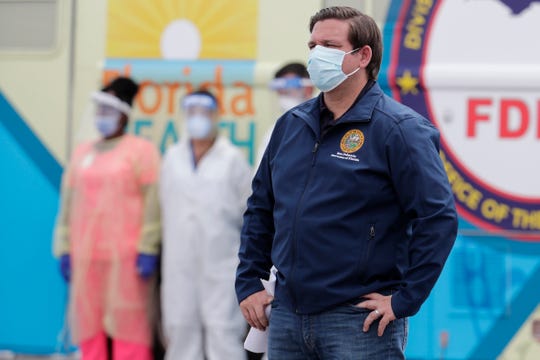 Florida's vaccine distribution effort may soon get a shot-in-the-arm itself.
Gov. Ron DeSantis on Wednesday lauded the Food and Drug Administration's recently released review of the single-dose Johnson & Johnson vaccine. 
If authorized, it will become the first single-dose COVID-19 vaccine in the U.S, providing a much-needed shot-in-the-arm to the nation's vaccine distribution effort. 
"That is a huge, huge win," DeSantis said, flanked by Senate President Wilton Simpson and Rep. Blaise Ingoglia at a vaccination site in Brooksville.
In the review released Wednesday, health officials determined the single-jab vaccine nearly eliminates the risk of COVID-19-related mortality and hospitalization.
The vaccine does, however, have limitations. 
While health officials noted that the vaccine is more than 85% effective at preventing severe illness, the single-shot dose proved only 66% effective at blocking infection. 
DeSantis noted that only "mild cases" developed in patients who received the Johnson & Johnson vaccine. 
"No one wants to get infected with anything, but if you get infected and it's mild and you move on, that's a win given that this is something that can obviously be more threatening to people," DeSantis said.
The Johnson & Johnson vaccine is expected to win emergency approval this week.
DeSantis predicted shipments to Florida might begin as early as next week, supplementing the state's limited Pfizer and Moderna vaccine supply.
Notably, Johnson & Johnson said they are positioned to distribute 4 million doses upon approval, Reuters reported. 
Florida, meanwhile, is still determining how to distribute the single-dose vaccine.
DeSantis suggested the vaccine may be placed in doctors' offices and pharmacies, noting that Johnson & Johnson doesn't require the stringent storage requirements demanded by Pfizer and Moderna doses.
The Johnson & Johnson vaccine would become the third vaccine approved in the U.S.'s arsenal if approved by regulators.
DeSantis said vaccines will remain optional for Floridians.
"We know 100% are not going to opt for it and that's fine. There's no mandate," DeSantis said. "It's there for you. We're going to work to make sure people who want to get it (can)."
Florida's vaccine rollout has prioritized the elderly and those at high-risk for contraction, such as health workers.
As of Wednesday, health officials have administered more than 4.1 million vaccine doses in Florida.