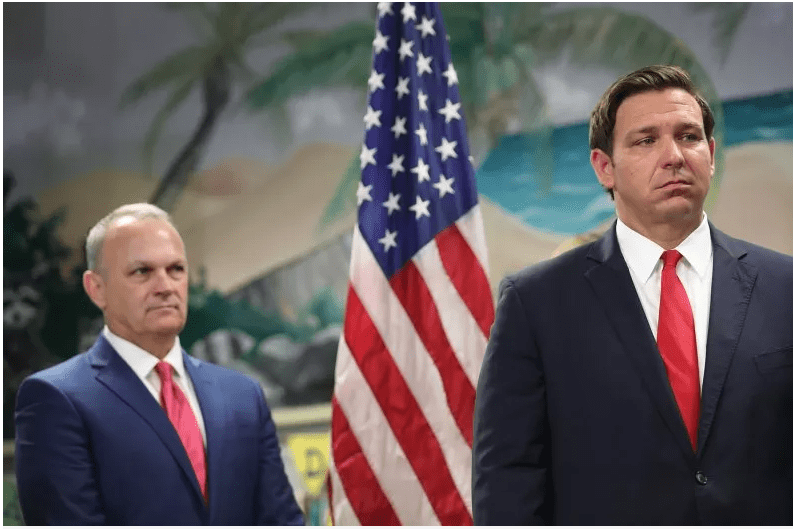 They don't like Richard Corcoran much better.
Teachers aren't giving Gov. Ron DeSantis high marks this year.
A new poll from the Florida Education Association of its membership finds disappointment in the state's priorities — and in how they personally have been treated amid the COVID-19 pandemic.
The Clearview Research poll found 76% of teachers in Florida disapprove of his job performance, and just 21% approve. That net -45 rating marks a dramatic shift from two years ago, when the then-newly inaugurated Governor had a 40% approve, 30% disapprove rating among FEA members.
Education Commissioner Richard Corcoran also has a net -36 percentage point approval rating, with 17% giving a favorable mark and 67% grading him unfavorably. The Florida Legislature, as session begins, holds a net negative rating among Florida's teachers, with 19% approving and 74% disapproving,.
And teachers have a -36 percentage point net disapproval of the current conditions in Florida's schools.
The poll includes responses from 506 FEA members, and pollsters report a 4.37% margin of error.
"Quite simply, respondents are not happy about the state of Florida and how they have been treated by lawmakers and the current administration," reads a memo from pollsters Steve Vancore and Karen Garner. "They worry about their students, how the state treats our professional education staff, and they feel they are being disrespected at every turn."
But educators are happy to open their own planning books to legislators and teach them about the needs in classrooms today.
"Teachers and support staff have stepped up under extraordinarily difficult conditions to try to ensure that kids are getting the education they deserve," said Andrew Spar, president of FEA.
"What we need now is for the Governor and the Legislature to do their best for all the people in our public schools. Support our students' success as we move through and past the pandemic. Let's focus on student learning, and if we have to tie up kids' learning time with standardized testing, at least eliminate the high stakes. Help us overcome Florida's educator shortage by providing for a fair pay plan that does not penalize classroom experience, and by maintaining a stable retirement system."
The poll found teachers felt especially slighted by policies like one-year contracts, low pay, reduced benefits and an over-reliance on standardized tests to measure performance.
Just 6% of teachers said they felt highly touted teacher pay raises could be felt "a lot" in their own households.
Meanwhile, DeSantis' focus on raising starting teacher pay was viewed as unfair by 88% of teachers. A can't-get-much-higher 99% of educators list increasing salaries as an important issue heading into session, a 98% say the same about better retirement benefits.
Overlooked so far in vaccination priorities, about 78% of teachers feel "generally dissatisfied" with the conditions facing them now, and 49% feel "very dissatisfied." That's a 17-percentage-point increase in frustration compared to a similar poll taken last year.
Teachers feel split on the quality of education being provided in Florida during the pandemic, with 46% who feel good about it and 51% who don't.
About 95% of teachers want better working conditions right now, and 86% feel classroom teachers should receive priority in vaccinations for COVID-19. About 74% of teachers feel schools have done a poor job of keeping students and teachers safe.
When in comes to distance learning, 65% of teachers do feel schools have done well in providing learning resources. But two thirds of educators see distance learning students struggling, and 86% see students struggling across the board.
When it comes to testing this year, 83% of teachers feel standardized tests should be canceled this spring. Regarding impacts on their own profession, 94% of educators say it's important test scores not be connected to teacher evaluations. About 93% of teachers feel reducing the number of government-issued tests is important.