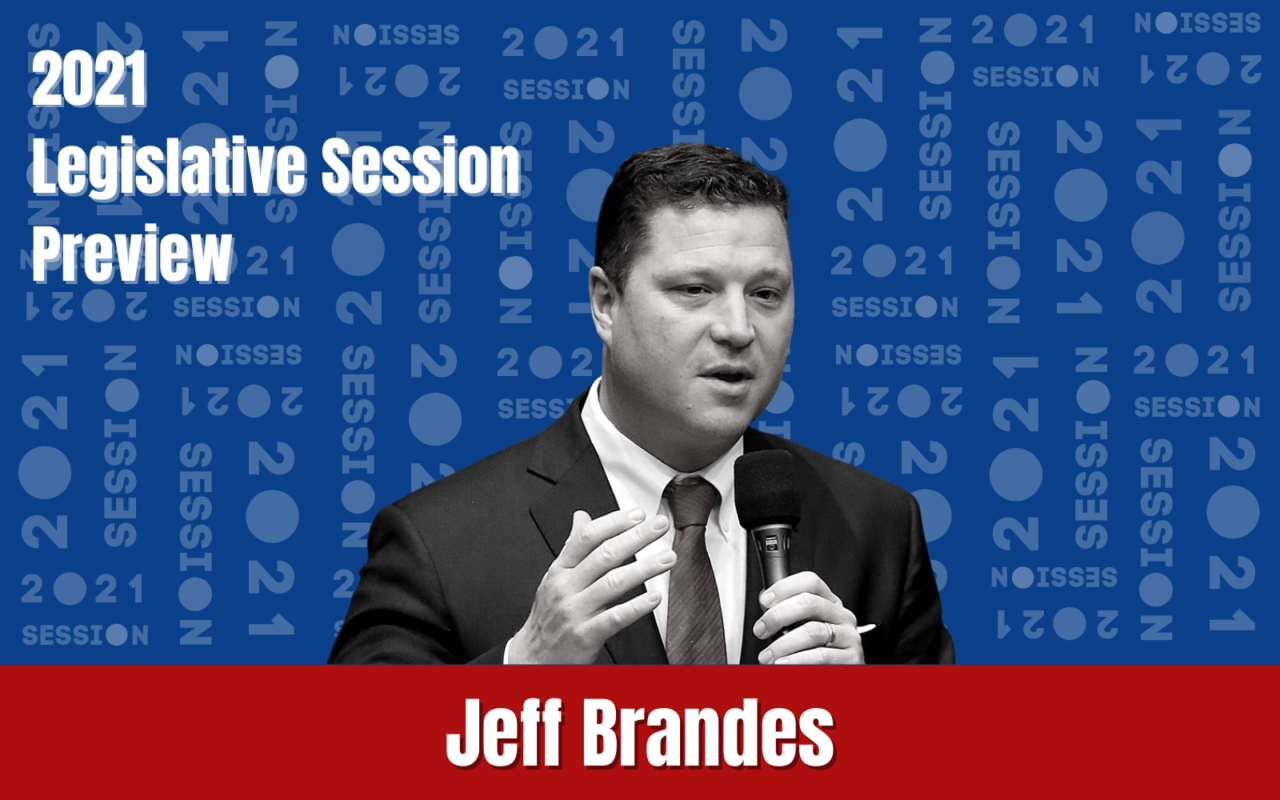 From minimum wage to criminal justice, Brandes has a stacked agenda.
Sen. Jeff Brandes is entering his second to last Legislative Session this year with a bold agenda — and one that comes with plenty of controversy.
Brandes has long-established himself as a libertarian-minded Republican, with a long track record of pursuing criminal justice reform that often puts him at odds with members of his own party.
This year, Brandes has added some more controversial proposals to his agenda, including a bill (SJR 854) that would allow businesses to pay certain employees less than the state mandated minimum wage.
The joint resolution drew immediate controversy. It comes just months after Florida voters approved a constitutional amendment that will raise Florida's minimum wage to $15 an hour by 2026, with gradual increases each year leading up to that.
Brandes' proposal would implement a "training wage" for employees that could be less than the state minimum wage, which would apply to people under the age of 21, ex-felons and those deemed "hard-to-hire."
Critics argue it's an effort to usurp the will of voters, 61% of whom voted in November for the increased minimum wage. But Brandes is steadfast in his support for an exception, arguing instead that it is a way to ensure more people are employed, even if that means a temporary lower wage.
"20% of teens are unemployed and actively seeking work," Brandes said, noting that the unemployment rate among ex-felons is as much as 55%. "This would allow them to gain skills and then get bumped up later."
Brandes' measure would require another constitutional measure, so their will would still be honored with another minimum wage vote in 2022. Brandes' joint resolution would put the matter on the ballot, where 60% of voters would have to approve it for it to become law.
It's likely to be Brandes' most contentious effort this year as $15 minimum wage proponents argue it's a loophole businesses could exploit to get around increased wages.
But it's not his only big sell. Brandes is also supporting a bill (SB 220) that would shield applicants for state university or college presidents from having their application public record until they become finalists for the position.
The idea behind the bill is to encourage more applicants for top college jobs. Many potential contenders shy away from the process because Florida's robust public records laws would allow their current employers to see they are looking elsewhere.
Democrats are largely opposed to the bill, worried it would erode transparency in the hiring process.
Brandes is also behind a bill (SB 1130) that would dissolve the Tampa Bay Regional Transit Authority (TBARTA).
The agency has existed since 2007, but was restructured in 2017, changing its name from the Tampa Bay Area Regional Transportation Authority to Tampa Bay Area Regional Transit Authority. The change came with some institutional upgrades, including to coordinate intracounty transit plans.
Brandes said the agency is duplicative and wasteful and, while it's likely to be a hot button topic locally, he expects at least some measure of support.
"If you talk with the people who deal with TBARTA on a regular basis, you will find that they are supportive of disbanding it," Brandes said.
Brandes pointed to the Florida Department of Transportation's District 7 office, which oversees regional transportation projects as well as county Metropolitan Planning Organizations that increasingly work together to streamline regional transit coordination. Transit agencies in Pinellas and Hillsborough counties have also upped their regional coordination, he said.
"There are multiple agencies that could doo the work of TBARTA for cheaper," Brandes said.
Brandes lamented the extensive state funding required to keep the agency running, with appropriations requests coming in at around $1.5 million per year. He said that money is going to waste on needless research projects and lofty ideas like Hyperloop technology many consider not viable.
"It's duplicative and it's strategic planning that's neither strategic nor plan," Brandes said. "I challenge anyone to come up with one plan that was implemented that TBARTA initiated."
And of course, Brandes is continuing his push for criminal justice reform.
"DOC (the Department of Corrections) is on an unsustainable trajectory now," he said, noting prison populations in Florida are down 20% because of the COVID-19 pandemic yet prisons are still utilizing emergency staffing that creates expensive fiscal waste through overtime shifts.
Brandes is pushing measures like conditional releases for medical ailments and for elderly inmates that could gain traction this year. Brandes called those the low-hanging fruit on his criminal justice agenda. His more aggressive effort is to reduce mandatory minimums for inmates.
"Neither chamber's leadership has shown any vision for what they want DOC to look like other than the pathetic status quo that we're in," Brandes groused.
His aggressive agenda this year comes, at least in part, because Brandes is something of a lame duck lawmaker. With term limits hitting in 2022, Brandes doesn't face another election.
But elections have never stopped Brandes from tackling what he calls "big ideas" before.
"I think my team is one of the most experienced teams in Tallahassee," he said.
And he added that it shows in his "dynamic and interesting chairmanships."
"Other than (the) Rules (Committee,) no committee hears as many bills as (the) Judiciary (Committee)," Brandes said regarding his post at the top of the Judiciary Committee.