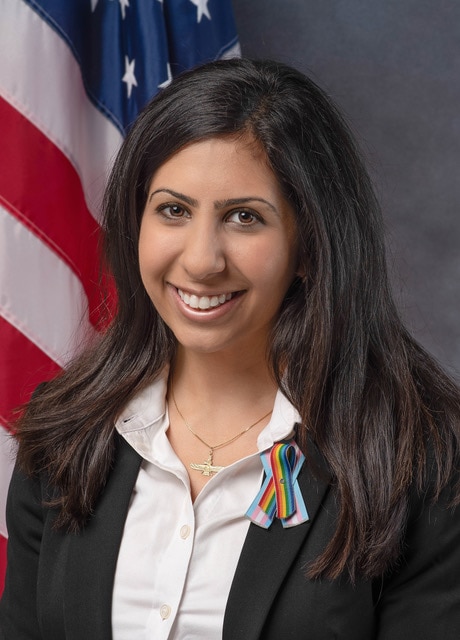 The money will go toward voter registration efforts.
The People Power for Florida political committee raised more than $100,000 in February. The committee's chair, Democratic Rep. Anna V. Eskamani, said funds will go toward a statewide voter registration effort.
The February haul, not yet officially posted by the Florida Division of Elections, would far and away mark the biggest month ever for the committee, which Eskamani first established in mid-2017 to support her first run for the Florida House. People Power once had a $50,000 month, but that was all in one check from a Winter Park benefactor.
Eskamani, of Orlando, has made no secret of her ambitions for higher office, though she has not yet signaled which she might pursue. The unabashed progressive Democrat and political organizer has increasingly sought attention on statewide issues.
Her home Senate district is held by Sen. Linda Stewart and her home congressional district is held by Rep. Stephanie Murphy, both popular Democrats. Murphy, though, has been mulling a run for the U.S. Senate. Eskamani also has been touted as a possible long-shot gubernatorial candidate.
People Power's February fundraising total, Eskamani said in a news release, comes from more than 500 individual donations. The committee does not accept corporate contributions.
"We raised more than $100,000 without taking a cent from corporations because this must be a truly people-funded movement for transformational change. I am so thankful for all the volunteer work and generosity from donors that enabled us to hit our ambitious goal," she said in the news release.
The committee will use the funds to begin registering and mobilizing young Floridians, voters of color, and working-class people to build long-term political power across the Sunshine State, her news release stated.
The voter registration plan was built on the belief that if Democrats want to win in 2022, continuous organizing in communities that have long been ignored and overlooked by the political parties must begin now.
"The key to addressing high levels of voter disengagement and distrust is with peer advocates and local organizations meeting people where they are at in their communities," Eskamani said.
People Power for Florida will focus on pocketbook issues and explain how elected officials' decisions at all levels impact the lives of everyday people. The political committee will use the same volunteer "snowflake organizing model" used by Eskamani's 2020 campaign to write 13,000 postcards, knock on 36,000 doors and make more than 41,000 calls. People Power for Florida plans to use this organizing model to train 1,000 new volunteer leaders and organizations to register new voters — with a goal of 25,000 new voters registered by the end of 2021.
Last updated on March 2, 2021