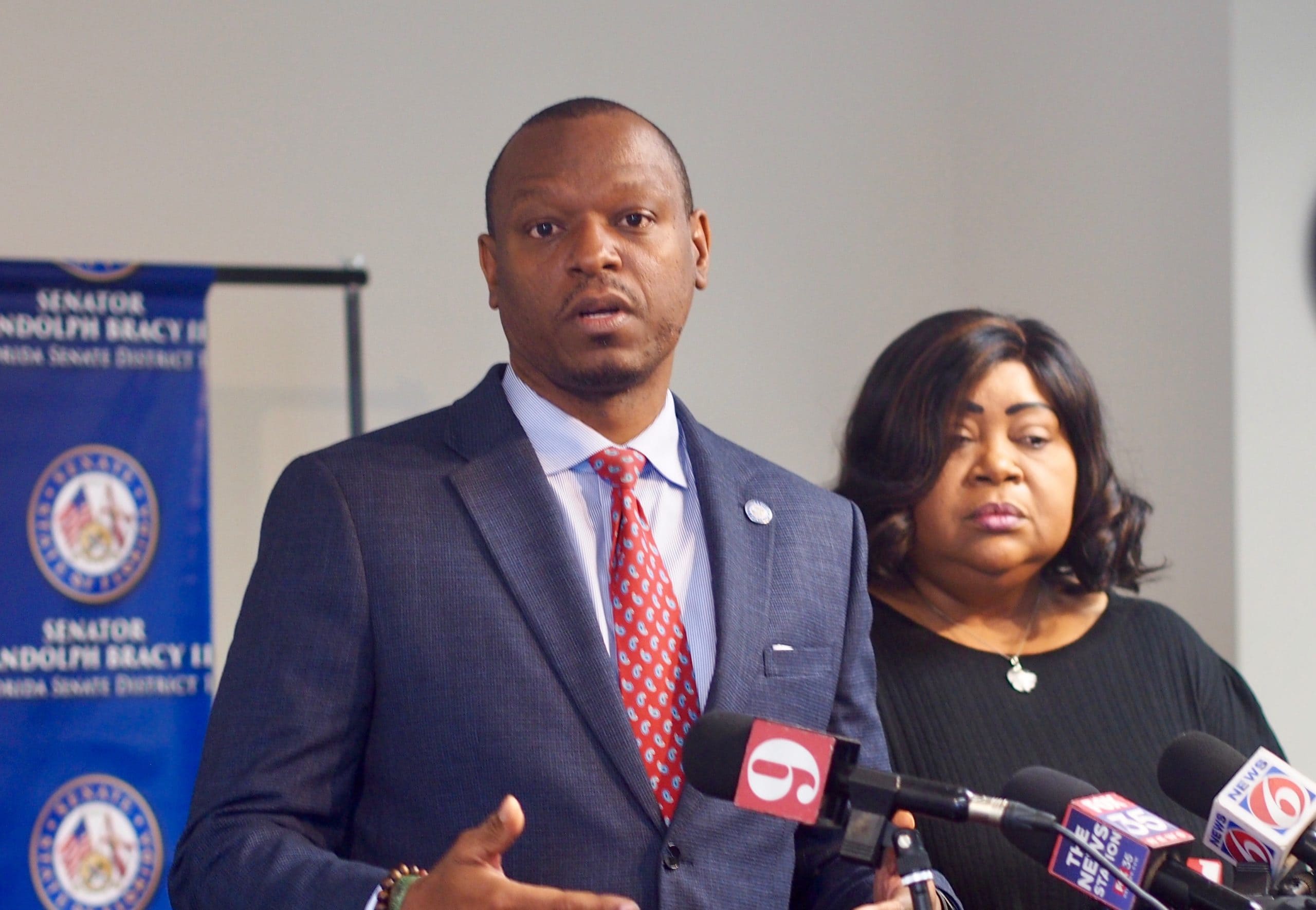 The bill would create a law named after a 7-year old girl traumatically arrested by police.
With 7-year-old Kaia Rolle, her mother and grandmother watching, a Senate committee approved a bill named for her Tuesday that seeks to prevent what happened to her in 2019.
Kaia had been arrested at her Orlando school, cuffed, placed alone in the back of an Orlando Police cruiser, then booked and fingerprinted in September of that year, sparking international outrage.
Democratic Sen. Randolph Bracy of Ocoee, already a criminal justice reformer, and with a daughter of his own that age, made it his mission then to change the law.
His bill would prevent arrests of children younger than 7 years old. Florida is currently one of 27 other states that have no minimum age of arrest.
His first legislative effort last year stalled a couple of different ways. But Bracy's latest, tighter, more focused attempt (SB 626), the "Kaia Rolle Act," flew unanimously through the Senate Committee on Children, Families and Elder Affairs Tuesday. Along the way, it inspired, in many of the committee members, the same kind emotional reaction Bracy had expressed.
This came after Kaia's grandmother, Meralyn Kirkland, testified about what her granddaughter had been put through and what she has suffered since, treated like a juvenile thug for throwing a temper tantrum in school, and then developing childhood PTSD.
"Little babies have been arrested. She was not comforted. She was not consoled. She was not spoken to. Instead of hugs and expressions of love, she received pain, confusion, the absolute terror of being yanked away from people she knew, the school administrator. She had no family members, no parents, guardians," Kirkland said.
Democratic Sen. Victor Torres of Orlando, a former New York cop, Republican Sen. Gayle Harrell of Stuart, Democratic Sen. Darryl Rouson of St. Petersburg, and committee Chair Democratic Sen. Lauren Book of Plantation all responded with verbal hugs for Kaia.
"This event really struck a nerve for me and my wife," Torres said. "My wife is a former cop as well, and it was just, just, I couldn't accept it."
They gave the same warm embrace to Bracy's bill, after he amended it Tuesday to strip it down to bare basics: forbidding arrests of children under the age of 7, except in extreme cases involving a forcible felony.
"This is a first step. I would like to see us really go further, really as part of teacher education, as a part of law enforcement education, to make sure they really are understanding not only that children are children, and have certain behaviors that are part of growing up, but also that there are consequences to what they do," Harrell said. "The trauma that child suffered will be with her the rest of her life."
Book addressed Kaia directly, telling her that the efforts she was a part of, with her family, with Bracy, and other lawmakers, will help "hundreds or thousand of other children across the state. And that's very, very special."
At a separate press conference, Bracy said he was confident the measure would be successful this year.
Bracy's confidence this year comes from discussions at the top.
"This is something that was negotiated with the leadership in the House, so I believe that agreement still stands," he said.
But he lamented he would like to bill to go further than it currently does.
"I would much prefer that this bill would prohibit children 12 and under from being arrested. I think 7 is too young, but this is part of the negotiations that happened in the legislation. I'd rather take something than nothing," Bracy said.
_____
Florida Politics reporter Haley Brown contributed to this report.