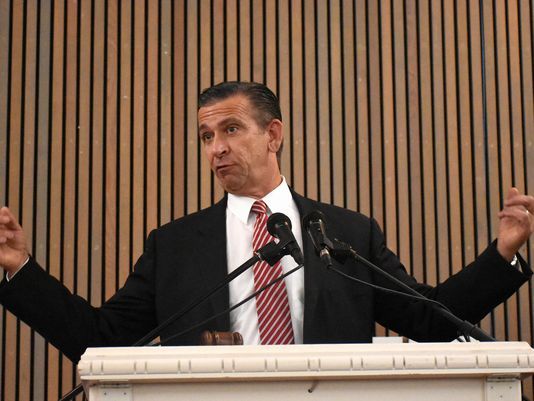 Bill sponsor Bob Rommel is concerned about privacy rights and personal security.
When individuals fleeing from disasters check into shelters in Florida, their names become part of the public record. But a bill passed unanimously out of a second House committee aims to change that.
Legislation filed by Rep. Bob Rommel, a Naples Republican, would exempt personal information on shelter occupants from Florida's public disclosure laws. The bill (HB 327) would let shelters withhold the name, address, and telephone numbers for individuals, all information now held by agencies providing shelter or assistance during emergencies.
The Government Operations Subcommittee unanimously supported the legislation, which also already won a favorable vote in the Pandemics and Public Emergencies Committee. But the subject matter did provoke some debate about whether the bill effectively makes it harder for individuals to track down loved ones in times of crisis.
"I remember after Irma, the phone lines were down and you couldn't reach loved ones," said Rep. Emily Slosberg, a Boca Raton Democrat.
Rommel recognized the concern, but said he worried the privacy matters addressed in the bill would be undermined if exceptions were made for loved ones to track one another down.
Rommel said the legislation intends to tackle a number of privacy issues.
"During a state of emergency most of us have the means or ability to find cheap shelter to get out of harm's way, but some are embarrassed for people to know they had to find cheap shelter for a day or a week," he said.
But more ominously, increasingly savvy thieves right now could make records requests to learn what individuals are not staying at their own home during the duration or aftermath of a disaster. That creates a personal security issue.
Rommel noted that with mobile devices nearly ubiquitous in modern society, it's less likely an individual will have no way of contacting loved ones to let them know their situation. He also noted that during hurricanes, the most common and frequent disaster that can displace people in Florida, communications companies can set up special communications towers to make sure cell service isn't out for extended periods of time.
But the bill sponsor committed to seeking a way to address concerns about connecting people with family. The legislation next heads to the State Affairs Committee before it's ready for a vote on the House floor.
Sen. Danny Burgess, a Zephyrhills Republican, sponsored companion legislation in the Senate (SB 418) that has cleared one committee and awaits scheduling in the Senate Government Oversight and Accountability Committee.