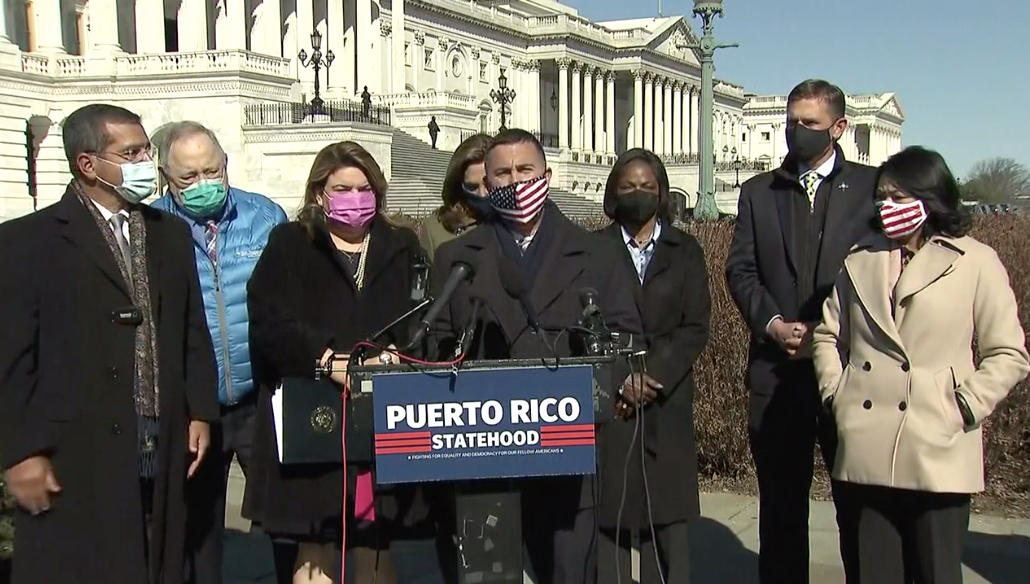 Could the proposal also include statehood for Washington, D.C.?
Democratic Rep. Darren Soto on Tuesday announced he is introducing a bill to make Puerto Rico a state.
"It's time for Puerto Rico statehood now. It's time to fulfill the promise of democracy and grant full equality to our fellow Americans back on the island," Soto said. "This promise, that each generation of Americans has kept, as state after state in this great land have been admitted to the union, is part of the rich history of our great republic."
The legislation comes after a majority of Puerto Ricans on the island voted in favor of statehood in a referendum on Nov. 3. The territory's Governor and resident commissioner made a formal request to the President and Congress for statehood in December.
Soto's announcement was made in Washington as he and the Senate bill sponsor, Democratic Sen. Martin Heinrich of New Mexico, were joined by a bipartisan group of co-sponsors and supporters, with Florida well-represented. They included Republican Rep. Jenniffer González Colon of Puerto Rico, Democratic Rep. Val Demings of Orlando, Republican Rep. Maria Elvira Salazar of Miami, Democratic Rep. Stephanie Murphy of Winter Park, Republican Rep. Don Young of Alaska, and Puerto Rico Gov. Pedro Pierluisi, a member of the New Progressive Party in Puerto Rico.
"Many people believe we don't do much in a bipartisan way, but look at us this morning," Demings said. "We may not agree on much, but we agree on statehood for Puerto Rico."
Last summer while campaigning in Kissimmee, President Joe Biden pledged support for Puerto Rican statehood.
The path to statehood could be put in step with a similar push to make the District of Columbia a state. Soto said he and other advocates for Puerto Rico statehood are interested in the two efforts joining, following the model that created statehood for Alaska and Hawaii together in 1959, the last time new states were admitted.
Soto, Demings, Salazar, and Murphy all advocated not just on behalf of the 3.2 million people in Puerto Rico, but for the 1.1 million Puerto Ricans in Florida. Soto is the only Florida congressional member of Puerto Rican descent, though Salazar, born in Cuba, was raised in Puerto Rico.
"Puerto Ricans cannot be second class citizens anymore. They need to be part of the union," Salazar said.
Murphy noted her district across Seminole and Orange counties has 100,000 people of Puerto Rican descent, and that Florida is home to more Puerto Ricans than any other state.
"The cause we're here to discuss today, equality for the people of Puerto Rico, matters to the people of Florida, and it matters to me personally," Murphy said.
Soto, González Colon, and Pierluisi sought to defuse concerns raised in questions about Puerto Rico's financial problems, its debt, and the prospect that it would enter the union as a Spanish-speaking state.
The debts would not be passed along; they would remain the responsibility of Puerto Rico, Soto said. However, he argued that with a state's sovereign immunity and other legal tools afforded states, Puerto Rico would be in better position to work its way out of its financial problems. He predicted that the Promesa board created by Congress to oversee Puerto Rico's financial recovery would be abolished.
Pierluisi noted that many people in Puerto Rico speak English. He offered Puerto Rico's Spanish-culture as a plus.
"Our cultural background, our heritage, is an asset to the nation," he argued. "Puerto Rico will truly be the first Hispanic state in the union. And that's going to be for the better. And for those who do not like to see America diversify, we respect that. But it's a process that is happening and it will continue."