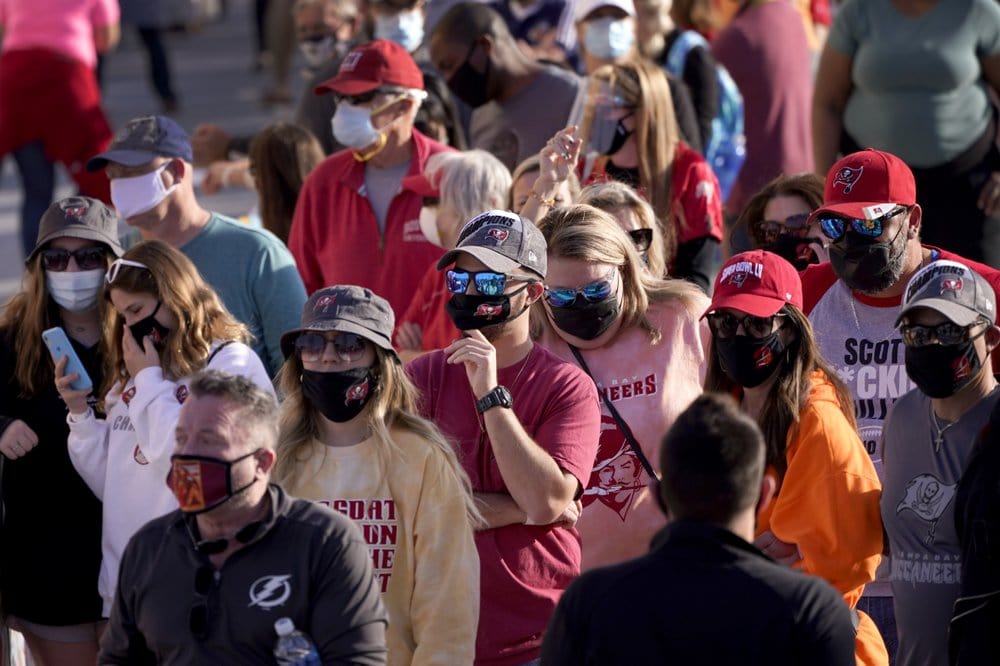 Private gatherings, in homes or at bars and restaurants, were the likely culprit of slightly higher positivity rates.
Dr. Douglas Holt, the director of the Florida Department of Health in Hillsborough County, told county commissioners Wednesday that Super Bowl LV was not a "superspreader" event.
Holt made the declaration citing the county's enhanced mitigation efforts before, during and after the big game.
The slightly higher COVID-19 positivity rate the Tampa Bay area experienced in the weeks after the event suggests most transmissions were because of private gatherings, in homes, or at unofficial events at bars and restaurants, Holt said at the meeting.
The news comes as a relief for officials who had expressed concern about events around the city turning the area into a petri dish for the virus. Mayor Jane Castor expressed frustration at the lack of mitigation efforts at the festivities, and even President Joe Biden voiced concern about the potential effects of Super Bowl revelers in Tampa.
One primary source of concern — and the "unofficial events" Holt referenced as the cause of the increased positivity rate — revolved around images captured by Tampa Bay Times photographer Luis Santana showing thousands of party-goers in Ybor City on the eve of the Super Bowl, many not wearing masks and in cramped conditions. This was compounded on the night of the Super Bowl game, where more party-goers were captured in the Channelside district and other Bay area party spots without masks or social distancing measures.
The images showed disregard to Castor's executive order requiring the use of face coverings outdoors within specified locations related to Super Bowl LV.
Hillsborough County confirmed 399 new cases of COVID-19 on Wednesday, according to Florida DOH data released Thursday. Since the start of the pandemic, the county has reported 112,672 cases of COVID-19, including 1,523 deaths.
The county also recorded two new deaths in the latest report, as well as four additional hospitalizations.
Hillsborough's positivity rate is gradually declining, coming in at 6.21% on Wednesday, down from 6.28% on Tuesday and 7.51% on Monday.
Neighboring Pinellas County confirmed 296 new cases of COVID-19 on Wednesday, bringing its total caseload to 67,359 since the start of the pandemic last year.
Pinellas County also reported two new deaths, and 14 additional hospitalizations. The virus has taken the lives of 1,465 individuals in the county so far.
The coastal county has maintained a low positivity rate throughout the past two weeks, with several days coming in under 5%. On Wednesday, the county reported a rate of 4.85%.
On Wednesday, both counties surpassed 150,000 individuals vaccinated, a sign of optimism amid a grim year.
Pinellas County has vaccinated 153,459 people, 81,380 of whom have completed the two-shot series. Hillsborough County is close behind, having so far vaccinated 151,336 individuals, including 83,282 who have received a second dose of the vaccine.