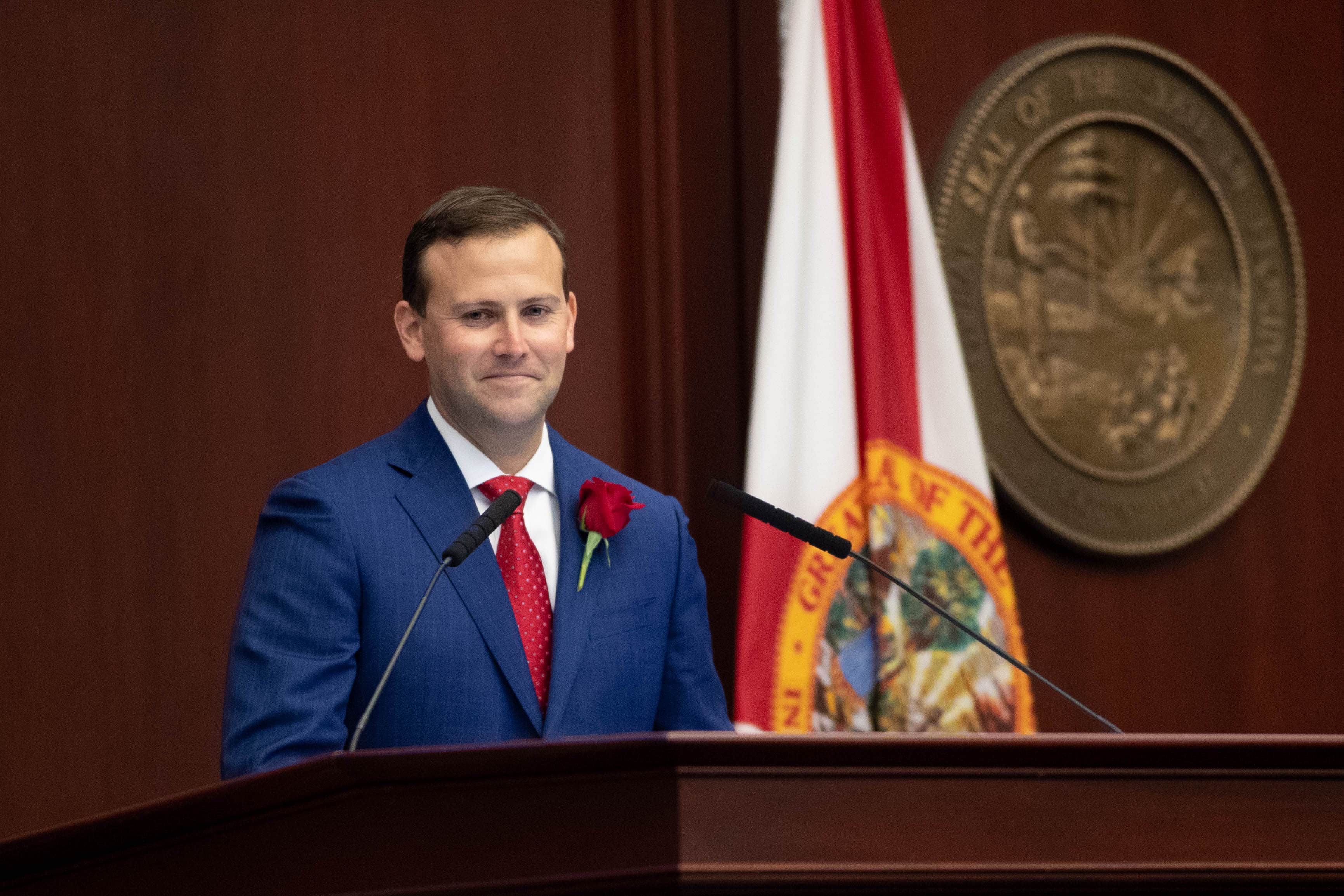 Save debate for debate, says the House Speaker.
Chris Sprowls has now finished Day 3 of his first Legislative Session as House Speaker. Thursday marked the first extensive floor session, and the Speaker made it clear he wanted the chamber to follow rules for debate to a T.
During the question phase over Republicans' bill granting COVID-19 liability protections to businesses (HB 7), Sprowls ran a tight ship. Sprowls was quick to cut off questions from Democrats who were being liberal with the lead-up to their inquiries.
It took Sprowls less than one minute into the first question of the afternoon to interrupt a line he said "sounds like debate." That query came from Aventura Democratic Rep. Joe Geller, who would draw several more complaints from Sprowls throughout the floor session.
The same fate befell several Democrats' lines of questioning that bordered on grandstanding. Sprowls also intervened on a "leading question" from Miami Beach Democratic Rep. Mike Grieco.
House Democratic Co-Leader Evan Jenne, of Dania Beach, told Florida Politics he wasn't upset with the change of pace, and acknowledged that Sprowls is the ultimate authority on decorum in the chamber. Enforcement from the dais isn't uncommon during floor sessions, especially on contentious topics.
"But I do think he's probably riding it a little bit harder than most Speakers in the past, but we'll see how it goes," he said. "We've got two years to figure this out and then give him a grade on it."
The Speaker's office says Sprowls was just following the rules the House agreed to during the Organizational Session in November. Discussion on bills is generally limited to the question phase and the debate phase, which follows questioning.
However, Jenne noted it was something his caucus would keep their eye on.
"Hopefully he loosens up a little bit because sometimes questions do have some sort of preface or predicate prior to them, and as an attorney, I know he knows that," Jenne said.
On Thursday, the members agreed on 30 minutes for questions on amendments. The House spent less than five minutes on amendment questions. Additionally, members agreed to 90 minutes to debate amendments and spent about 18 minutes.
Orlando Democratic Rep. Anna V. Eskamani was one of three lawmakers to vote against the rules in November, along with Democratic Reps. Yvonne Hayes Hinson and Carlos Guillermo Smith.
Eskamani told Florida Politics she voted against the rules because she expected that kind of crackdown from the Speaker.
"As Democrats, the minority caucus, one of the tools we have is debate," she said. "To have that limited is not something I wanted to give up, but now we are here."
When Sprowls unveiled his proposed rules in November, he called the House floor the one place all members can debate the state's matters.
"The Floor can be a place for lengthy, vigorous discussion without descending into desultory or self-aggrandizing behavior," Sprowls said.
Eskamani called the Speaker's display Thursday a "very strict interpretation of the rules," similar to how he ran the Rules Committee when he was Chair from 2018 to 2020.
Despite calling herself an optimist, she was more bearish than Jenne on the possibility that things could change, calling it the status quo for Session.
"As always, we will adapt," Eskamani said. "We are going to do whatever we can to fight for our districts and to make our voices heard within whatever confines that we face."
Smith also predicted the tight leash Sprowls would give to House members on the floor.
"Florida House GOP leaders proposed a series of new rules meant to SILENCE the voices of Democrats," he tweeted in November. "Dramatically limiting floor questions on their bills & ruling amendments out-of-order they don't like is an unacceptable attack on the millions of Floridians who elected us."
Jenne agreed that Sprowls was trying to set an early precedent.
"Speaker Sprowls is an incredibly intelligent man, and he doesn't act without some sort of motive for what he's trying to get at, and that is I think to have as much control over the chamber as possible, which is his right as Speaker," he said.