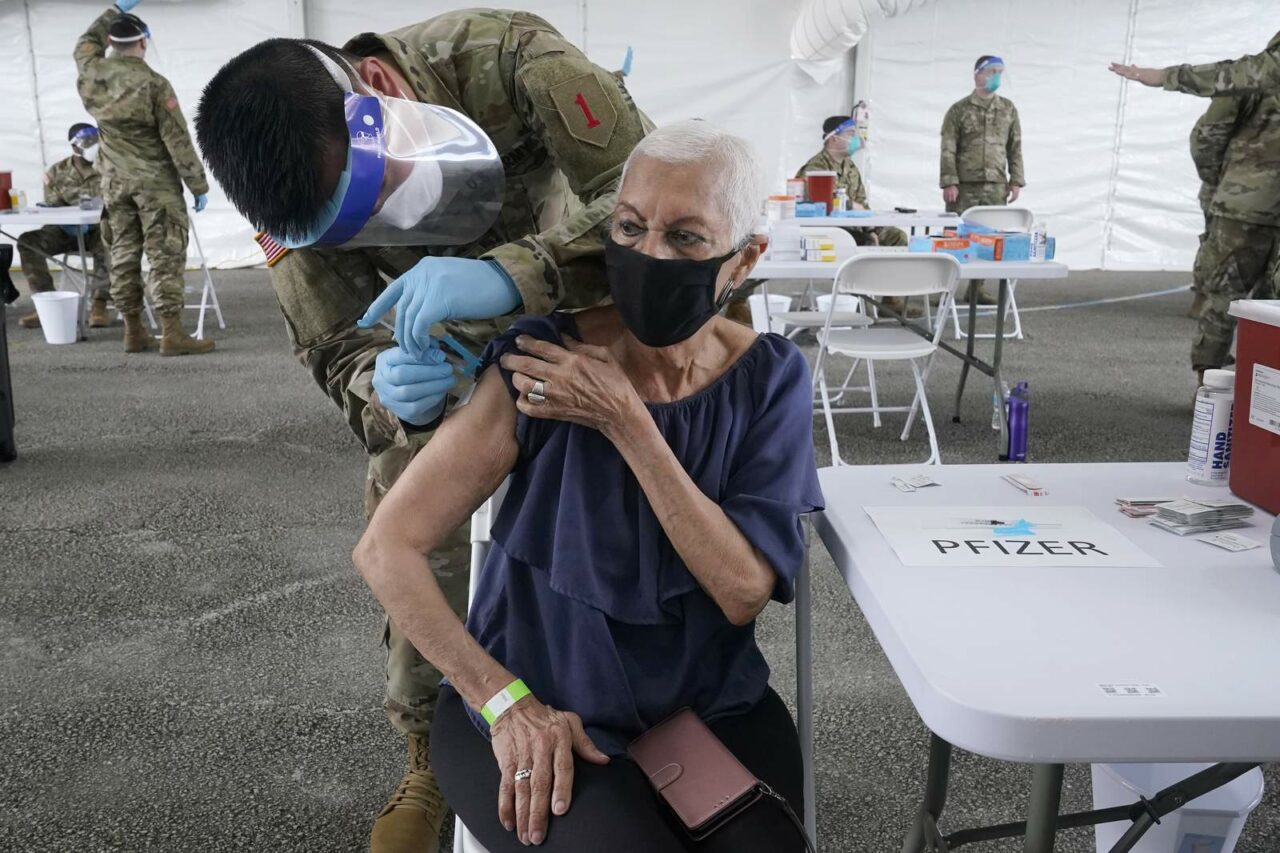 South Florida's tri-county area now has more than 700,000 people fully vaccinated.
Vaccinations have now surpassed confirmed COVID-19 cases in Broward County, with nearly 209,000 people fully vaccinated in the region as of Tuesday.
That's greater than the nearly 205,000 people who have tested positive for the virus so far. That number is certainly an undercount of actual COVID-19 cases in the county, as testing was sparse early on in the pandemic and a certain share of individuals who contracted the virus never sought a test.
Still, the new milestone shows the progress of the COVID-19 vaccination effort in the region.
Palm Beach County reached that same benchmark as of Feb. 19. Vaccinations have continued to outpace infections there, with more than 232,000 people fully vaccinated compared to 126,000 confirmed COVID-19 cases.
Miami-Dade County — the third region included in South Florida's tri-county area — still has a way to go to reach a similar milestone. Miami-Dade has seen nearly 429,000 confirmed COVID-19 cases, but has completed around 265,000 vaccinations.
That shot total is rising, however, thanks to an expansion in Miami-Dade vaccine sites near the end of February. The current pace of vaccine distribution means that by the end of March, Miami-Dade should have more people fully vaccinated than have tested positive for COVID-19.
More than 40% of Miami-Dade's seniors are now fully vaccinated against COVID-19. That number is 45% in Broward and around 51% in Palm Beach.
South Florida crossed the 700,000 mark Tuesday in terms of people fully vaccinated against the coronavirus. More than 1.9 million doses have been administered across the tri-county area.
The tri-county area saw another 35 deaths as well Tuesday, bringing the regional total to 10,822. More than 760,000 people have now tested positive for COVID-19, though current case counts have remained low in recent weeks.
Here are some of the weekly numbers for the previous three weeks throughout the South Florida tri-county area:
Miami-Dade
— Feb. 23-March 1: 36 newly-reported hospitalizations per day, 20 newly-reported deaths per day, 1,230 new confirmed cases per day, 5.8% positivity rate, 12,820 vaccine doses administered per day, 3,694 vaccines completed per day
— March 2-8: 45 newly-reported hospitalizations per day, 19 newly-reported deaths per day, 1,189 new confirmed cases per day, 6.2% positivity rate, 16,958 vaccine doses administered per day, 4,426 vaccines completed per day
— March 9-15: 29 newly-reported hospitalizations per day, 11 newly-reported deaths per day, 1,083 new confirmed cases per day, 5.8% positivity rate, 16,824 vaccine doses administered per day, 5,963 vaccines completed per day
Broward
— Feb. 23-March 1: 25 newly-reported hospitalizations per day, 8 newly-reported deaths per day, 718 new confirmed cases per day, 6.4% positivity rate, 7,859 vaccine doses administered per day, 2,683 vaccines completed per day
— March 2-8: 22 newly-reported hospitalizations per day, 11 newly-reported deaths per day, 648 new confirmed cases per day, 6.3% positivity rate, 10,679 vaccine doses administered per day, 3,292 vaccines completed per day
— March 9-15: 18 newly-reported hospitalizations per day, 11 newly-reported deaths per day, 595 new confirmed cases per day, 6% positivity rate, 10,486 vaccine doses administered per day, 3,788 vaccines completed per day
Palm Beach
— Feb. 23-March 1: 15 newly-reported hospitalizations per day, 10 newly-reported deaths per day, 435 new confirmed cases per day, 6.1% positivity rate, 6,192 vaccine doses administered per day, 3,588 vaccines completed per day
— March 2-8: 11 newly-reported hospitalizations per day, 5 newly-reported deaths per day, 357 new confirmed cases per day, 5.6% positivity rate, 8,983 vaccine doses administered per day, 4,300 vaccines completed per day
— March 9-15: 14 newly-reported hospitalizations per day, 8 newly-reported deaths per day, 362 new confirmed cases per day, 5.6% positivity rate, 7,668 vaccine doses administered per day, 4,099 vaccines completed per day