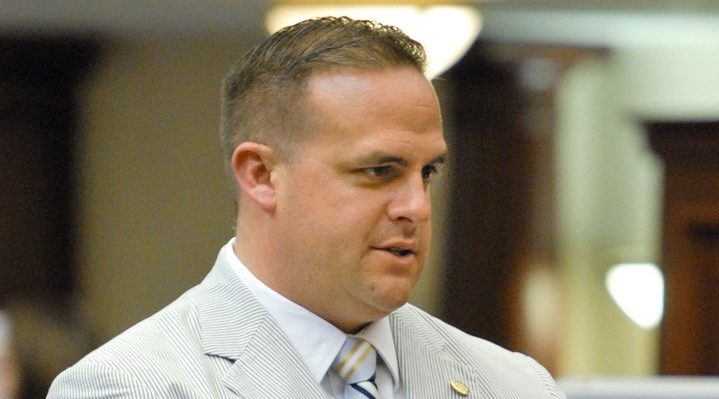 Law enforcement raided Artiles' home Wednesday, though he was not present at the time.
Former Sen. Frank Artiles has been arrested and faces charges Thursday as authorities seek to nail down the disgraced lawmaker's role in backing a third-party spoiler candidate last cycle.
Police raided Artiles' home Wednesday, seizing his electronics. Artiles' attorney later said the former Senator had been cooperative as the Miami-Dade County corruption task force investigated the case. According to WPLG Local 10, Artiles was being taken to Turner Guilford Knight Correctional Center and faces multiple election-related charges.
WPLG reports those charges include making excessive campaign contributions, "conspiracy" to make multiple campaign contributions over the limit and a "false swearing in connection with voting or elections."
In last November's Senate District 37 contest, third-party candidate Alex Rodriguez siphoned nearly 6,400 votes in a race decided by just 32 votes. That contest featured more than 216,000 votes cast in total, and ended with Republican candidate Ileana Garcia defeating then-Democratic Sen. José Javier Rodríguez.
"That is me, that was all me," Artiles reportedly said as he watched the Democratic incumbent lose the seat as results poured in on Nov. 3. Artiles was attending an election night party for Republican Jason Brodeur at the time. Another attendee said they heard Artiles make the remarks.
State Attorney Katherine Fernandez Rundle on Thursday accused Artiles — who was forced to resign from the Senate in 2017 — of paying Alex Rodriguez nearly $45,000 to run as an independent candidate and "confuse voters and siphon votes" in the SD 37 race.
Alex Rodriguez, who shares a last name with the former Democratic Senator, did not actively campaign for the seat.
Democrats have smelled a spoiler candidate ever since, though Republican leaders and Garcia herself have denied any such scheme.
"I can't attest, I can't say, and I can't answer for someone I don't know and for something that I haven't done. I am not the focal point of this," Garcia said after Wednesday's raid.
"I didn't know of him until this happened," Garcia added, referencing the Herald's December report on Artiles' possible involvement. "I hope he doesn't get offended if he ever sees this because I just really didn't."
Rundle stressed Thursday that her office has "no indication" Garcia was involved in Artiles' alleged plot.
According to an arrest affidavit, Artiles, a Republican, orchestrated what Rundle called a "ghost campaign" to oust the Democratic senator.
"Running a ghost candidate" is not a crime, however, Rundle said.
"Is it an attack on our democracy? Is it a dirty political trick? Absolutely," she said. "What is a crime is making illegal campaign contributions to get a candidate to run. … Sadly, Frank Artiles knew he could manipulate Florida's election system."
Alex Rodriguez, who was also charged with three felonies related to the election scheme, confessed after being approached by investigators in December, according to the affidavit released by Rundle's office Thursday.
The affidavit said Artiles contacted Alex Rodriguez, who had moved to Boca Raton, in May and offered to pay him to run in the Miami-Dade County Senate race. Fernandez said Alex Rodriguez was experiencing "dire financial difficulties" at the time.
"Artiles allegedly discussed a, 'You help me, and I can help you' scenario," Rundle said.
Artiles, 47, and Alex Rodriguez, 55, were charged with making or receiving two or more campaign contributions in excess of limits, conspiracy to make or receive two or more campaign contributions in excess of limits and false swearing in connection with voting or elections. Each of the three charges is a third-degree felony.
The affidavit, which includes numerous text messages between Alex Rodriguez and Artiles, also alleges that the pair met at Artiles' Palmetto Bay home, where Artiles offered to pay Alex Rodriguez $50,000 — half before the November election and half after — to run as a candidate with no party affiliation in the District 37 race. Artiles knew that Alex Rodriguez did not live in the district, according to the affidavit.
"According to Rodriguez, Artiles explained that the strategy was simple. Rodriguez would run as an independent candidate with the same last name as the incumbent candidate (Jose Javier Rodriguez) in an attempt to confuse voters and siphon votes from the incumbent," the affidavit signed by Eutimio Cepero, an investigator with Rundle's office, said.
Artiles in June gave Alex Rodriguez the paperwork to file as a candidate, instructed him to use an old Palmetto Bay address that was still on his driver's license and gave him $2,000 to open a campaign bank account. After the account was opened, Artiles told Alex Rodriguez he needed to rush to Tallahassee to file the paperwork with the state Division of Elections.
Alex Rodriguez, who knew Artiles for about 20 years, and Artiles also allegedly tried to put together a business deal for personal protective equipment, according to the affidavit.
"No deal ever came to fruition," it says.
Cepero's affidavit details what Alex Rodriguez told investigators.
On several occasions, Alex Rodriguez asked Artiles for money, and Artiles gave him between $3,000 and $5,000. Artiles took the money from a safe in his office and asked for 30% of whatever profit Alex Rodriguez made from the deal.
Artiles kept records of the money he gave to Alex Rodriguez "on a piece of paper that he kept in a ledger on his desk" that both men initialed.
One time, Alex Rodriguez asked Artiles to pay for his child's Catholic school tuition. Artiles paid $6,798.39 to the school using his credit card.
Alex Rodriguez "deeply regrets allowing himself to be used in this way and hopes that by coming forth with the truth he can help to right these wrongs," his lawyer William Barzee said in an email.
"Frank Artiles and his co-conspirators knew they couldn't beat Jose Javier Rodriguez in a fair election so they rigged it. Artiles cynically targeted and used a vulnerable 'friend' with a great name to run in the race in order to confuse voters and steal the election," Barzee said.
Artiles paid Alex Rodriguez more than $55,000, with all but $10,900 attributable to the candidacy, according to the affidavit.
Senate Republicans spent big on the SD 37 race, hoping to flip the seat from Democratic control. Asked Thursday by reporters to react to Artiles' arrest, Senate President Wilton Simpson said he's waiting for more details to come out.
"We're learning what you're learning as you report it," Simpson told reporters. "A week from now, we'll have a lot more information to make a judgment."
Fraud "has not been proven yet," the Senate President said, noting that Rundle had emphasized that Garcia was not involved.
Simpson said he's not aware of whether prosecutors have their eye on the main Senate Republican fundraising arm, and said dark money being funneled to Rodriguez did not signal any red flags.
"If you'll remember, we had three races that the Democrats believed that they could flip, and so our primary concern was those races, singularly focusing on our candidates," he said.
Simpson also demurred when asked by reporters whether the Senate would use an "accelerated" process to pass legislation preventing what's been alleged from happening in elections going forward.
"Two weeks ago, you all were asking, 'Shouldn't we be doing other things on COVID liability?' And so now this happens to be the topic of the day. So, it will get accelerated based on the will of the Senate."
Artiles, a tough-talking U.S. Marine veteran whose brash demeanor earned him the moniker "Frank the Tank" during his tenure in the Legislature, was forced to resign from the Senate in 2017 after using a racial slur and other derogatory language directed at Black lawmakers while at the Governor's Club in Tallahassee.
SD 37 spans portions of Miami-Dade County, including Coral Gables, Key Biscayne, Palmetto Bay and Pinecrest. But Alex Rodriguez, the NPA candidate, didn't reside in Miami-Dade County. He rented a home in Palm Beach County, according to records.
The third-party candidate lent his campaign enough cash to pay the filing fee in June, then failed to campaign or actively fundraise. Several mailers featuring his name — funded by a group called "Proclivity" — were sent to SD 37 residents, though it's not clear who funded that work. Investigators will likely look into whether that money came from Artiles, or whether he knows the source.
___
The News Service of Florida contributed to this post. Republished with permission.