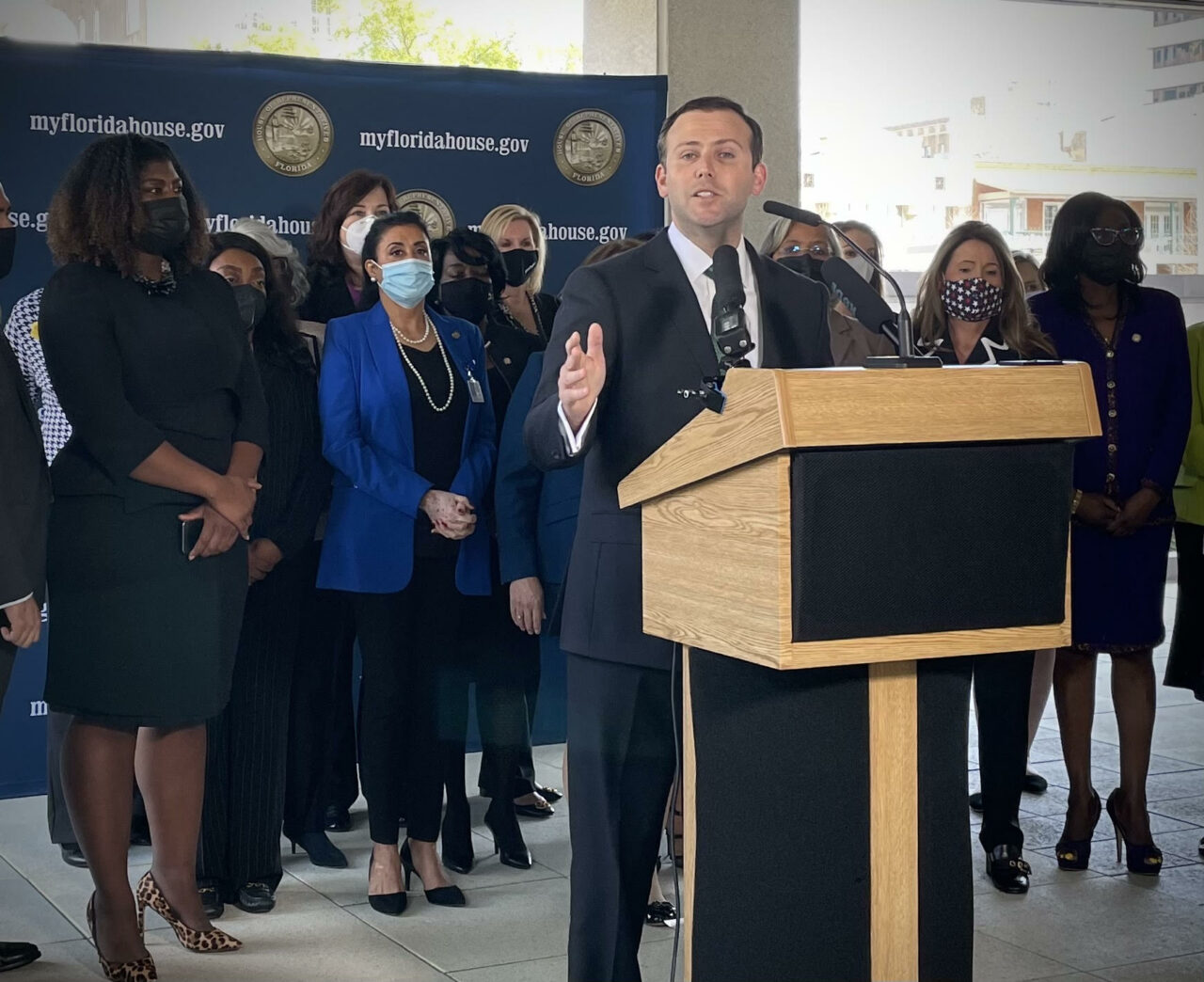 Under the bill, Medicaid coverage would be extended for pregnant mothers one year after birth.
House Speaker Chris Sprowls announced Tuesday legislation to extend Medicaid coverage for pregnant women for one year after they deliver their babies.
The jubilant tone at the event underscored the bipartisan nature of the issue. Flanked by lawmakers, many of them House members of the Florida Woman's Legislative Caucus, Sprowls called it the best press conference he's been to this Session.
"I believe that every baby should have the opportunity to be born healthy," Sprowls said. "And for that baby to thrive, every mother needs appropriate care."
The $240 million extension will fall under a Medicaid Conforming Bill on the agenda in the Health Care Appropriation Subcommittee later this week. Most of the funding will come from pass-through funds from the federal government. The state will commit about $92 million.
Sprowls indicated the bill would use recurring funds, though he had not yet spoken with Senate leaders or Gov. Ron DeSantis about the legislation as of the press conference.
"If we're going to be truly committed to mothers and the health of their children in the long term, it needs to be signaled in both word and deed that this is a long-term commitment, and that's what we're going to do in the Medicaid Conforming Bill," Sprowls said to cheers from lawmakers.
The concept, at least initially, could cause a rift between the House and Senate since a top Senate Republican said his chamber is planning to release an austere health-care budget proposal that calls for cutting Medicaid.
"I know that it's very important to the speaker, so we'll see what we can do. It's just that the cards I have wouldn't allow me to do that right now," said Sen. Aaron Bean, a Fernandina Beach Republican who chairs the panel that handles health-care spending in the Senate.
The House is expected to release full details of its proposed spending plans on Thursday, and Bean said he will take a closer look to see where the House would get the funding.
"It will be interesting for me to see how the House is doing it. How do they get there? That's a lot of money," Bean said. "It's a lot of money to get there. But it's a noble cause."
Currently, mothers are covered for two months after the birth. Under the new bill, they would be covered for a year after the baby's birth, when many health issues occur.
"Our nation's rate of maternal mortality and morbidity is rising, and a growing body of evidence shows that many of these deaths, particularly from preventable or treatable causes — such as overdose, suicide, hypertension — diabetes occur after pregnancy when Medicaid coverage ends," said Dr. Andrew Friall, an obstetrician and chief medical officer at Tallahassee Memorial Hospital. "Extending Medicaid coverage will help eradicate preventable maternal deaths."
The additional months of eligibility will apply to about 97,600 Florida women each year, according to the Agency for Health Care Administration.
Sprowls credited a teary-eyed Rep. Kamia Brown as the driving force behind the legislation.
"This problem impacts minority communities disproportionately. Disparities in maternal health equality results in mothers of color in Florida being three to four times more likely to die from pregnancy-related causes than White mothers," Brown said.
The bill would not expand Medicaid to new populations in Florida. The state is one of a handful that hasn't implemented Medicaid expansion to non-new mothers since it was partially federally-funded in 2010. Under the Affordable Care Act, states were originally required to expand Medicaid to cover more people by increasing eligibility to 138% of the poverty level. However, a Supreme Court ruling struck down the mandatory provision and states were allowed to opt-in or out of the program.
"We've had this conversation about Medicaid expansion and reasonable people can disagree. What this is about today is what we agree on," Sprowls said.
___
Content from The News Service of Florida was used in this report.