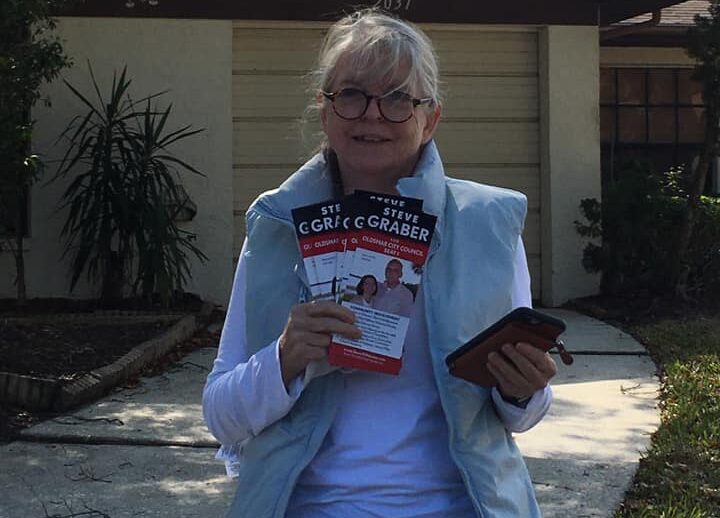 The Pinellas Democratic Party has elected Lucinda Johnston as the party's new chair.
The Pinellas Democratic Party has elected Lucinda Johnston as the party's new Chair to replace Barbara Scott, who resigned in mid-February.
Johnston, who was elected Monday, takes on the position amid a bit of a chaotic year for the local party, which has held two major elections since its annual reorganization meeting in December.
After Scott's resignation, then-Vice Chair Jeff Cox took over as acting Chair. On Tuesday — one day after Johnston's election — Cox announced he's resigning as Vice Chair because of family health concerns.
"It will be our third major election since the reorganization," Johnston said. "It was a big loss for me, personally …This job is a volunteer position, but it takes a lot of time."
Johnston said she has not yet decided if she will appoint an interim Vice Chair, but she plans an election near the end of April to fill the position.
Even without Cox's resignation, the party had already seen a fair share of reorganization in its leadership.
Several high-ranking party members seeking reelection to the board last December were voted out and replaced by new party members in an effort led by the party's progressive caucus, former-Vice Chair Johnny Boykins said in a previous interview. Boykins was replaced by Cox in that election.
Scott, however, went unchallenged in the December elections, defaulting into another term as Chair until her resignation. She cited "personal concerns" in her resignation to the board.
Despite the chaotic start to the year, Johnston plans on keeping the former members of party leadership close, with many still remaining at some capacity on the board.
"I'm excited that former chairs spoke out in our meeting and expressed support for the party, and I thank them for the foundation that they've built. It's given me a lot to go with," Johnston said.  "I appreciate that — that was Susan McGrath and Barbara Scott. And we do have a position on our board for previous past chair, and so Barbara Scott will remain on our board and I'm hoping that she'll be active."
Johnston is also optimistic the party will move forward with a shared and strong directive: elect Democrats.
"Every election is heated and complicated, and people choose sides," she said. "I'm really optimistic, though, that when these are done that we'll be able to move forward."
To elect Democrats, the recently elected Chair laid out a three part plan: raise funds, register voters and get people to the polls.
"That to me is the prime directive, and there's a lot of other stuff that goes on at static, and I think that focusing people on that very simple goal is one of the ways that (we move forward)," Johnston said.
She would also like to engage more young people in the party, eyeing issues like student loan debt, college tuition and minimum wage.
"We are building a coalition of young people in this party that understand that Democrats care about the issues that are important to them," she said. "They're willing and ready, and anxious to knock on doors."
Johnston also plans to mirror her predecessors by working closely with the Hillsborough County Democratic Party and its Chair, Ione Townsend.
As for the upcoming St. Petersburg municipal elections, Johnston wants to retain the 6-2 Democratic majority on the City Council, and she would like to see the female majority continue. The only Republicans — and the only men — on the council are Ed Montanari and Robert Blackmon.
Pinellas County Democrats didn't suffer as many losses as their counterparts in South Florida — the county went narrowly for President Joe Biden after going narrowly for former President Donald Trump in 2016 — but they did lose one key seat in the Florida Legislature.
Democrats lost the Pinellas County HD 69 seat to Republican Linda Chaney, who bested former incumbent Jennifer Webb. The loss was one of five gains the Florida GOP made on Election Night in November.