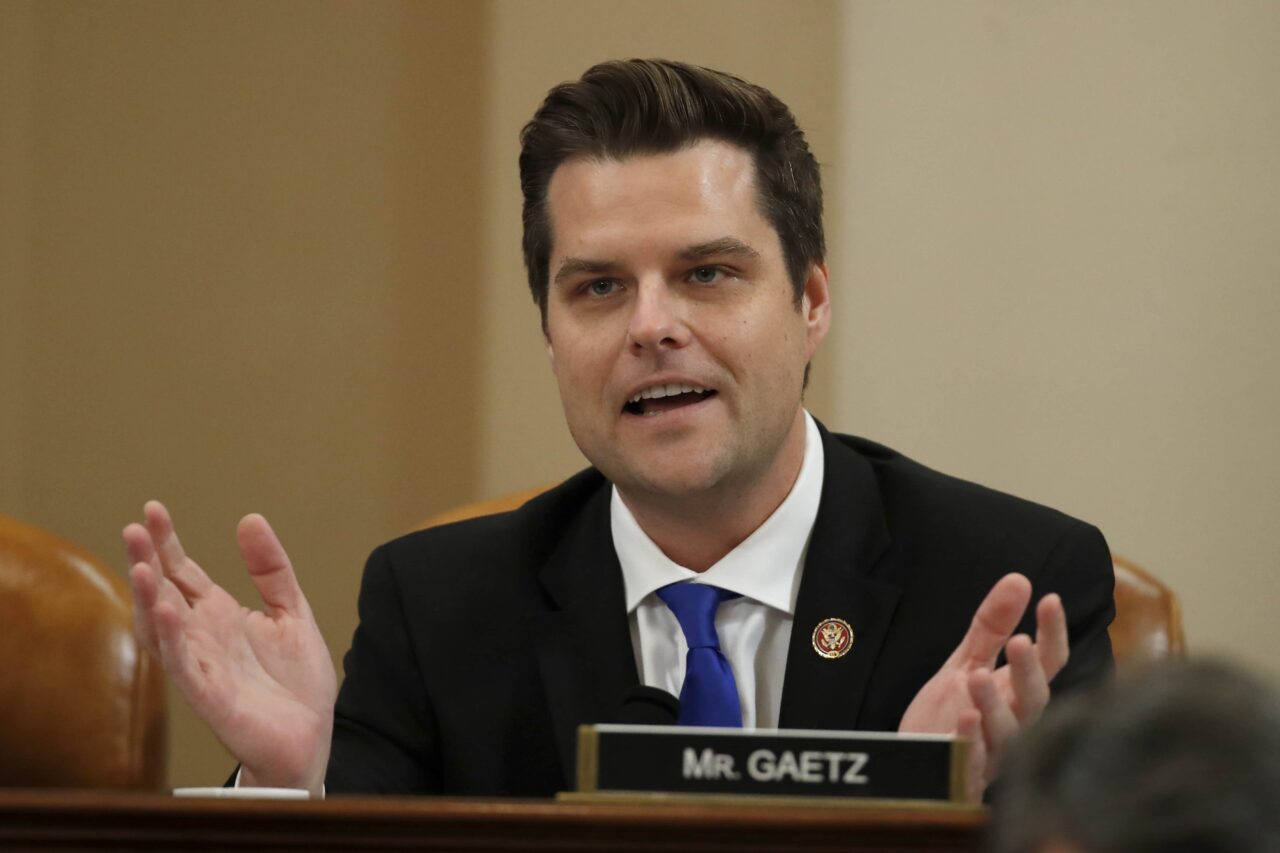 When Gaetz can't even get Tucker Carlson, there might be a problem.
Matt Gaetz loves to talk and make news, and he does a lot of both. However, when Tucker Carlson offered him a few minutes on Fox News Tuesday night, Gaetz should have, for once, kept his mouth shut.
He went on Carlson's show to give his side of the explosive New York Times story that broke earlier in the day. The Times reported the Justice Department has been investigating Gaetz about a possible sexual relationship the Florida Congressman had with a 17-year-old girl.
That's bad, but it gets worse.
The Times reported investigators are examining whether Gaetz violated federal sex trafficking laws.
Obviously, everyone should reserve judgment about this until the facts come out. And lest anyone believe this is a partisan witch hunt, the probe began in the final months of the Donald Trump administration under Attorney General William Barr.
Carlson understandably wanted to give Gaetz a chance to explain himself. Gaetz should have said, hey man, can't talk about this. Maybe issue a statement with blanket denial, and then shut up.
Shut. The. Hell. Up.
But no. He went on air and, well, I don't think it's possible to make a bigger mess of himself than Gaetz did.
"That was one of the weirdest interviews I've ever conducted," Carlson said afterward.  "That story just appeared in the news a couple of hours ago, and on the certainty that there's always more than you read in the newspaper, we immediately called Matt Gaetz and asked him to come on and tell us more.
"Which, as you saw, he did. I don't think that clarified much, but it certainly showed this is a deeply interesting story, and we'll be following it."
When you're a deep red member of Congress, and you've lost Tucker Carlson, hmmm.
Carlson is correct when he says Gaetz didn't clarify much, which in Gaetz's situation only makes things worse.
Gaetz began by saying, "it is a horrible allegation and a lie." He added that any suggestion he traveled with a 17-year-old is a "verifiable lie," and that "People can look at my travel records and see that is not the case."
Well, that's what anyone would expect Gaetz to say.
And then, there was this.
"What is happening is an extortion of me and my family involving a former Justice Department official. On March 15, my father got a text message demanding a meeting wherein a person demanding $25 million in exchange (for) making horrible sex trafficking allegations against me go away," he said.
"Our family was so troubled by that, that we went to the local FBI. The FBI and the Department of Justice were so concerned by this attempted extortion of a member of Congress that they asked my dad to wear a wire, which he did with the former Department of Justice official."
His father, former state Senate President Don Gaetz, confirmed to Politico that the extortion attempt happened. But someone can't just make an allegation like sex trafficking "go away." That seems like a whole other issue.
And then, Gaetz brought up a dinner he had with Carlson a couple of years ago.
"I can say that actually you and I went to dinner about two years ago, your wife was there, and I brought a friend of mine — you'll remember her — and she was actually threatened by the FBI, told that if she wouldn't cop to the fact that somehow I was involved in some pay-for-play scheme, that could face trouble," Gaetz said.
Carlson's response: "I don't remember the woman you're speaking of or the context at all, honestly."
But here's the rub — Gaetz frequently has been at odds with the truth. He was one of the first to spread the lie that Antifa was behind the Capitol insurgence on Jan. 6.
In a 2019 CNN interview, Gaetz said, "Do you realize that one out of every five people that the federal government charges with murder is an illegal alien?"
Not true.
He said a bill signed by former President Barack Obama allowed the use of federal money for abortions.
Nope.
In 2018, he tweeted that the FBI was actively investigating Hillary Clinton's use of an email server.
Also, not true.
But then, Gaetz has always seemed to believe he can talk his way out of anything. Based on what we saw and heard from his interview with Carlson, that won't be his best strategy going forward.