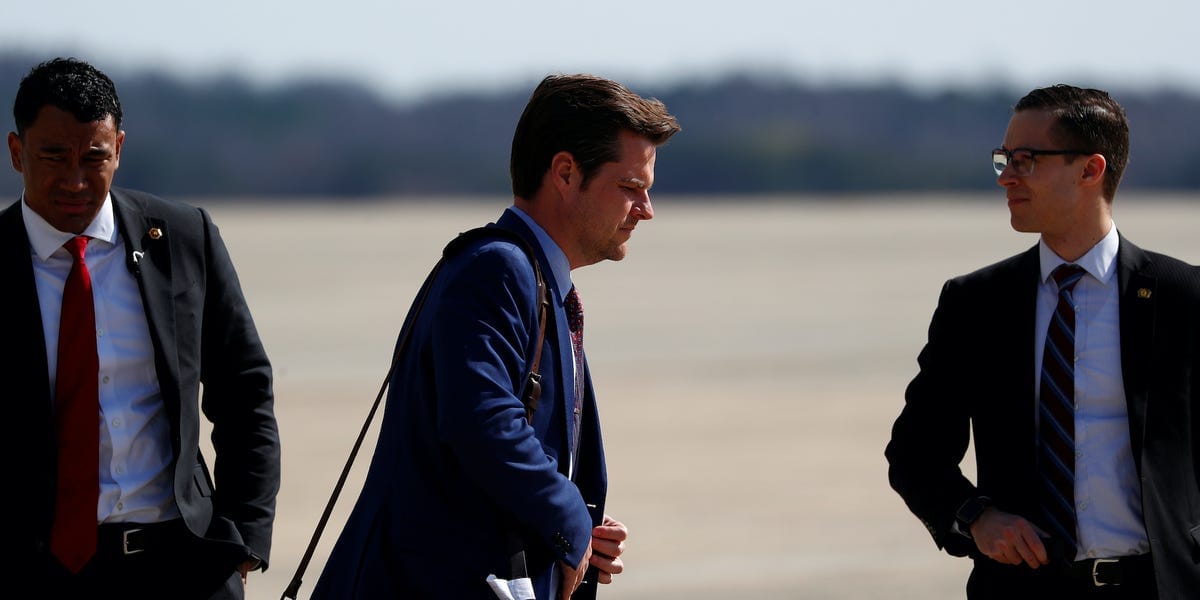 You know. Hypothetically.
A scandal surrounding U.S. Rep. Matt Gaetz made national headlines and inspired gossip (and disgust) in Florida and Washington, D.C. But in the quiet corners of Florida's Panhandle, the whispers already leaned into another topic.
Who will replace Gaetz when he's gone?
While nothing is certain with a Congressman whose brand seems synonymous with defiance, talk has already begun who might file for a special election in Florida's 1st Congressional District. A state lawmaker like Alex Andrade? A deep-pocketed businessman with political experience like Frank White? A long-time Gaetz adversary finally clutching comeuppance like Chris Dosev?
Those names and more whet the tongues and political appetites of North Florida's political class.
"Anything can happen," said Rick Outzen, editor for Pensacola InWeekly. Still, their names come up immediately.
The one thing for certain? There will be plenty of horses in this race.
In what could be reminiscent of the 10-Republican field that filed for an open seat in Florida's 19th Congressional District last year, the lead-up to a primary in the district could be a raucous affair.
Greg Merk, who challenged Gaetz in the primary in 2020, last week became the first to file paperwork with the state. But no one believes he will be the last.
Tried and True
Proven vote-getters rise quickly to the top of the list. Andrade in  particular waggles tunks, perhaps because he can draw on much of the same base as Gaetz.
A young politician could follow a similar track from statehouse to Congress. Notably, Gaetz vocally supported Andrade in a caustic primary last year against Dosev, and for the most part rose above the personality conflicts while retaining the appeal of an "America First" conservative.
"My money is on Alex Andrade," tweeted prominent Republican consultant Anthony Pedicini.
But he's not the only experienced vote-getter in the mix. Outzen notes Pensacola has a number of political personalities who may jump the chance to run.
Grover Robinson, who just announced he won't seek a second term as Mayor, could reach for the chance, though he signaled when announcing his retirement that private life was calling.
"Jill, family, and I have been discussing this for some time and I think this is the right decision for us," he said in a statement last month.
But then Ashton Hayward, Robinson's predecessor, still boasts plenty of capital with voters in the district's largest city. Working at the Andrews Institute, Hayward kept political connections intact and his name occasionally in the news.
While Sens. Doug Broxson and George Gainer, both Republicans, represent larger constituencies, they also rank up in years and seem ensconced in the Florida Capitol.
Familiar names
White, a former state lawmaker, last saw the ballot in 2018 when he waged a tougher-than-expected race for Attorney General. While he fell to Ashley Moody in a Republican primary — she went on to win the race that fall — supporters note he won in the Panhandle, beating Moody by about 3,400 votes in Santa Rosa County, 3,500 votes in Okaloosa and 9,000 in Escambia.
And Outzen notes that family business ties, the same ones that allowed him to wage a statewide campaign three years ago, could give White a lift in a shortened election cycle.
"The Governor decides when to schedule a special election, and a shorter time will benefit White," Outzen said, suggesting rapid fund-raising means rapid messaging.
Then there are new faces like Larry Keefe, the former U.S. Attorney in the area who, like Andrade, boasts strong connections to Gaetz-world, which likely got him an appointment during the Donald Trump administration. And he's available; Keefe recently announced he's stepping down as new President Joe Biden makes his own appointments.
Then there's Doug Bates, a prominent attorney and local baseball star. He's got the name recognition and community connections to make a run, with the biggest question perhaps whether he can enjoy greater success in private practice.
Right Field
Or could there be a Republican who doesn't even live in the Panhandle? The Washington Examiner this weekend reported on a meeting of Tallahassee conservatives who clearly think a Trumpy district needs a Trumpier Congressman. Two names were thrown out in the piece — Laura Loomer and Anna Paulina Luna.
Both hail from the same "own-the-libs" corner of the party, but ran for Congress in 2020 in places where that couldn't hold. For all the gun-touting viral ads showing Luna with an assault-style rifle in hand, she couldn't beat incumbent Rep. Charlie Crist in a purple Tampa Bay district whose last Republican Representative, David Jolly, went on to be a prominent Trump critic.
Nor could Loomer, an online personality banned from Twitter but the face of anti-Big Tech legislation in Tallahassee, make much headway against long-time Rep. Lois Frankel in blue Broward County, even if it was Trump's home district. But both proved prolific fundraisers. And maybe a young female conservative could be the remedy for a district recovering from the Gaetz accusations.
Then there's state Rep. Anthony Sabatini, a Lake County Republican who already filed in Lake County in U.S. Rep. Dan Webster's district but who made clear he'd rather run in a newly drawn seat than challenge a sitting Republican. He's also stood up as one of Gaetz's reliable defenders post-scandal. Former state Rep. Cindy Polo, a South Florida Democrat and noted Sabatini antagonist, suggested as Gaetz's scandal unfolded that Sabatini's ambitions may be better timed than many considered.
"It's almost as if Tiny Tony knew a congressional seat would be open," she tweeted. "Another seat….someone who may or not be investigated for inappropriate relations with a 17-year-old," she continued. "Rhymes with Fatt Schmates"
Grudge match
Merk, who painted Gaetz as a secret liberal who played a conservative on cable TV, will be one face ready to jump into the primary with Gaetz or without. He's not the only one sour on Gaetz in the district, though.
Dosev, still hurting from a hostile primary when Gaetz unleashed all his party energy in Andrade's favor, built up enough support to win 39% of the vote against an incumbent. At the very least, there are makings of an Andrade-Dosev rematch to draw the political world's attention.
The question for either may be whether local Republicans want a full break from the entire network around Gaetz and will revolt even against his allies. But if the Panhandle GOP plans to keep the America First baby while the bathwater spirals down the drain, it may be Merk and Dosev are better positioned for a primary win than they have been to date.
But what of the proudest Gaetz-haters, namely the Democrats in the Panhandle? A neglected and severely outnumbered crew, a national black eye of the district's current incumbent surely will ignite some fighting spirit.
Phil Ehr, a former Republican, ran on a veteran-friendly message in the district as the 2020 Democratic nominee, and most expect him to make another run. But he may not be the only Democrat in the mix with an open seat on the line. Jennifer Zimmerman actually beat Ehr in a Democratic primary in 2018 and could always make another run.
Escambia County Commissioner Lumon May defeated his own brother in a Democratic primary last year with 89% of the vote in a heavily Democratic district, but could make a wider run. And Diane Krumel, who challenged Andrade for his House seat in 2020, clearly has an interest in public service. She's also the state committeewoman for Escambia Democrats and so has access to what loyal Democratic support exists in Florida's Panhandle.
Should a Democrat flip this seat, it would be an upset to reset everything known in Florida politics. At the book closing before last year's general election, registered Republicans outnumbered Democrats 314,234 to 146,917.