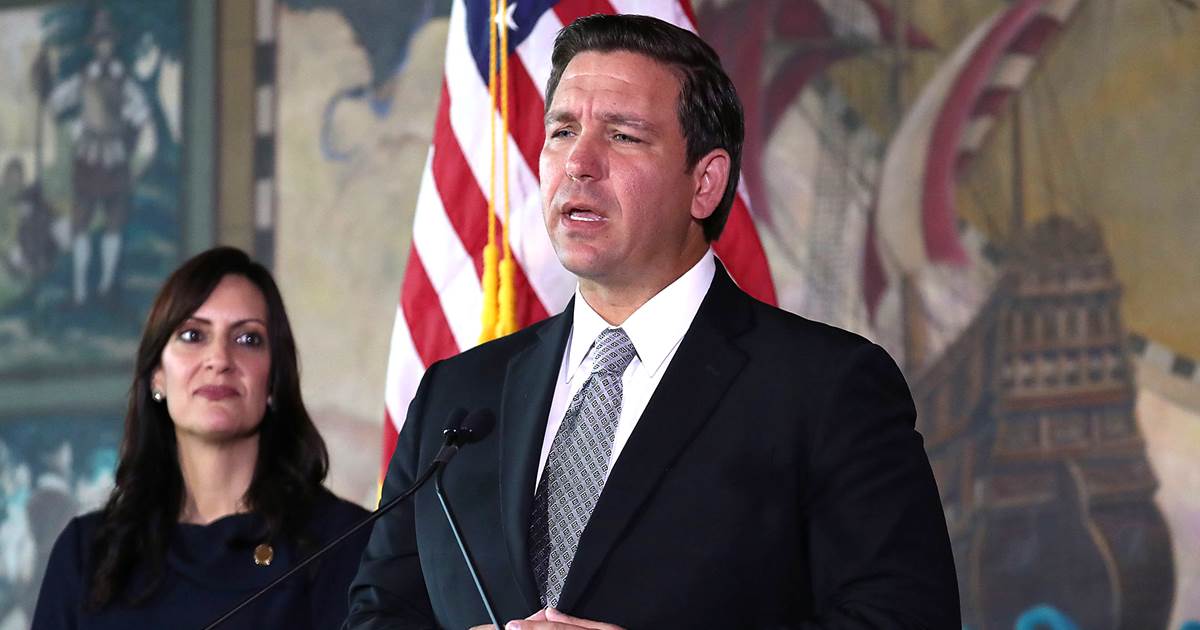 A local hurricane relief highlight touched on national topics.
Tuesday in Panama City, Gov. Ron DeSantis highlighted relief money for 2018's Hurricane Michael in what were ultimately wide-ranging comments.
The announcement in Bay County illustrated "even more progress on long-term recovery" from the historic storm, giving DeSantis the opportunity to both thank and channel former President Donald Trump, a reflection of how the Governor benefited from Trump's presidency and how he could carry on the legacy going forward.
The hurricane hit during the closing weeks of DeSantis' successful 2018 campaign. The Governor, describing it as a "storm like no other," said his team knew recovery was going to be a "long-term effort."
To that end, there was some financial aid. DeSantis rolled out plans to approve all pending federal cost share waivers from storm recovery, which he said would offer an additional $22 million in assistance to fiscally constrained local governments and entities.
Additionally, he announced the rollout of the Rebuild Florida Workforce Recovery Training Program. This Deparatment of Economic Opportunity program includes funding for local workforce development boards, educational institutions, and training programs, with $4.7 million being split between Chipola College and Tallahassee Community College for construction technology and welding technology programs.
More money is coming, DeSantis said, going on to note that careers like welding are a lot more of a sure thing than some less practical disciplines.
"It's a no brainer to provide opportunities in these industries," DeSantis noted.
Dane Eagle, head of DEO, talked about the Governor's approach to pass through grants. Eagle said DeSantis urged him to "get this money out in the community" and not to let it "sit in coffers."
Similarly affirmational statements came from Rep. Jay Trumbull, who called DeSantis "the most friendly Governor the Panhandle has seen."
DeSantis credited Trump with coming through for him and the Panhandle, specifically crediting Trump with overriding staff objections in green-lighting a 45 day cost share waiver for damages.
"With Trump, I could pick up the phone and get him on the phone," DeSantis said, saying the former President coming through on hurricane aid was just one example of "a lot of unique things that happened during that time."
"His staff, they didn't want him to do it," DeSantis recounted. But Trump said he was "going to be there for the folks in the Panhandle," then chose to "barrel ahead."
But DeSantis didn't just thank Trump. He also offered a credible impersonation, in an unsolicited pushback for the third time in 16 hours against a "60 Minutes" story that charged him with pay-to-play vaccine distribution.
DeSantis unloaded on "smear merchants" in the Panhandle, vowing that he would not capitulate.
"I know corporate media thinks they can just run over people. You ain't running over this Governor. I'm punching back. And I'm going to continue doing it until these smear merchants are held accountable," DeSantis vowed.
"Unless you're a partisan leftist, do not trust corporate media," DeSantis added. "You can't trust them. They're not trustworthy. They will lie. They will smear. And then they just move on to the next target and think they're going to be able to get away with it."
"You ain't getting away with it here. You come down to our state, you try to smear people, we're going to fight back and we're going to hold you accountable. This is not over by any stretch of the imagination," DeSantis added.
One subject that went unaddressed was that of U.S. Rep. Matt Gaetz, the DeSantis ally hamstrung by a sex scandal and reported investigations thereof. Gaetz was not on hand for the announcement, and the press did not ask DeSantis about his political ally who was key to his campaign and his governmental transition efforts.