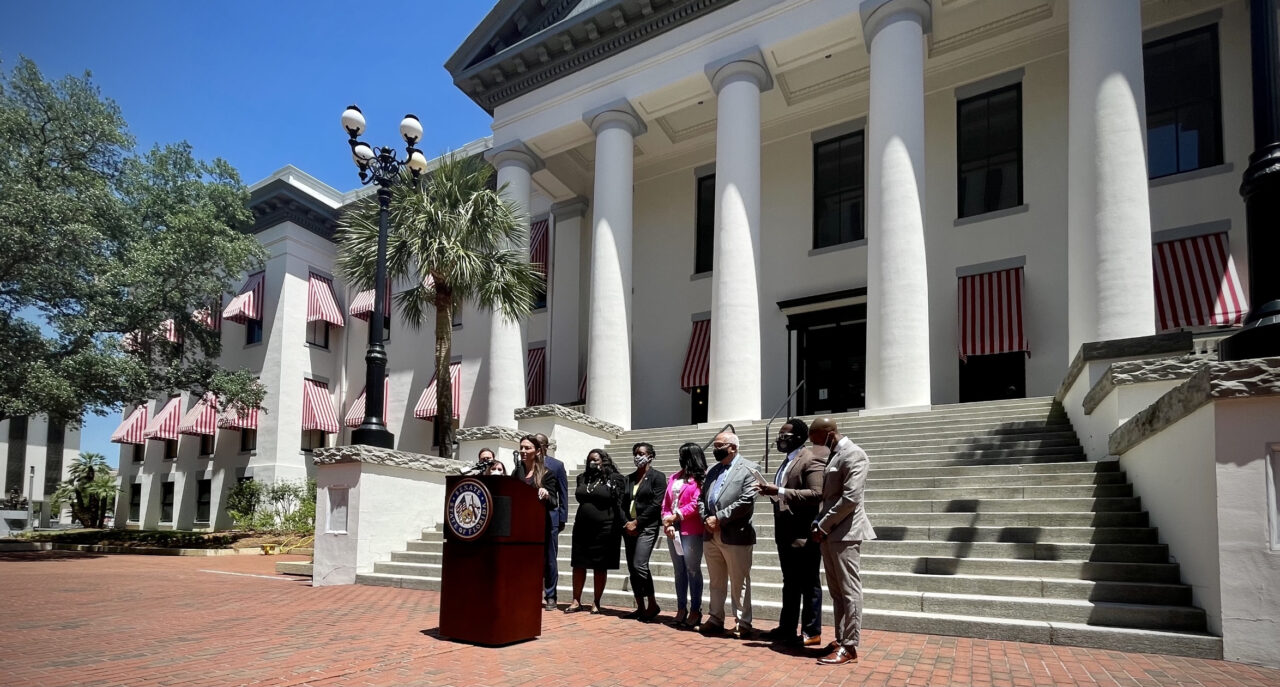 The law, they contend, endangers Floridians.
Agriculture Commissioner Nikki Fried joined Democratic lawmakers near the steps of the Florida Historic Capitol on Monday to decry Gov. Ron DeSantis' prized anti-riot bill.
The press conference came hours after DeSantis signed the bill (HB 1) into law, enshrining it as the most controversial proposal of the 2021 Legislative Session to cross the finish line.
Democrats and civil rights activists condemn the bill, a Florida Republican priority, as unconstitutional and racist.
It stiffens penalties against rioters and violent protesters. It also requires those arrested for street violence to stay in jail until their first court appearance.
The law, Fried said, endangers Floridians.
"We know where his heart is and where his priority is, and that's not getting to the bottom of racial injustice, the systemic injustice of our country," Fried said of DeSantis.
Flanked by Republican leaders and county sheriffs early Monday in Polk County, DeSantis applauded the bill as the "strongest" and most "pro-law enforcement" legislation in the country.
Democrats fought tooth-and-nail against the legislation, filing more than 40 amendments during the legislative process, trying to water it down.
Now, they're calling for demonstrations and corporate activism.
"He ignored us today and our cries from the Senate floor and also from the House floor," Democratic Sen. Shevrin Jones said. "If he was concerned, he would have addressed the killings of Black men by the hands of police officers.
"I will not compromise bipartisanship for injustice. Our ancestors and our parents fought hard for us not to have to repeat this moment."
The new law grants immunity to motorists who drive through protesters who obstruct a roadway. It also elevates charges related to blocking a highway to a federal offense.
As the father of "young Black men," House Minority Leader Bobby DuBose said, the law "terrifies" him. It aims to silence and harm minority communities, he said.
"If you haven't lived it, you don't understand the constant fear that members of our community live with daily," DuBose said. "There are two Americas and policing works differently in our world."
Democratic Rep. Anna Eskamani described the bill as "Hate Bill One."
She lamented that the bill makes defacing a memorial such as a Confederate statue a felony while simultaneously shielding "violent vigilantes" who injure or kill a protester.
Moreover, she described the bill as one aspect of a "coordinated assault" against freedoms, rights and minorities.
"There's a power grab happening this Legislative Session in our state Capitol against our right to protest, to vote, to direct local democracy, to organize and demand a more equitable world that does not just serve out-of-touch elites like Gov. Ron DeSantis."
Floridians will resist and will hit the streets, she added.
Notably, the collective expects the courts to strike down the law.
"This bill is not only unconstitutional, it's also vague and over-broad," said lawyer and Democratic Sen. Michele Rayner.