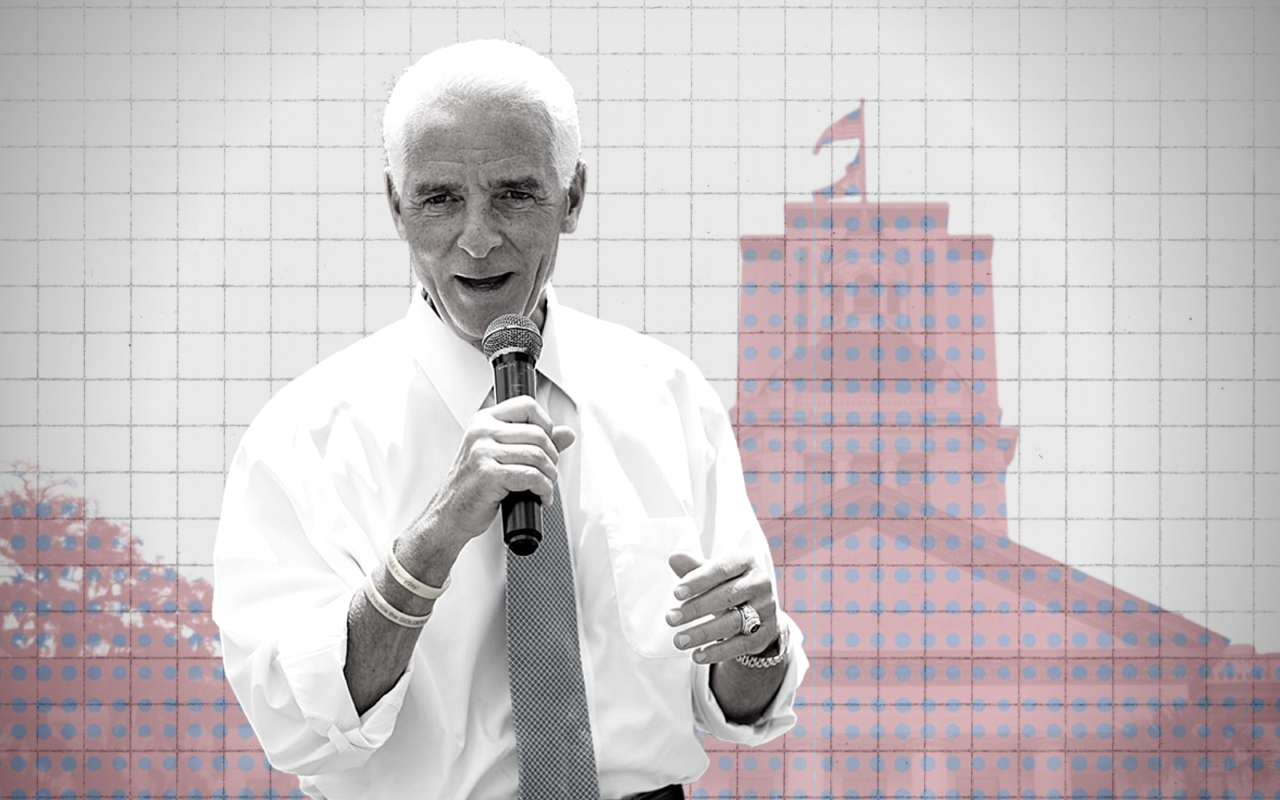 This will mark Crist's third run for Governor.
U.S. Rep. Charlie Crist will run for Governor, he announced Tuesday.
"We need to stop the division and hate, bring our state together, and finally open up opportunity for every Floridian, because you deserve jobs you can live on, housing you can afford and justice that's equal," Crist said, delivering an address on his run in his home district of St. Petersburg. Shortly before speaking, Crist tweeted out a campaign video breaking the news.
While there has been growing speculation about Crist entering the 2022 race to oust current Gov. Ron DeSantis, the Congressman has now confirmed the notion.
Crist is the first major Democratic candidate in the race, likely to face Agriculture Commissioner Nikki Fried, who is widely expected to run as well.
Florida should be a place where hard work is rewarded, justice is equal, and opportunity is right in front of you. That's a Florida for all — and that's why I'm running for Governor.

Join us: https://t.co/ayqK3371Ik pic.twitter.com/l1OksxMP1y

— Charlie Crist (@CharlieCrist) May 4, 2021
But, Crist has made clear who he sees as his main opponent: DeSantis.
"Governor DeSantis' vision for Florida is clear: if you want to vote, he won't help you," Crist said. "The truth is, Governor DeSantis failed us. Just look at the terrible damage Governor DeSantis and his allies in the Legislature caused during this Legislative Session."
The Republican incumbent has faced a slew of criticism from the Congressman, especially for his response to the COVID-19 pandemic.
"How many lives would have been saved if Governor DeSantis had listened to the scientists and medical experts, if he had simply promoted mask wearing and social distancing, instead of a political agenda," Crist said Tuesday. "How many lives would have been saved if Governor DeSantis had implemented a statewide plan to protect Floridians?"
Speaking with Jim DeFede on "Facing South Florida" on CBS Local in Miami, Crist said he was disappointed in DeSantis' job performance, particularly related to his response to the COVID-19 pandemic and vaccine rollout, or, as Crist called it, the "non-rollout."
The Congressman even called for a federal investigation into the alleged "pay for play" partnership with Publix — a scandal he highlighted in his campaign video.
His disapproval of DeSantis' COVID-19 response is one of the driving motivators behind Crist's run. A senior adviser to Crist, who spoke on the condition of anonymity, said the Congressman is uniquely suited to this moment of crisis, referring to his term as Governor during the Great Recession in the late 2000s.
After Crist's announcement, DeSantis doubled down on his COVID-19 response, saying he expects Crist's and other Democrats' line of attack to fall flat.
"I implore them, from my political interests, to run on closing schools, run on locking people down, run on closing businesses," DeSantis said. "I would love to have that debate. I can tell you this: We have saved people's livelihoods. You know what, when you have kids in schools, when you have people working and you have people's businesses surviving, you are saving lives too."
This will mark Crist's third run for Governor. He served in the office from 2007 to 2011 as a Republican, and ran an unsuccessful Democratic campaign in 2014, which he lost against now-Sen. Rick Scott.
His deep history with state politics will likely be a double-edged sword for the representative. Republicans dislike him for dumping the party and, as a former Republican, some Democrats remain skeptical. But, others see something different: a politician willing to stand for what's right, even if it means bucking his party.
Crist is coming into the race wanting to tackle challenges facing Florida head-on, as opposed to focusing his platform on culture war ideals, a senior adviser told Florida Politics. But, with the 2021 Legislative Session still fresh in the minds of Floridians, he will likely have to address some of the more divisive policies that the GOP will likely run their campaign on.
Crist recently blasted Florida Republicans for the last-minute passage of legislation that would prohibit transgender athletes from participating in women's and girls' sports. He also called on DeSantis to veto the bill, although the Governor made clear his intentions to sign it in a Thursday night appearance on the "Ingraham Angle" on Fox News.
"We won't make it harder to vote; we'll make it easier to vote," Crist said in a nod to this year's Session. "We won't ignore the peoples' will on constitutional amendments; we'll protect all of the rights of all Floridians all the time: peaceful protestors, women and their right to choose, our LGBTQ community. And we will expand Medicaid, making affordable health care a human right."
During his speech Tuesday, Crist laid out his platform.
First, Crist said, he seeks to protect civil rights, aiming to loosen the recently restrained election laws. The Congressman also addressed the controversial anti-riot bill, saying he hopes to restore the rights of peaceful protestors.
"We'll protect all of the rights of all Floridians all the time: peaceful protestors, women and their right to choose, our LGBTQ community," Crist said. "And we will expand Medicaid, making affordable health care a human right."
The Congressman also addressed environmental concerns, saying he plans to "treat climate change like the existential threat it is." He also listed plans to name a Chief Climate Change Officer.
"We'll develop a statewide climate change plan like the one developed by our Tampa Bay leaders," Crist said. "We'll develop a statewide energy plan setting ambitious goals for renewable energy, like solar and wind — my goodness, we're the Sunshine State."
In another nod to this year's Session, Crist said he plans to invest in colleges and universities.
"We'll never cut our Bright Futures Scholarships," Crist said.
He also promised he would "invest in the future of Florida" by funding in public education and relieving students and teachers from standardized testing.
So, who will join him on this journey? A senior adviser to Crist confirmed the starting line up of his running team.
Jim Margolis, a partner at Washington-based consulting firm GMMB, is planning to lead Crist's team. Margolis served as a senior adviser to former President Barack Obama in both of his national runs.
Returning team members include Joshua Karp, who has served as a communications adviser to past Crist campaigns, and Sydney Throop, who worked on Crist's congressional runs.
Crist's congressional Chief of Staff Austin Durrer is expected to serve as the campaign manager.
A new top pollster is also set to join the team — Mike Bocian. Bocian most recently did polling for Georgia Sen. Raphael Warnock's successful 2020 campaign.
Bocian will replace Crist's former top pollster, John Anzalone, who will not be returning. Prominent Florida direct-mail consultant Ed Peavy will also not be returning to the team.
___
The News Service of Florida contributed to this post. Republished with permission.