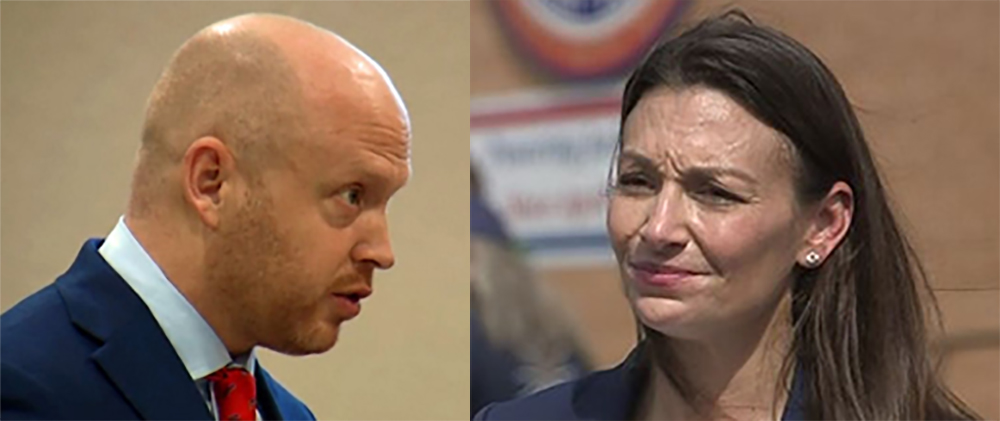 The state is putting at least $100 million toward fixing Piney Point, but Fried wants more.
Agriculture Commissioner Nikki Fried wants answers on what the Department of Environmental protection knew about Piney Point before the environmental disaster last month.
In a testy exchange with department Secretary Noah Valenstein during a Cabinet meeting Tuesday, the Commissioner attempted to shakedown Valenstein over a reported letter to DEP predicting a breach at the former phosphate plant.
Valenstein repeatedly acknowledged the Democrat's concern for the environment and the "ticking time bomb" and expressed his willingness to sit down with her behind closed doors to look over documents.
Attorney General Ashley Moody, a Republican, attempted to diffuse the situation by sharing that she had talked at length with Valenstein and his staff. She suggested Cabinet members go to DEP staff with detailed questions.
But Fried continued on with one more question.
"While you don't want to talk about the past, what about the 27 other sites like Piney Point across the state?" she asked. "We need to talk about a plan to deal with those other 27 that are, again, ticking time bombs on our environment."
"Commissioner, I appreciate you not re-characterizing my comments of not wanting to talk about the past," Valenstein responded. "What I'm saying is I think the most productive thing right now is to focus on closure and the fact that we have support (for) closure."
Fried, likely to challenge Gov. Ron DeSantis in a nascent gubernatorial race, has turned up the heat against the administration in recent months. Fried also hosted a press conference after the Cabinet meeting that coincided with likely Democratic Primary rival U.S. Rep. Charlie Crist's formal campaign kickoff.
When asked after his presentation whether a Cabinet meeting was an appropriate time for Fried to ask those questions, Valenstein told Florida Politics that he's always happy to answer questions. Additionally, he prided his agency on its transparency.
"We would need to know what site she's talking about," Valenstein said. "I look forward to having that conversation with her should she wish to have it."
Lawmakers last month slotted $100 million in anticipated federal funds from the American Rescue Plan to help clean up and ultimately shut down the phosphate site.
During her press conference after the meeting, Fried told reporters she wished the Legislature had investigated and passed regulations to take preventative measures for the future. However, the Legislative Session ended Friday with a hearing and a briefing before the House Pandemics and Public Emergencies Committee.
"We are not going to allow Noah or this administration to push them under the rug and say everything is going to be okay," Fried said. "We're throwing hundreds of millions of dollars, taxpayer dollars, to an environmental disaster with no 'hey, what happened, how did we get here?'"
The Commissioner noted she had met on site in Manatee County with Valenstein while he was "literally drinking from a firehose of information." She respected the Secretary's time then, but now wants answers on how the state will decommission Piney Point and other similar sites with phosphate stacks.
"Now we need to go back and figure out how do we get here, what went on, who's responsible for this activity?"
Fried was "disappointed but not surprised" by Valenstein's preference for a one-on-one. That preference wouldn't sit well with Sarasota and business owners impacted by the environmental damage.
"Ask them how they feel about Noah's response," Fried said. "I can tell you they would be just as disappointed as I was."