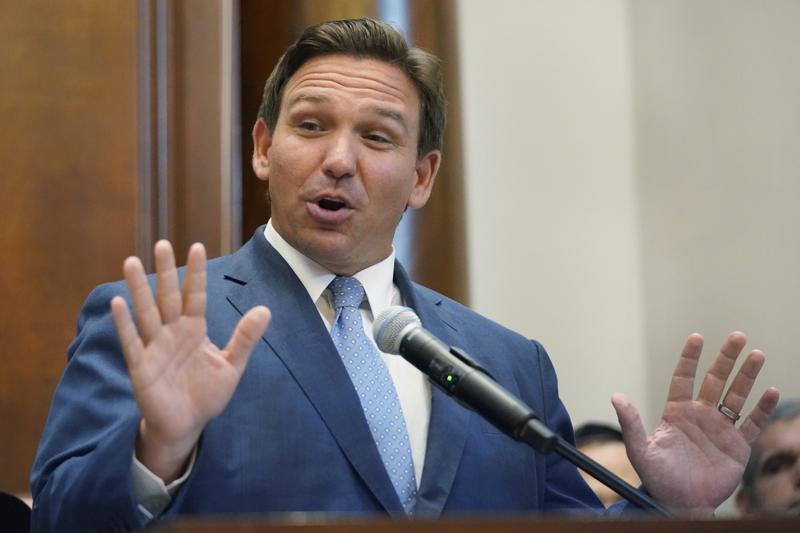 But he doesn't want people to think he's pushing them to get a shot.
In his most comprehensive statement on vaccine advocacy in a long time, Gov. Ron DeSantis said Monday it is clear COVID-19 vaccines are keeping people out of hospitals.
Yet, at a news conference in Poinciana regarding wildlife corridors, the Governor expressed reluctance to sound pushy in telling Floridians they should get vaccinated. He suggested anything coming across as aggressive likely would make distrustful people more annoyed and hesitant.
But the data makes a case, he offered.
"If you are vaccinated, though, the number of people who end up hospitalized is almost zero. It's incredibly, incredibly low," DeSantis said.
"So I think there is some misinformation out there that these people were vaccinated and they tested positive. Understand, the positive test is not a clinical diagnoses of illness. So, if you're vaccinated and you test positive, but you don't get sick, well the name of the game is to keep people out of the hospital," he added.
DeSantis finds himself walking a political and public health tightrope on vaccine advocacy, as he made it clear he believes they work and are safe; yet polls show large portion of his political base aligns with an anti-vaccine movement that is openly discouraging people from getting vaccinated.
"I also think that we have to be careful in terms of some of the messaging for folk that may be skeptical about the vaccine. I do not agree with some of these people, some of these quote-unquote experts, who lambast people and criticize them, or say they're stupid or something. That's not the way to reach folks, OK?" DeSantis said.
"That's one of the reasons I always said 'no mandates.' Because quite honestly, I don't believe in mandates, but I don't think it would be productive to do that," DeSantis continued.
The Governor started to take shots at vaccine misinformation — but he appeared to turn his ire toward misinformation from medical experts like his self-selected nemesis Dr. Anthony Fauci, rather than against anyone saying that vaccines are bad.
"The folks who wanted it, the seniors, we worked hard to get it to everyone who wanted it. Now you're in a situation where you have folks who may be skeptical of it. And so understand, as you're communicating, you don't want to say things that are going to cause them to retreat even further. And I'm sorry, there's been a lot of misinformation and a lot of bad advice given by some of these experts over the last year. People saw all that. They remember all of this stuff," DeSantis said.
He again expressed his belief that the current swift rise in confirmed new COVID-19 cases is seasonal. He acknowledged that this year's trend of COVID-19 cases is looking a lot like the summer of 2020, only a couple of weeks behind. But the Governor predicted this summer will not see last summer's terrible rises in hospitalized COVID-19 patients and deaths, because he believes the vaccines are preventing people from getting very sick.
That is particularly true with the highest-risk groups, seniors and those with preexisting conditions that make them vulnerable, he added.
What's more, medical science has much better treatments available this year than last year, he offered.
"Obviously, the best way is to get the protection before hand. But if you do find yourself infected, please consult your doctor," DeSantis said.