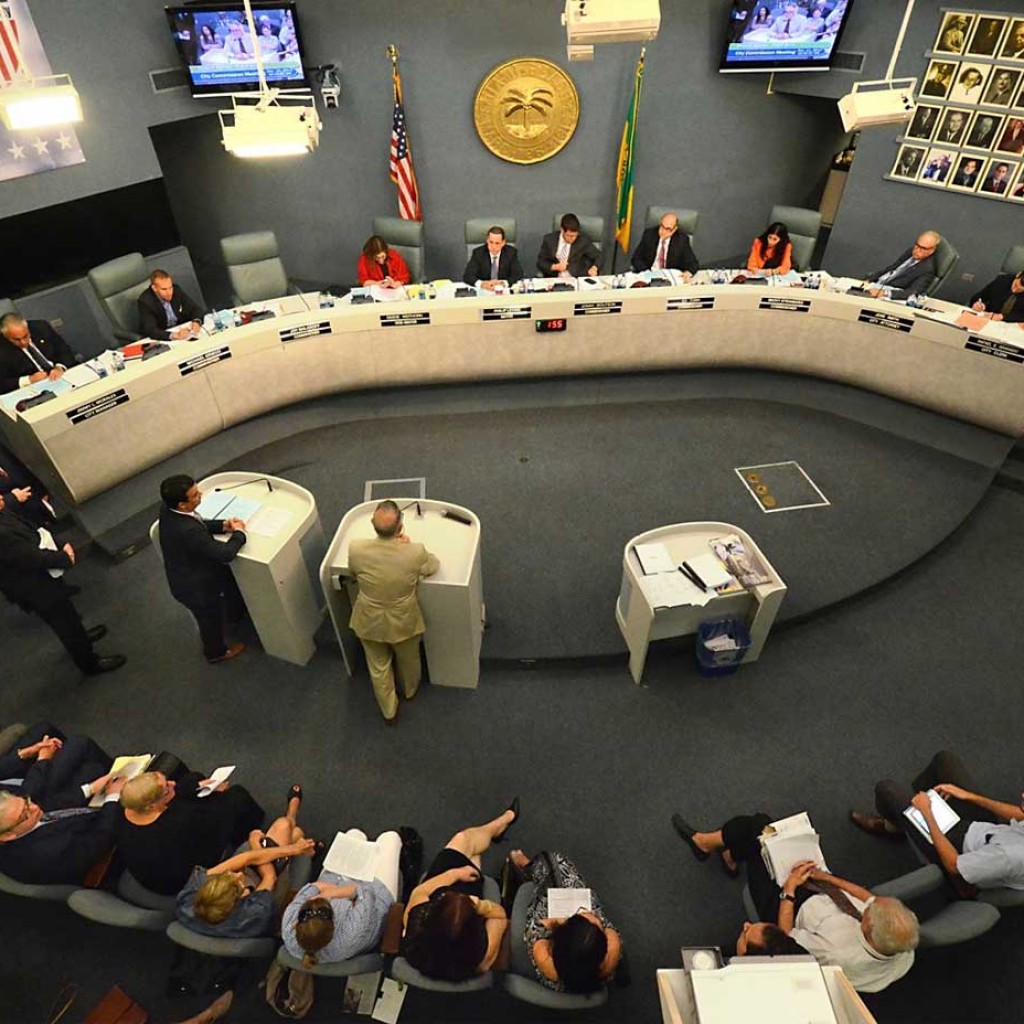 Most of the candidates have run for the Commission before.
Two seats on the Miami Beach Commission are up for grabs Tuesday, when voters will go to the polls to decide who they want to succeed outgoing Commissioners Micky Steinberg and Michael Góngora.
A third contest that would have pitted incumbent Commissioner Mark Samuelian against challenger Fabían Basabe was canceled after Basabe was disqualified, allowing Sameulian to win by default.
Both remaining races feature four candidates and some names that should be familiar to locals. If no candidate in a race secures more than 50% of the vote, the two candidates who receive the most votes in each will compete in runoffs Nov. 16.
Miami Beach Commission Group 1
With Steinberg departing to chase the Miami-Dade County Commission seat held by term-limited Sally Heyman next year, former Miami Beach Commissioner Kristen Rosen Gonzalez, local business owner Raquel Pacheco, restaurateur Adrian Gonzalez and industrial sales contractor Blake Young are vying to succeed her.
All have run for the Commission before, only one successfully, and all have suggested boosting police presence in the South Beach Entertainment District instead of rolling back the last call for alcohol from 5 a.m. to 2 a.m., a remedy Mayor Dan Gelber and former Mayor Philip Levine have championed to vocal opposition.
Rosen Gonzalez, 48, is a Realtor and professor in the English and Communications Department at Miami Dade College. She was elected to the Miami Beach Commission in 2015 but vacated her seat three years later for a failed congressional bid.
While certainly a known name among Miami Beach voters, she brings her fair share of baggage. She repeatedly attracted controversy in her public service career, including engaging in feuds with fellow commissioners, interfering with a Miami Beach Police investigation into a major donor to her congressional campaign and a gaffe last month in which she claimed to be "the most high-profile Hispanic Democrat in the City of Miami" despite not actually being Hispanic. (Her ex-husband is.)
She leads the pack in fundraising, with about $82,000 raised since entering the race in July.
Pacheco, 47, is a former member of the Connecticut Army National Guard who now runs a translation business. Her first run at public office was in 2019, when she fell to Group 5 Commissioner Ricky Ariola.
Pacheco has picked up endorsements from reproductive rights group Ruth's List Florida, Save LGBT Action PAC, the Miami-Dade Democratic Party and the Florida chapter of the Service Employees International Union.
Former Democratic U.S. Rep. Donna Shalala and Miami Beach Commissioner David Richardson — both of whom scored more votes than Rosen Gonzalez in the 2018 congressional race — have endorsed her as well, as has state Sen. Annette Taddeo.
But her questionable budgeting prowess may give voters pause. She has twice filed for Chapter 7 bankruptcy, most recently in 2017.
Pacheco has raised more than $54,000 since she began campaigning in May.
Gonzalez, 47, has also had money issues. His family's restaurant, David's Café, closed its Alton Road location last year after its landlord filed to evict the business for rent nonpayment.
Now operating a pop-up shop at the Shelbourne South Beach hotel called Cafecito by David's Café, Gonzalez is also facing a foreclosure lawsuit against his home and another suit by creditors for debt exceeding $36,000.
Still, he has been active locally, serving on the Miami Beach Visitor and Convention Authority, Marine and Waterfront Protection Authority and as president of his homeowners association.
He has raised more than $64,000 since launching his campaign in July.
Young, 50, is the only candidate in the race to run a donation-free campaign. His ledger with the city shows more than $15,000 in out-of-pocket expenses — meager spending compared to his opponents.
But that weakness is also a strength, Young has said, noting he is not beholden to any special interests or political party.
Young is president of his local homeowners association. He also volunteers with his golden retriever therapy dog at Easter Seals Adult Day Care in Miami, calling it one of his most rewarding endeavors.
Miami Beach Commission Group 3
Real estate investor Stephen Cohen, Venetian Islands Homeowners Association President Melissa Beattie, Miami Beach Planning Board member Alex Fernandez and real estate broker Michael Barrineau are competing to replace Góngora, who is leaving office because of term limits.
Of the four, only Cohen took no money from hotels or nightclubs to fund his campaign. That's because most of the $311,000 the Democrat poured into the race came from his own pockets.
A past candidate for the Commission, Cohen, 43, has pointed to his civic participation as a reason why voters should choose him, citing volunteer work providing meals to seniors in need during the COVID-19 pandemic, mass cleanup efforts in city parks and active membership and sponsorship of local temples.
He has said protecting Miami Beach's waterways, improving safety, fighting for taxpayers and middle-class families, ensuring government transparency and balancing the city budget are among his chief priorities.
He's against the 2 a.m. last call rollback.
Beattie, 46, supports the change. A registered independent running for office for the first time, she has run on a platform focused on protecting the environment, improving infrastructure and resiliency, and prioritizing residents' quality of life and safety.
She's proven herself a worthy fundraiser, amassing about $239,000. More than half of that was self-given. The remainder came through various contributions, including many individual donations and larger ones from hotels and real estate figures.
A late entry in the race, Republican-turned-independent Fernandez raised nearly $131,000 since filing to run in September.
The 35-year-old boasts the most extensive government experience among his peers. He currently works as a senior communications aide and legislative assistant to Miami-Dade Commissioner Rebeca Sosa, and he has held past roles in the offices of former Miami Beach Mayor Matti Bower and former Miami Beach Commissioner Deede Weithorn.
Fernandez ran in 2009 against Góngora. Though he lost, the two men seemed to have developed a mutual respect, as Góngora endorsed Fernandez to succeed him.
Fernandez's government savvy has been a boon to him in fundraising. He has tapped several high-profile South Florida developers for donations and is the sole candidate in the race to be backed financially by an outside group, an electioneering communications organization called A Safer Miami Beach.
Barrineau, 63, has been in the race the longest — he filed in January — but he has raised the least, with just $42,000 gained inclusive of a $10,000 self-loan. He's taking another swing at the Commission after a failed bid two years ago in which he placed last in a three-way race.
When it comes to the 2 a.m. issue, Fernandez has said he'll support whatever voters decide in a nonbinding referendum also on the ballot.
Like Fernandez, Barrineau has served on the city Planning Board. He's also the former president of the Fifth Neighborhood Association and Miami Beach United community group.
Barrineau's platform has six pillars: protect the environment and the water quality of Biscayne Bay, implement "pedestrian priority zones" to restore and enhance the city's pedestrian character, fight over-development by builders, invest in "green" mobility, mitigate sea level rise and focus on crime prevention.
He supports the 2 a.m. last call.