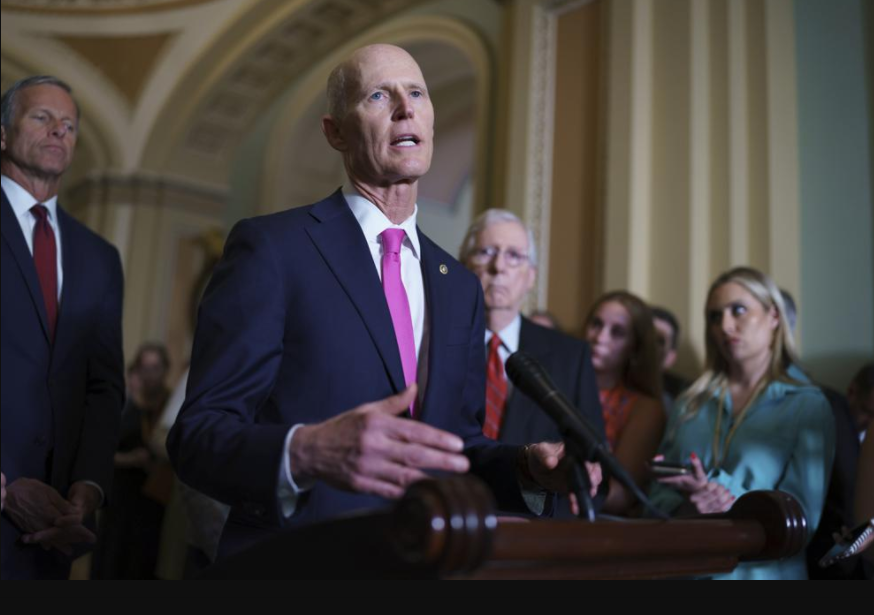 Is the NFL caving to China? The Senator thinks so.
U.S. Sen. Rick Scott on Thursday threw a penalty flag on a National Football League play.
A map accompanying the league's announcement that football teams now have access to international territories for marketing, fan engagement and commercialization included the island nation of Taiwain as part of mainland China. The Los Angeles Rams were given access to the Chinese market, the NFL said.
Scott contends the NFL is putting profits over human rights.
"It's money, money, money," Scott thundered on Fox News' America Reports with John Roberts and Sandra Smith. "Like the NBA, they want to make the last dollar they can, selling footballs and jerseys and sneakers. They don't care about human rights."
The issue is of concern in Taiwan, too. The pro-independence Taiwan News' article on the subject ran with the headline "NFL takes knee for China by including Taiwan in map."
"In a map included in a tweet announcing the new initiative, China was designated as the IHMA for the Los Angeles Rams. However, the crimson map of China erroneously includes Taiwan, apparently making that country also the default home market for the Los Angeles Rams," the article contends.
The Rams, interestingly, also have marketing priority in Australia, where tensions are high with Beijing, as well as Mexico.
Scott isn't alone among Republican senators decrying the move. U.S. Sen. Ted Cruz of Texas derided the decision to lump Taiwan into China as "disgraceful cowardice."
The NFL did not frame its mapping decision in explicitly political terms.
"NFL fandom begins with our clubs," said NFL Executive Vice President, Chief Strategy & Growth Officer Christopher Halpin. "This important initiative enables NFL teams to develop meaningful, direct relationships with NFL fans abroad, driving fan growth and avidity globally. We were very pleased with the number, creativity and level of commitment of club proposals across the board in this initial application period and look forward to teams launching their efforts early next year."
Florida teams have their own international marketing partners.
The Miami Dolphins are linked with Brazil, Spain and the United Kingdom, the most prolific of the state's three franchises in terms of international efforts. The Jacksonville Jaguars also have a piece of Great Britain. The Tampa Bay Buccaneers are yoked to Germany.
.@NFL Announces International Home Marketing Area Teams and Markets

For more information, click here: https://t.co/ooPlFa3XKX pic.twitter.com/NvSU0wBVix

— NFL345 (@NFL345) December 15, 2021