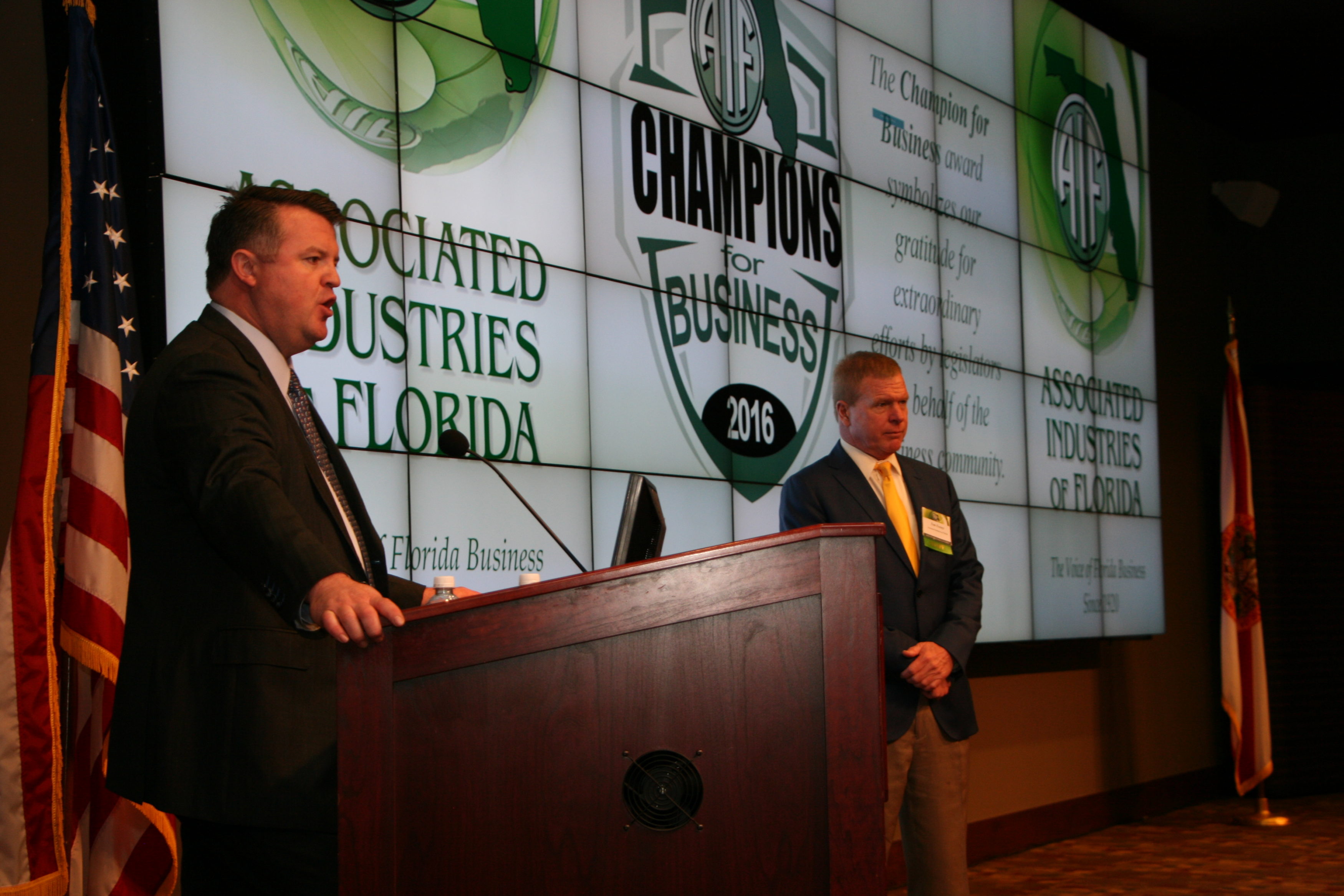 This Session is the first that AIF's Brewster Bevis will be holding both the president and CEO roles.
Along with supporting Gov. Ron DeSantis' gas tax holiday, the Associated Industries of Florida (AIF) is asking lawmakers to reconsider tort reform and their approach to data privacy this Session.
AIF, which bills itself as "The Voice of Florida Business," put together a 28-page packet of priorities outlining its stances on topics ranging from economic development to legal issues. The group presented those priorities to state lawmakers, Cabinet members, state agency department heads and member businesses of AIF.
"The budget Gov. DeSantis has put forth, which includes a significant gas tax holiday that will save hardworking Florida families and businesses over $1 billion, furthers his commitment to fostering freedom and prosperity in our state," AIF President and CEO Brewster Bevis said. "We commend Gov. DeSantis and the Legislature for ensuring Florida's economy continues to thrive and for creating a brighter future for all Floridians."
Among the organization's top legal priorities for Session is discouraging lawmakers from adopting "wide-sweeping" versions of consumer data privacy legislation. According to AIF, implementing consumer data privacy as the House wants it, by allowing individuals to sue businesses, would open a Pandora's box of class action lawsuits. The group also fears small businesses could become enveloped in by lawsuits too.
AIF also supports tort reform and other ways to decrease the cost of litigation. Among those priorities are targeting inflated damages, fair settlement and litigation financing. The issues transcend industries, according to the organization.
"AIF believes it is time to blow the whistle on these trial lawyer tricks, which will benefit every single insurance premium payer in the state," the group said.
As for economic development, AIF threw its support behind infrastructure investments and state programs like VISIT FLORIDA, Enterprise Florida and more. On insurance, the group is tracking worker's compensation, advocating for further changes to assignment of benefits and promoting shifting auto insurance requirements from personal injury protection to mandatory bodily injury.
Bevis, who has been with AIF for more than a decade, took over as president in August and became CEO this year, completing the departure of longtime AIF head Tom Feeney. The change gives Bevis a chance to reset and reevaluate a lot of work the organization does.
"As we kick off the 2022 Legislative Session this week, I could not be prouder to start my tenure at the helm of AIF in a state that has been laser-focused on remaining open for business and recruiting new employers to our state," Bevis said. "With 60 days of policy discussions now underway, we look forward to advocating for our members to be able to live, work and flourish in a state that truly believes in free enterprise. We are proud of our long history of legislative advocacy and success on behalf of Florida's businesses and are ready to continue to work to generate a strong economic engine for our great state."