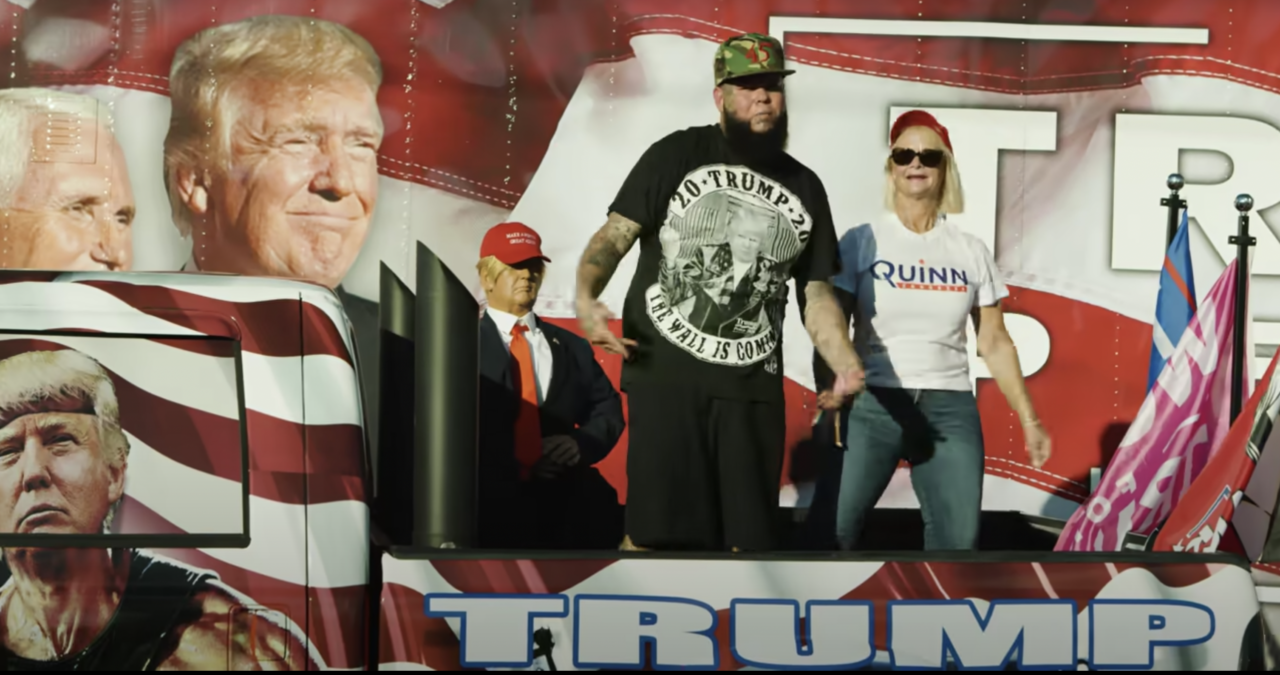 The Clearwater event lineup features domestic extremists and election deniers.
A menagerie of far-right extremists and conspiracy theorists led by congressional candidate Christine Quinn is bringing recently incarcerated Proud Boys leader Enrique Tarrio's MAGA Revenge Tour to a Clearwater parking lot this Saturday.
Guests shouldn't expect much in the way of truth at the event. Tarrio has admitted to purposefully lying in order to disrupt the media. And Quinn, who is running this year in Florida's 13th Congressional District still has an open suit against Hillsborough County Supervisor of Elections Craig Latimer related to her failed attempt to unseat U.S. Rep. Kathy Castor in the Florida's 14th Congressional District in 2020.
During her 2020 Election Day watch party atop Tampa's Epicurean Hotel, Quinn told reporters she was confident her campaign would be successful. Returns that night showed her losing by more than 20 percentage points, or around 80,000 votes. But Quinn — following along with the percolating election lies of defeated former President Donald Trump — was convinced that enough mail-in ballots were fraudulent to swing the race in her favor. She tried to sue Latimer to stop the counting of some mail-in ballots.
But the court wasn't having it. 
"The request for emergency relief is frivolous and a misuse of the court's capacity to entertain true emergencies," Judge Steven Scott Stephens wrote in an order denying relief. "No law was cited, nor were any concrete factual allegations made, that could justify emergency treatment of this complaint."

That, however, didn't stop Quinn from hanging out in the bar car on the Trump Train and buying rounds for everyone aboard the "loco"-motive.
In fact, she appeared in a music video for a song called "Trump Train" by the Trump-obsessed St. Pete rapper and fortunate grandson of publishing magnate Stuart Arnold known as Forgiato Blow. His real name is Kurt Jantz. Jantz is known for albums like Magaveli, a portmanteau of Trump's Make America Great Again slogan and Tupac Shakur's alter ego, Makaveli. He also created the song "White History Month" and often drives around in a massive, lifted pick-up truck airbrushed with the image of a muscle-bound Trump firing a large machine gun.
Jantz is a featured performer at Saturday's event along with J360, who appears with him on "White History Month."
Both Quinn and Jantz rode that train — er … private jet —  to Washington on Jan. 6, 2021 for Trump's "Stop the Steal" rally that devolved into a riot. Quinn sued Jeff Hawks — the leader of a local, violent extremist group called Community Patriots — in Hillsborough County Court for not reimbursing her for the trip on the private jet and hotel rooms she paid for.
Jantz memorialized his attendance at the riot in song. He recorded the eponymous "Ashli Babbitt" as a tribute to the San Diego woman and follower of QAnon who was killed while storming the Capitol.
In the song he says: "RIP to anybody who lost their life in the Capitol, man. Jan. 6. On both sides. I saw it with my own eyes. My feet were out there. I was not in the Capitol though. Never stepped foot in no Capitol. I was just out there seeing it first hand. I put a lot of time in for Trump. We put a lot of time in for Trump."
Convicted liar Roger Stone was originally slated to appear, but his name has since dropped off the bill.
The MAGA Revenge Tour will be held at Quaker Steak & Lube in Clearwater Saturday Feb. 12 from 4 p.m. to 9 p.m. The Clearwater stop is the only one advertised on the "tour."
Tarrio was released from jail last month after serving four months for igniting a Black Lives Matter flag at a historic Black church in D.C. He's also under investigation for meeting with leaders of other extremist groups like the Oath Keepers in the days leading to the insurrection. His leadership role in the organization received pushback after it was uncovered he was long serving FBI informant.