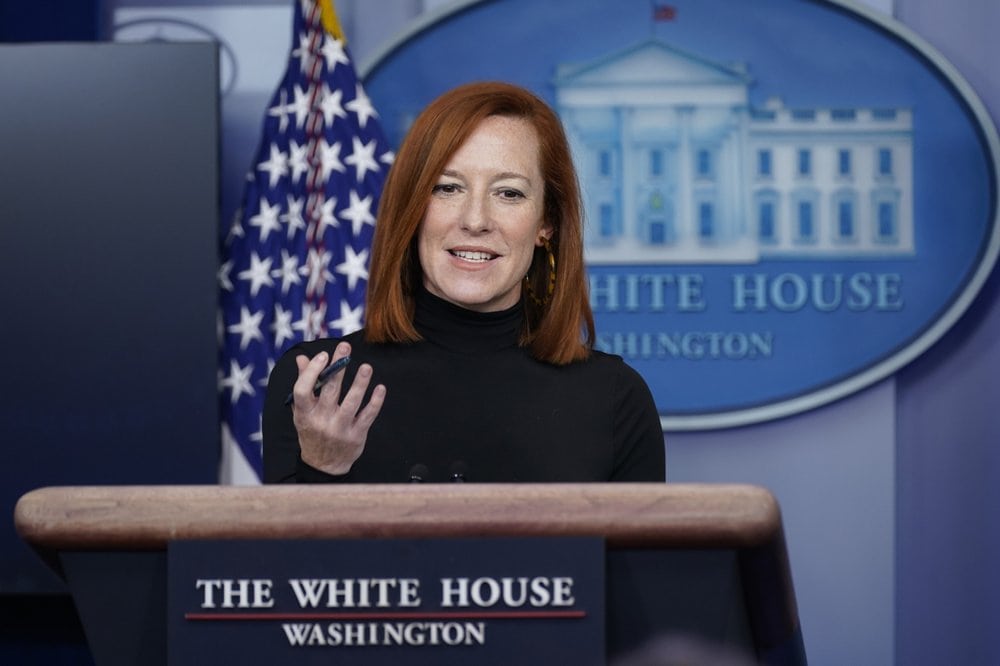 'There is a distinct difference' in what's happening in other states now, Psaki argued.
The White House said Wednesday there is a "distinct difference" between dropping COVID-19 mask mandates now and what Gov. Ron DeSantis advocated and did some months back regarding mandates in Florida.
"There is a distinct difference between standing in the way — which Ron DeSantis did, or Gov. DeSantis, I'll give him his full title — of teachers, of school administrators, and others taking steps to protect students in their school communities" said White House Press Secretary Jen Psaki.
"There is a difference between standing in the way of it, threatening to pull back funding, and allowing local school districts to make choices, which is what a number of these states are doing," Psaki said.
Even Democratic strongholds like New York are ready to move beyond the "vax or mask" paradigm, despite the fact guidance from the Centers for Disease Control and Prevention has not changed, as Psaki's questioner noted.
Psaki went on to say people are "tired of masks," before suggesting polling said some people still want masks. It's the latest indication of the difficulty the Joe Biden administration has in juggling the politics of COVID-19.
Psaki's description of DeSantis as "standing in the way" is no accident, as that has been one of the Governor's catchphrases with regard to consistent opposition to the Biden administration's COVID-19 "mandates."
"If you're coming after the rights of parents in Florida? I'm standing in your way. If you're trying to deny kids a proper in-person education, I'm gonna stand in your way and stand up for the kids in Florida. If you're trying to restrict people and impose mandates and ruin their jobs and livelihood, if you are trying to lock people down, I am standing in your way. I am standing for the people of Florida," DeSantis said in an August press conference.
The Governor coined yet another memorable phrase on that occasion, saying that he didn't "want to hear a blip about COVID" from President Biden until the border was under control.
He has continued hammering the Biden administration on immigration since, including during a news conference in Miami on Monday. During a roundtable discussion at the American Museum of the Cuban Diaspora, DeSantis contrasted the Biden administration's policies on illegal immigration against the immigration trends that have fueled South Florida's mixed culture. DeSantis called the current situation "effectively the largest human smuggling operation in American history" that began with an immigration "explosion" after Biden took office.
Drug cartels have also taken advantage, driving fentanyl overdoses and the use of methamphetamines, the Governor said.
"This is the golden age for the cartels, since Biden became President," DeSantis said. "They are eating our lunch every single day, with what's going on down there."