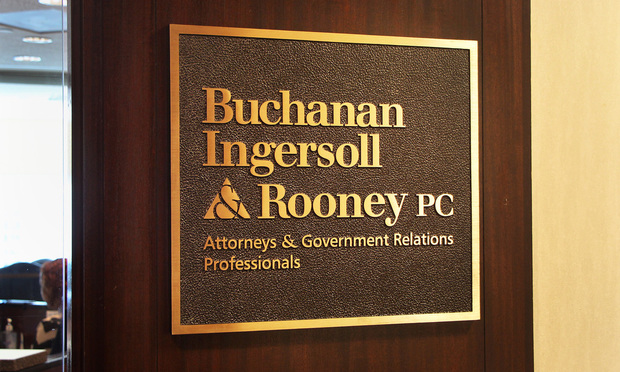 The firm may have earned as much as $2.75 million.
The seven-person team at Buchanan Ingersoll & Rooney earned an estimated $1.9 million in pay last year, according to the sum of its quarterly compensation reports.
Florida Politics estimates lobbying pay based on the middle number of the per-client ranges firms list on their compensation reports. Contracts are reported in $10,000 increments up to $50,000.
Firms are also required to list broad ranges for their overall income each quarter. Firm-level ranges show Buchanan Ingersoll & Rooney earned no less than $1.25 million last year. At the top end, the firm may have earned $2.75 million.
The Buchanan team includes Brett Bacot, Marnie George, Mike Grissom, Mark Kruse, Jim Magill and Kimberly McGlynn. They represented 50 clients for all or part of last year, landing $1.14 million in legislative pay and another $765,000 in executive branch pay.
The firm's top client for the year was the Palm Beach County Tax Collector, which paid a whopping $354,000 for lobbying work. The No. 2 spot belonged to the University Medical Service Association, which cut a $154,000 check for legislative lobbying work and sent over another $40,000 for help in the executive branch.
Ygrene Energy Fund, one of the largest purveyors of Property Assessed Clean Energy (PACE), which helps homeowners pay for storm-hardening and energy efficiency upgrades, followed at No. 3 with $160,000.
Other majors included State Farm at $80,000 and Dosal Tobacco Company at $70,000.
Universal Orlando is perhaps the best-known client in the firm's portfolio. Though the theme park giant had a rough go in 2020 when the pandemic forced it to shut down for months, it has bounced back in a big way — the company celebrated its most profitable quarter ever in Q3 2021.
The theme park juggernaut paid the team at Buchanan Ingersoll & Rooney $40,000 over the course of the year.
Florida lobbyists and lobbying firms faced a Feb. 14 deadline to file compensation reports for the period covering Oct. 1 through Dec. 31. Compensation reports for the first quarter are due to the state on May 15.