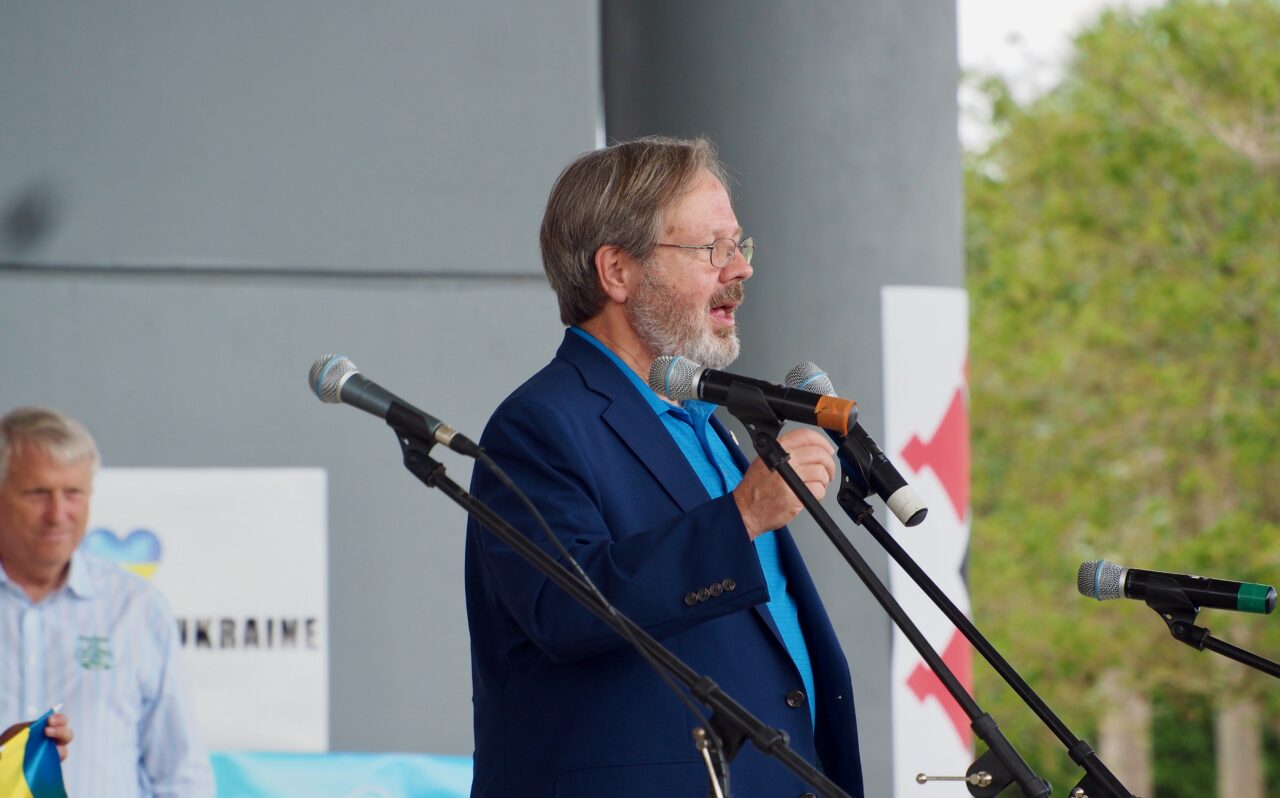 The Representative was introduced as Florida's highest-ranking Ukrainian.
Introduced as the highest-ranking Ukrainian-American official in Florida, Rep. Scott Plakon Saturday condemned Russian President Vladimir Putin as evil and extolled the bravery of Ukrainians fighting his army.
"I've been hesitant to talk about political things as good and evil. But there are some political things that are good and evil. Vladimir Putin is an evil man," Plakon told 200-300 people gathered at the three-day Ukrainian Orlando Festival, which turned into a Ukrainian peace rally Saturday at the Apopka Amphitheater.
The amphitheater was plastered with posters reading, "Stop Putin." "Stop War." and "Stand with Ukraine."
"The people of Ukraine are good — in protecting their families," continued Plakon, the Lake Mary Republican who is of Ukrainian heritage. "In the end, good wins."
Other speakers included Apopka Mayor Bryan Nelson and Ukrainian community leaders, such as Nadiya Lewytska of the Ukrainian Women organization. The festival also included numerous singers, including Plakon's wife, Rachel Plakon, who is running as a Republican to succeed him in House District 29.
Scott Plakon recounted the bravery he's been watching in the Ukrainian people defending their country, saying, "I have never seen anything like that."
He cited the doomed defenders of Snake Island, who went down swearing condemnations of their attackers Friday morning while defending a tiny yet strategic piece of rock in the Black Sea; and the citizen soldiers joined on the streets by Ukrainian President Volodymyr Zelenskyy, defending Kyiv.
"I do not think the evil dictator Vladimir Putin had any idea what he was going to encounter with the President standing right there in Kyiv, making videos with his soldiers," Plakon said.
While noting that Florida has 42,000 Ukrainian Americans, Plakon joined numerous Florida leaders who've condemned Putin and his war, though Gov. Ron DeSantis still has not publicly done so.
DeSantis' press secretary commented Friday night that Putin's invasion of Ukraine does not affect Florida the way situations in China, Venezuela, or Cuba do.
Among other speakers, Nelson, declared to the Ukrainians, "We're there for you in spirit; we're there for you for what we can do at the local level."
Lewytska pleaded with the Biden Administration and with American allies to provide arms and ammunition, expel Russian diplomats, stop travel to Russia, and block Russia from the SWIFT international money transfer system.
Plakon told the crowd that last week the Legislature adopted his resolution declaring Nov. 26, 2022, as Holodomor Remembrance Day in Florida, in remembrance of the Soviet-engineered starvation genocide that killed millions of Ukrainians in 1932-33.
He drew comparisons between that atrocity and Russia's current invasion.
He also expressed hope that Ukraine will prevail.
"Last year we celebrated the 30th anniversary of Ukrainian independence. No what? Next August we're going to celebrate the 31st anniversary," he said.