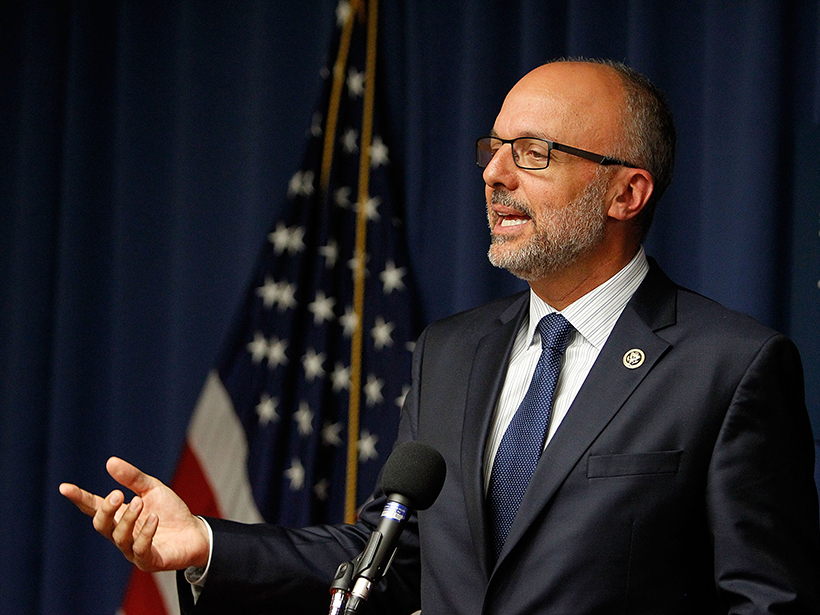 A close ally hinted at a possible run to succeed Deutch, who made his mark in the aftermath of the Parkland shooting.
Democratic U.S. Rep. Ted Deutch of Boca Raton announced Monday his sixth term in Congress will be his last and he will not seek re-election to Florida's 22nd Congressional District.
A close Deutch ally also said he is strongly considering a run for the seat being vacated.
Deutch said he will leave the U.S. House when it recesses for the coming election to become the next CEO of the American Jewish Committee, an advocacy organization, he said. The announcement referenced the shooting at Marjory Stoneman Douglas High School and his attempts to return Robert Levinson of Coral Springs, who had been taken hostage in Iran. Deutch led the effort that ultimately resulted in his family learning that Levinson had died in captivity.
"I will be forever grateful for the opportunity you have given me to serve our community and to serve our country," Deutch's statement said. "I have been touched and inspired by so many people I have been privileged to meet. I have seen the good that can be accomplished when we work together, and I am forever hopeful about our future. Serving as your Representative has been the greatest honor of my life."
His service won praise from Jared Moskowitz, former director of the state Division of Emergency Management and state Representative from Parkland. Moskowitz called Deutch's service to the district "unparalleled."
"In addition to being a steadfast advocate for his constituents, he has been an ardent defender of Israel, a gun safety advocate, a longtime personal friend to me and my late father and a role model for my own approach to public service," said Moskowitz, who is currently serving on the Broward County Commission, according to a statement. "Today is a day to celebrate all that Ted has accomplished in support of our community and in pursuit of our Democratic values."
Moskowitz was not available to explain further what he meant when he said, "I will be announcing my own plans to ensure that Broward and Palm Beach residents may continue to count on the formidable standards of service and integrity that they deserve in the U.S. House of Representatives during this critical time when our very democracy is under assault."
The current CD 22 stretches from Boca Raton to Fort Lauderdale, and and also covers Coral Springs and Parkland in western Broward. Some of the maps from the decennial redistricting efforts have drawn Democratic U.S. Rep. Lois Frankel of West Palm Beach into Deutch's district if he had chosen to pursue a bid for re-election.
Three Republicans and a Democrat have filed to run for Deutch's seat as the district is currently configured. He is currently leading the fundraising race among those competitors. Democratic state Rep. David Silvers of Lake Clarke Shores has also been looking at running for the seat, according to reports.
Fred Guttenberg, whose daughter was killed in the Parkland shooting and has become politically active, told the CBS affiliate in Miami he would not be running for the seat: "The seat will remain in good hands — but not mine."
Marcus L. Dixon, the executive director of the Florida Democratic Party, released a statement thanking Deutch for his service, citing his tenacity and compassionate service and leadership protecting vulnerable Floridians, particularly on the issues of climate change and gun violence.
"Congressman Deutch has always been an advocate for the values our party holds dear, and I'm confident he will continue fighting for justice, freedom, and equality in his role with the American Jewish Committee," Dixon's statement read. "Filling his shoes will not be easy, but there is no shortage of talented Democrats able to step up and represent this district in Congress." 
U.S. Rep. Debbie Wasserman Schultz also released a statement, singling out Deutch's work on children's issues, Everglades' restoration and and global climate change for praise. The American Jewish Committee is getting a dedicated passionate leader, she said.
"No one worked harder for gun safety, or to help the Parkland community recover," Wasserman Schultz's statement said. "All of his Palm Beach and Broward county constituents were extremely well served, and he will be sorely missed, at home and here in Congress."
The Republican National Committee also released a statement upon the news. "Good choice on your retirement Ted Deutch," said RNC Spokeswoman Julia Friedland. "Don't worry — you'll be joined by more of your Democrat friends soon enough."
The district — and the area — leans strongly Democratic.
Deutch is currently the chairman of the House Committee on Ethics and the chairman of the House Foreign Affairs Subcommittee on the Middle East, North Africa, and Global Counterterrorism. He is also a senior member of the House Judiciary Committee.