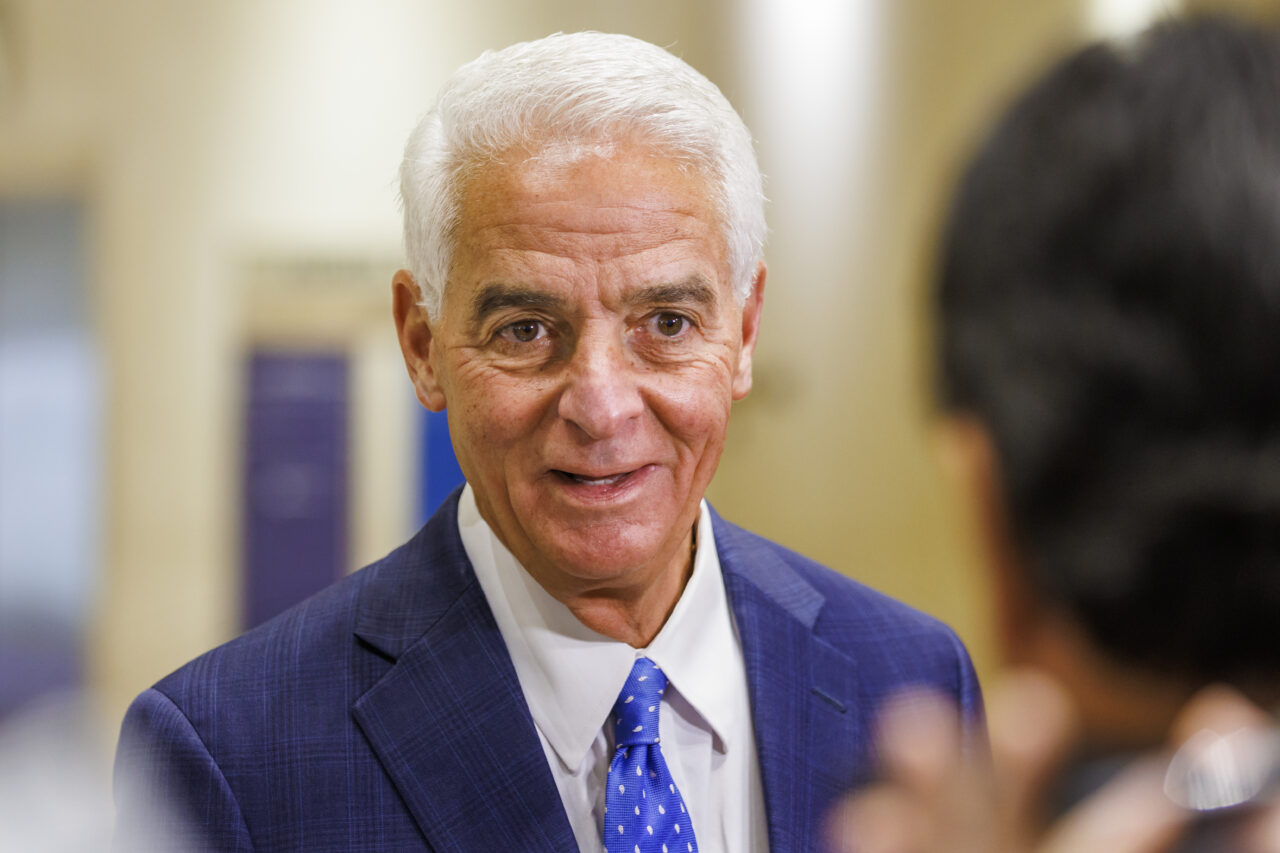 'Governor DeSantis has chosen to politicize our classrooms. His latest stunt is ridiculous.'
Gubernatorial candidate Charlie Crist criticized the Florida Department of Education (FDOE) and Gov. Ron DeSantis during a Wednesday press conference after more than 50 math textbooks were barred from classrooms last week.
For grades K-12, Florida is not including 54 of the 132 (41%) submitted math textbooks on the state's adopted list. The Department said the books are either considered "impermissible" due to new standards, or they contain "prohibited topics." The number of math books rejected by the FDOE in the list is the most in Florida's history, according to a news release sent out by the Department.
Crist labeled the action as another attempt by DeSantis to fight a culture war and wield authoritarian rule in the state.
"Gov. DeSantis has chosen to politicize our classrooms. His latest stunt is ridiculous, and just another page out of the GOP authoritarian playbook," Crist said. "This Governor is so focused on 2024 and pandering to Republican Primary voters, he's putting your kids' education on the line for the sake of his politics."
The 54 banned textbooks come after Gov. DeSantis signed a measure that makes it easier for parents to challenge books and instructional materials they don't approve of. Supporters of the legislation say it gives parents more involvement in their children's education, but opponents argue it opens the door to massive book bans. Of note, Florida has the third-largest number of school book ban incidents in the country.
The Department offered a breakdown of why the books were nixed — 21%, or 28 textbooks, were not included because they "incorporate prohibited topics or unsolicited strategies, including CRT"; 9%, or 12 books, were not included because they do not properly align to B.E.S.T. Standards; and 11%, or 14 books, do not align with standards and incorporate prohibited topics.
Crist said he sent a Sunshine Law request to the DeSantis administration demanding that the books be identified. He said the bans have given some school districts only one textbook to choose from in subject areas, limiting their choice to provide the best education for their students.
"As your former Commissioner of Education and a public school kid myself, I know the value of investing in — not defunding — our schools like this Governor has. We need to focus on how to support our educators and how to provide, not restrict, resources for our schools," Crist said.
He added that the state should be focused on increasing teacher pay, closing the student learning gap, and supporting school district funding, issues he believes DeSantis has ignored.
"Those are the issues our Governor should be focused on, not partisan stunts to get coverage on Fox News with our schools and children as collateral damage," Crist said. "He is clearly, as I like to say, often more focused on Iowa voters than he is Florida people and Florida children in school. That's just inexcusable."
___
Kelly Hayes of Florida Politics contributed to this report.