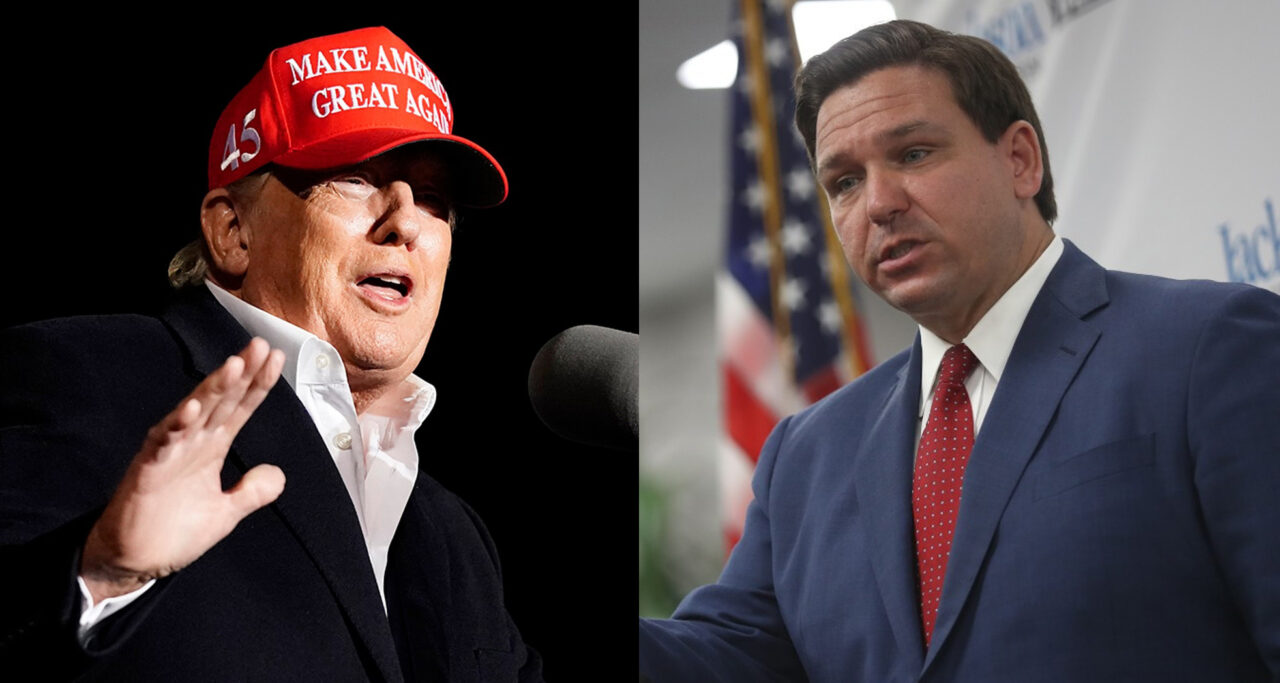 "Ron DeSantis is working toward closing the gap."
While the narrative of a 2024 Presidential Primary clash between Donald Trump and Ron DeSantis has cooled for the moment, one betting aggregator tracking markets outside the United States suggests it's heating up.
Trump's odds, according to US-Bookies.com, have worsened since March. His odds for the nomination dropped from 1/1 (50% implied probability) to 5/4 (44.4%), and his presidential odds worsened from 11/4 (26.7%) to 3/1 (25%).
DeSantis has seen an uptick in both markets. Odds to win the nomination improved from 7/2 (22.2% implied probability) to 10/3 (23.1%) since March. And his odds to win the November election improved from 6/1 (14.3%) to 5/1 (16.7%).
"Along with Donald Trump's odds worsening for the first time in 2022, Ron DeSantis is working toward closing the gap, which could indicate quite the battle brewing on the GOP side," says a US-Bookies spokesperson.
Other Republicans linger farther back in prospective battles for the nomination or the General Election. Former United Nations Ambassador Nikki Haley is running third for the nomination in the eyes of bettors, with 9/1 odds. Former Vice President Mike Pence, at 18/1 to win it all, is the third-best Republican in that market.
Looking at the Democratic side, President Joe Biden has marginally better odds than DeSantis to win the election, with his odds moving from 5/1 to 9/2 between March and May. Biden is also a 2/1 favorite to win the Democratic nomination again in 2024.
Much speculation has arisen since former President Trump lost the 2020 Presidential Election about how DeSantis might fare against Trump. The momentum in these betting markets has seen analogues in polling.
A survey from Echelon Insights of 377 Republican registered voters, a subset of a larger poll of 1,001 registered voters, showed that in a head-to-head battle with Trump, DeSantis would command over one-third of the vote.
Meanwhile, when scenarios are envisioned where the former President does not run, DeSantis benefits.
The April 2022 McLaughlin & Associates poll, in the field from Apr. 22 to Apr. 26, showed the Governor above 30%, with more support than what runners-up Mike Pence and Donald Trump Jr. mustered.
The April 2022 Harvard/Harris Poll also showed the Governor with 35% of Republican respondents backing him if former President Trump stands down.
The aforementioned Echelon Insights poll likewise had DeSantis at 35% in a Trump-free field, with more support than the next four finishers combined.