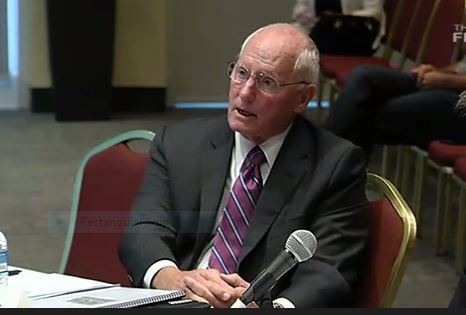 'Everyone is on hold at this point to see whether anything relevant will come out of the Special Session next week.'
Citizens Property Insurance board members voted unanimously Wednesday to buy $4.3 billion worth of reinsurance coverage for $400 million.
At least, that's what they're going to try to do. The "collapsing" nature of the reinsurance market, which staffers said is partially fleeing Florida, means the state-run company could get less coverage as reinsurance becomes more expensive.
"This marketplace is completely 100% out of control," Citizens president and CEO Barry Gilway told the board. "You have multiple major reinsurers that have simply left the Florida market. … Big players and other major players have cut back their capacity in the Florida marketplace by 50%, 80%."
That means the actual purchase of the reinsurance coverage will likely differ from the proposal passed by the board.
"We might go to the market and there might be no interest in any of these layers (of coverage)," Citizens COO Jennifer Montero said. "We're working with the best that we have with the limited information that we've received in the market."
Gilway agreed.
"Although we're presenting a request for a $400 million placement … it will be an amazing event if we place a significant portion of what we're proposing," Gilway said. "And it all has to do with the total collapse of the Florida marketplace."
Reinsurers have already grown skittish because of global events such as Russia's war on Ukraine, but Gilway and board members pointed to the skyrocketing litigation and claims experienced by Florida property insurers as the specific reason they are shying away from the Sunshine State.
"We're still subject to absolutely insane litigation rates that are occurring across the state," Gilway said.
As a state-run company, Citizens is in a unique position in Florida. Lawmakers set it up in 2002 as a company to cover homes the private market deemed too risky and was unwilling to cover, or unwilling to offer an affordable price.
But as the private market has seen large increases in claims and losses in the last three years, Citizens has taken on more policies from companies that went bankrupt or canceled coverage.
At the start of 2020, Citizens covered 448,063 buildings with an insured value of $111.2 billion. As of the end of March, its policy count is 824,715 — nearly double in 15 months — with an insured value of $260 billion.
Florida lawmakers are scheduled to return to Tallahassee next week for a Special Session dedicated to stabilizing the property insurance market.
"Everyone is on hold at this point to see whether anything relevant will come out of the Special Session next week," Gilway said. "That will be a determinant, I think, in whether reinsurers, in any way, shape or form reverse their position and release capacity into the marketplace."