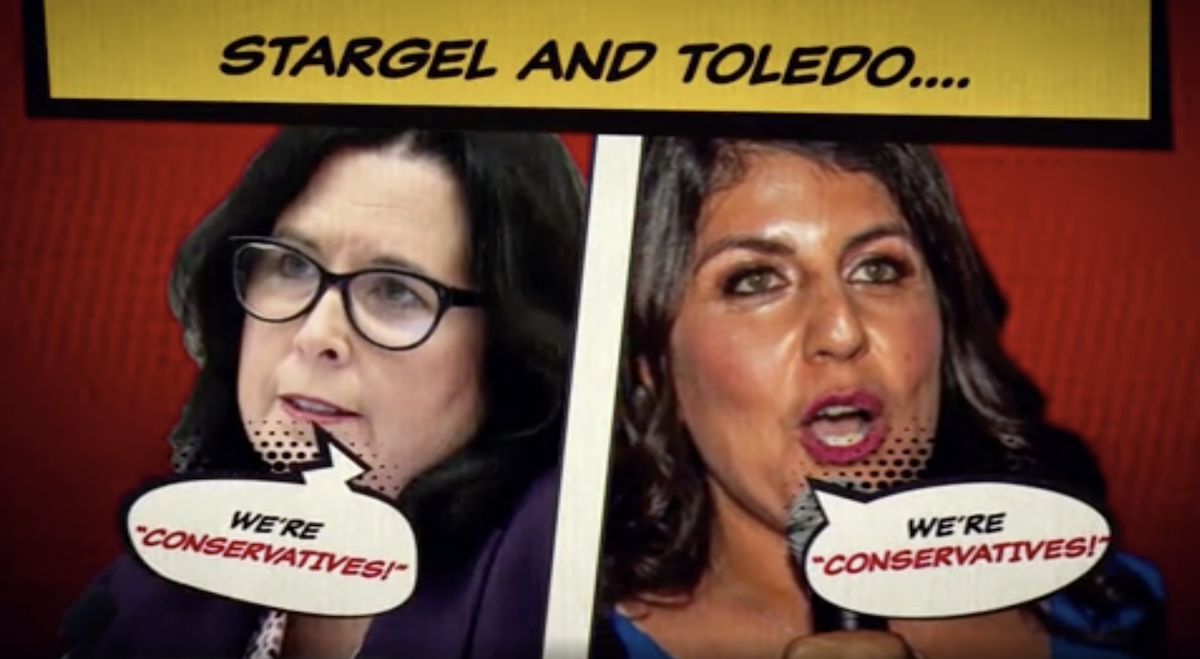 Comic-style video suggests Kelli Stargel and Jackie Toledo are masquerading as conservatives.
Republican Laurel Lee's congressional campaign just released ads characterizing her GOP Primary opponents as comic book villains.
"Politicians Jackie Toledo and Kelli Stargel say one thing, do another!" a narrator states as images of the state lawmakers appear against a cartoon backdrop.
The ad mines past comments Toledo, a Tampa state Representative, including when she trashed Donald Trump in 2016. Following the release of the notorious Access Hollywood tape, Toledo, then a candidate for state House, called Trump's remarks "vulgar" and "unacceptable."
The new ad also says Toledo "backed amnesty" and "got an 'F' from the NRA," the latter a reference to Toledo's 2018 National Rifle Association grade after she supported the Parkland bill.
"Holy Toledo! She's a politician," the ad states in a callback to the classic Batman television series.
Both Toledo and Stargel voted for the gun safety bill in the aftermath of the Marjory Stoneman Douglas High shooting, and their score with the gun rights group suffers. Notably, Lee's husband, former Sen. Tom Lee, voted against the legislation.
Lee's new ad hammers both lawmakers on their weak NRA scores.
"Holy amnesty! Stargel's worse," the ad continues, saying she also supported "drivers' licenses for illegals."
That's a reference to a 2013 bill passed unanimously in the Senate that allowed Deferred Action for Childhood Arrivals (DACA) recipients to receive Florida licenses.
"Stargel and Toledo say they're conservative, then voted like liberals," the narrator continues.
The ad then pivots to touting Lee's role as Gov. Ron DeSantis' Secretary of State for most of his first term. "When Gov. DeSantis needed a conservative, he trusted Laurel Lee," the ad states. "So can we."
The negative ad hits in the final days of the Aug. 23 GOP Primary cycle in Florida's 15th Congressional District.
The contest for an open seat drew five Republicans to qualify. The winner will head into the General Election a slight favorite; about 50.86% of voters in the newly drawn seat supported Trump's Republican ticket in the 2020 election while 47.74% backed Democrat Joe Biden. The Democratic nominee in CD 15 will also be determined on Aug. 23.
Lee entered the race after Toledo and Stargel but rapidly established herself as a solid fundraiser and led all candidates in dollars raised, according to pre-Primary reports.