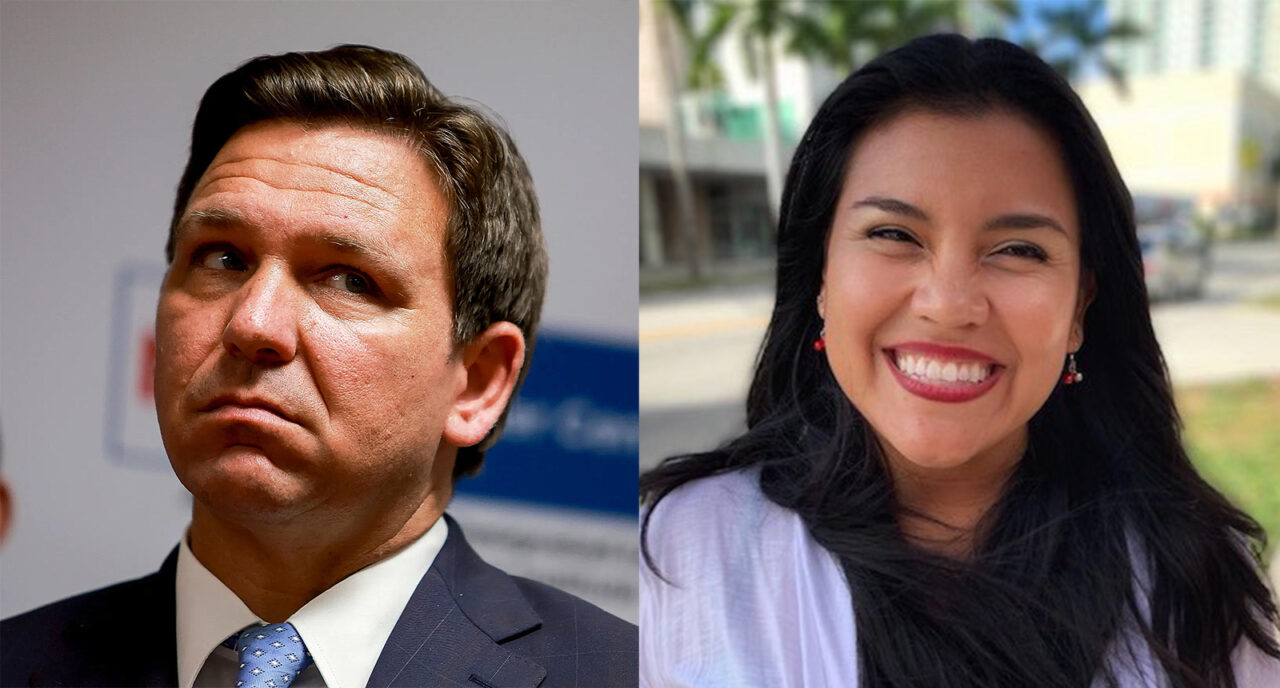 The Republican Governor called the link 'disqualifying,' but the union couldn't pull his membership.
Gov. Ron DeSantis is faulting U.S. Rep. Charlie Crist's running mate, Karla Hernández, for her ties to a former member of her teachers union who is serving jail time for sexually assaulting students — an association the Crist campaign says Hernández had no control over.
DeSantis appears to have been attuned to Republican criticism over the weekend of the new No. 2 on the Democratic ticket challenging him in November. During a news conference in Fort Pierce on Tuesday, the Governor pilloried Hernández for her relation to Wendell Nibbs, a former Brownsville Middle School P.E. teacher who pleaded guilty to child sex charges in 2020. At the time of his arrest, he was a member of the United Teachers of Dade (UTD), of which Hernández is president.
Although allegations against Nibbs date back to 2004 and included rape accusations, the investigation against him didn't begin until 2015, the year before Hernández was first elected union president. DeSantis referred to Nibbs as "one of their top union henchmen," likely referring to his status as a building steward elected by his fellow teachers.
"Everybody knew this was going on, and her union protected him knowing that he represented a threat to those students in middle school classrooms," DeSantis told reporters. "He abused and he abused and he abused, and he finally got caught and he's finally in prison."
"They cared more about the power of their union than they did about the best interests of these kids," he continued. "That is disgraceful. You do not put union politics ahead of middle school students who are in danger of being sexually abused. I think that's disqualifying to be in any political office, much less Lieutenant Governor of the state of Florida."
The Crist campaign is dismissing the characterization that Hernández or UTD protected Nibbs and linked DeSantis to U.S. Rep. Matt Gaetz, a Fort Walton Beach Republican who is under investigation for underage sex trafficking. Gaetz served on DeSantis' transition team and reportedly helped him earn President Donald Trump's endorsement in 2018.
"It's a lie. And to top it off, it's coming from a Governor whose own campaign was led by accused child sexual predator Matt Gaetz, and whose disgusting actions DeSantis still refuses to condemn," said the Crist campaign's Communications Director, Samantha Ramirez.
"While Ron DeSantis shields sexual predators in his own party, Karla Hernández is a former special needs teacher who has devoted her life to serving the people of her community."
Florida is a right to work state, meaning the state constitution guarantees an employee's right to join or not join a union. UTD is not allowed to deny membership to anyone who wants it because they are the district's official collective bargaining group. The Florida Department of Education did not remove Nibbs' teaching license until 2019, three years after the Miami-Dade County School Board requested the department pull his license, according to NBC 6.
Ahead of the formal announcement of Hernández as Crist's running mate, the Republican Party of Florida criticized Hernández on multiple fronts, including with a link to a Miami Herald article stating that a union representative accompanied Nibbs through five of his investigations.
Following the news conference in which Crist unveiled his Lieutenant Governor pick, he was asked about the ties between her and Nibbs, which includes Facebook photos of the two posing in front of Brownsville Middle School and the Florida Historic Capitol. According to WPLG, she lobbed the attack back at the Florida GOP for continuing to support Gaetz.
"GOP, (which) is a proud Matt Gaetz supporter, is actually talking to me, or questioning something that I had nothing to do with, when they are the Matt Gaetz party," she said.
Nibbs was sentenced to eight years in prison plus 10 years of sex offender probation. He has a lifetime designation as a sexual predator.
Hernández's history as a teacher and president of the nation's fourth largest local teachers union is a contrast to DeSantis' education agenda. Nationwide, conservatives and progressives are split on school safety, classroom discussions on sexual orientation and gender identity and how race and privilege should be taught.
DeSantis also criticized Hernández for a past tweet "sympathetic" to former Cuban dictator Fidel Castro and her position in favor of keeping schools closed in 2020.
"She and her Union were more interested in politics than they were in the best interest of these kids," DeSantis said.