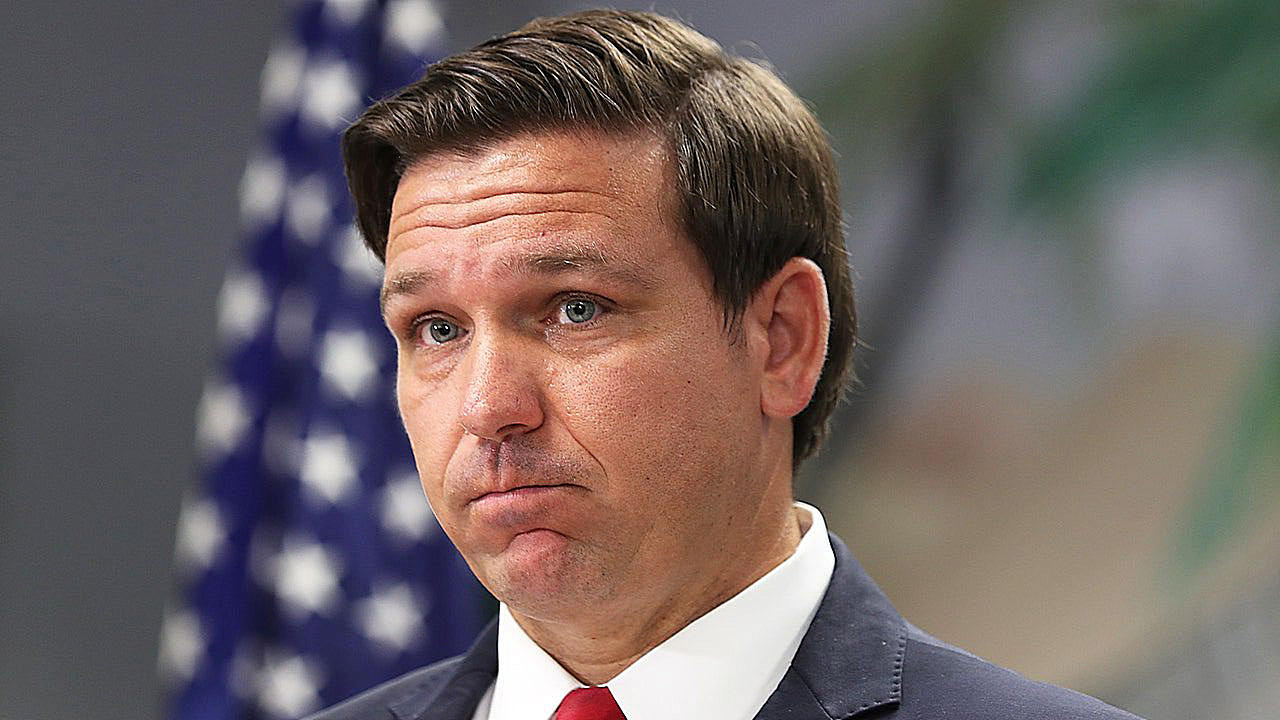 'Under no possible construction of that amendment could somebody who is a convicted rapist or a convicted murderer be eligible to vote in the state of Florida.'
Gov. Ron DeSantis wants felons convicted of murder and sexual offenses to follow the proper steps to earn back their right to vote. But he says good luck on getting his approval.
Florida's Republican Governor earlier this month announced the arrests of 20 felons who had been convicted of murder or sexual assault the new Office of Election Crimes and Security says were illegally registered to vote and cast ballots in the 2020 election. Reports by POLITICO and others showed local Election Supervisors did not notify the felons they were ineligible to vote, and the state did not notify the Supervisors of the suspects' ineligibility, per a Department of State rule.
Although some of those arrested have said they were never told they couldn't vote and even received voter registration cards, DeSantis stands by the fact that the felons were ineligible to vote and that, in registering, they falsely checked boxes affirming they are eligible to vote.
During a news conference in which DeSantis was joined by Attorney General Ashley Moody — a Republican who, as a member of the Florida Cabinet, also serves on the State Clemency Board — the Governor doubled down on the fault of the felons.
"There's never been any law or constitutional amendment enacted in Florida that provides them with an automatic right to vote. They are ineligible to vote in the state of Florida," DeSantis said. "They can apply through the clemency process — not going to get probably a very good hearing for me and Ashley when you're talking about those serious crimes, but they do have a right to do that."
Floridians with felony convictions can apply to have their rights restored. The Clemency Board can vote to restore a felon's rights with support from two Cabinet members, but first the felon must win the Governor's support.
Also at issue is that one of the statutes the 20 felons were arrested under prohibits people from "willfully" falsely affirming their eligibility. The second prohibits them from "willfully" voting if they know they are not qualified to vote.
Some of those arrested say they didn't know they were ineligible to vote and had no intention of breaking the law.
The confusion rests with the passage of Amendment 4, which allows felons to vote when they complete their sentence, including after they pay restitution. However, the amendment excludes felons convicted of murder and sexual offenses until the State Clemency Board restores the individual's right to vote.
"Under no possible construction of that amendment could somebody who is a convicted rapist or a convicted murderer be eligible to vote in the state of Florida," DeSantis said.
The 20 suspects face third-degree felonies associated with voting violations. The charges carry a possible $5,000 fine and up to five years in prison.
During a news conference on Tuesday, DeSantis put the onus of confirming a voter's eligibility on local Elections Supervisors.
"They're the ones that are registering people. You go in your county and you register locally. You're not registering in Tallahassee at the state government, and so it's really their responsibility to ensure that those voting rolls are accurate," he said.
The Governor's communications director, Taryn Fenske, also told POLITICO Supervisors should be held accountable if they are telling murderers they can vote.
However, the Department of State rule requires the state to provide the county offices with lists of people who potentially are ineligible because their rights have not been restored.
The Florida Rights Restoration Coalition (FRRC) and Executive Director Desmond Meade, who overcame addiction and convictions to become a civil rights activist, spearheaded the successful passage of Amendment 4 in 2018. In a statement this month, the FRRC said it agrees the amendment is clear on who is eligible and ineligible to vote.
"Unfortunately, that is not how the process currently works for people impacted by Amendment 4," the organization said.
"That's why we hope the state starts to invest as much energy, if not more, on the front end of the election process as the back end of the process. That means fixing the system to prevent situations like this and spending tax dollars to investigate and prosecute Florida citizens. It is less costly and easier to prevent these situations from happening in the first place."
FRRC has set up legal defense and bail funds for the 20 individuals arrested this month.
FRRC Deputy Director Neil Volz told Florida Politics the current situation stems from a data-sharing problem between the state and supervisors. People who are 13 years old don't wrongfully receive driver's licenses, for example.
"If the government can't tell someone on the front end that they're ineligible to vote, then how can you arrest them on the back end?" Volz said.
As for the Governor's comment that people convicted of murder and sexual offenses likely won't have a good hearing, Volz tried to stay above the fray.
"Part of the movement behind Amendment 4 was that who (can) and who cannot vote shouldn't be in the hands of elected officials, Republican or Democrat," Volz said. "Right now it's a process in which we see elected officials determining who can and can't vote."