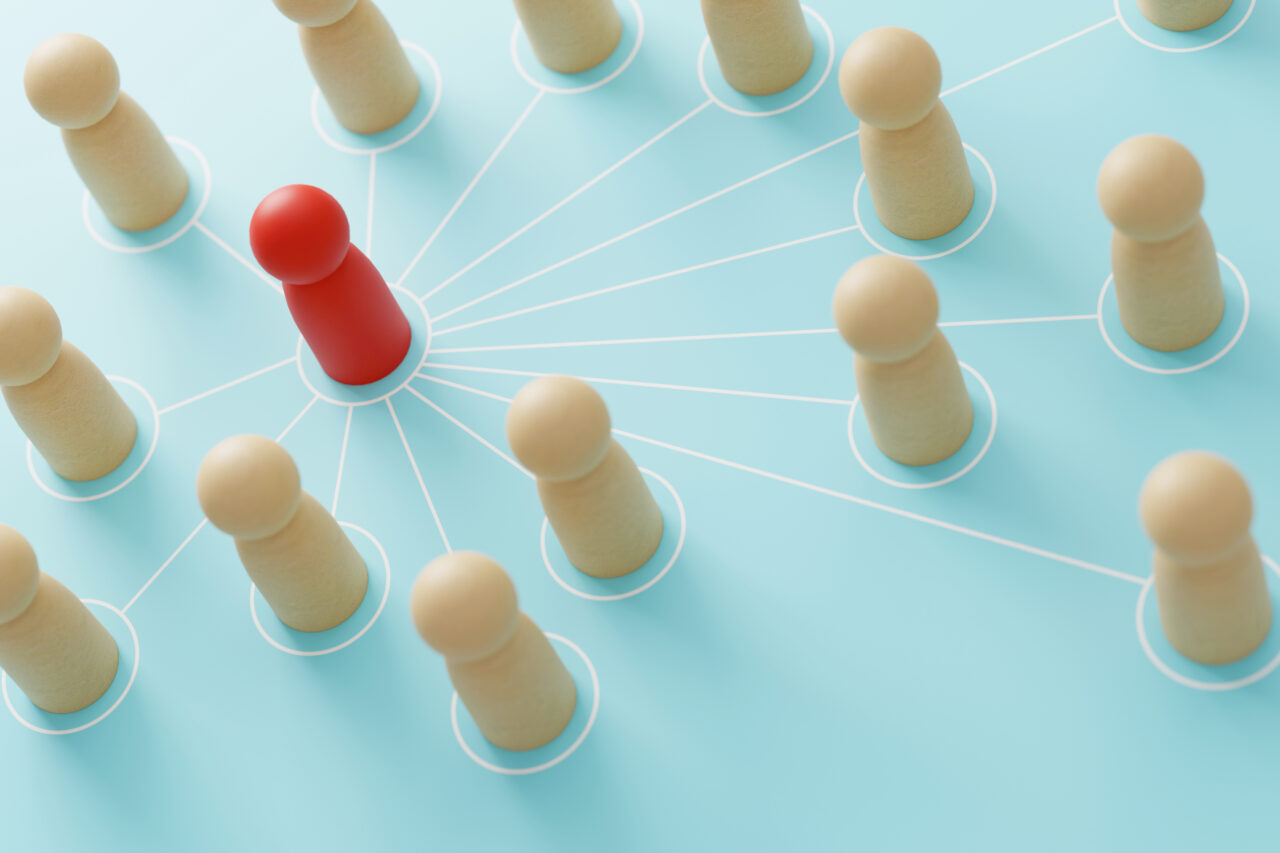 Know the rules, get resources, work hard — and win!
With less than a year to go in his current role, Lenny Curry is still stunting opponents to the end.
Just this week came the latest flex when the outgoing Jacksonville Mayor recommended losing politicians to follow his lead and get it together.
"It's a free market game. Know the rules. Know and get the resources needed and go compete. Candidates that lose need to stop with the martyrdom. Win or lose on your own merits and ability. Be about the Meritocracy," Curry tweeted.
After one of these late evening ruminations, the usual suspects dunked Curry; but the Mayor was undaunted, continuing to flex as he has this entire campaign season.
"Been a long road but some political dinosaurs getting closer to extinction every Jax election cycle," he tweeted election night, followed by a squad retweet from his political inner circle.
Election night traditions: winning. every. single. time. pic.twitter.com/WqGn6tUi6k

— Jordan Elsbury (@jordan_elsbury) August 24, 2022
Curry is blunt, but he's right about how things currently stand.
The people who win the political game are the "meritocracy." That's a mindset from the Governor on down, a justification for sweeping executive decisions (sometimes), and for a very personalized governance style.
To recognize the "meritocracy" as part of a winning team that keeps winning, the concept reinforces itself over time.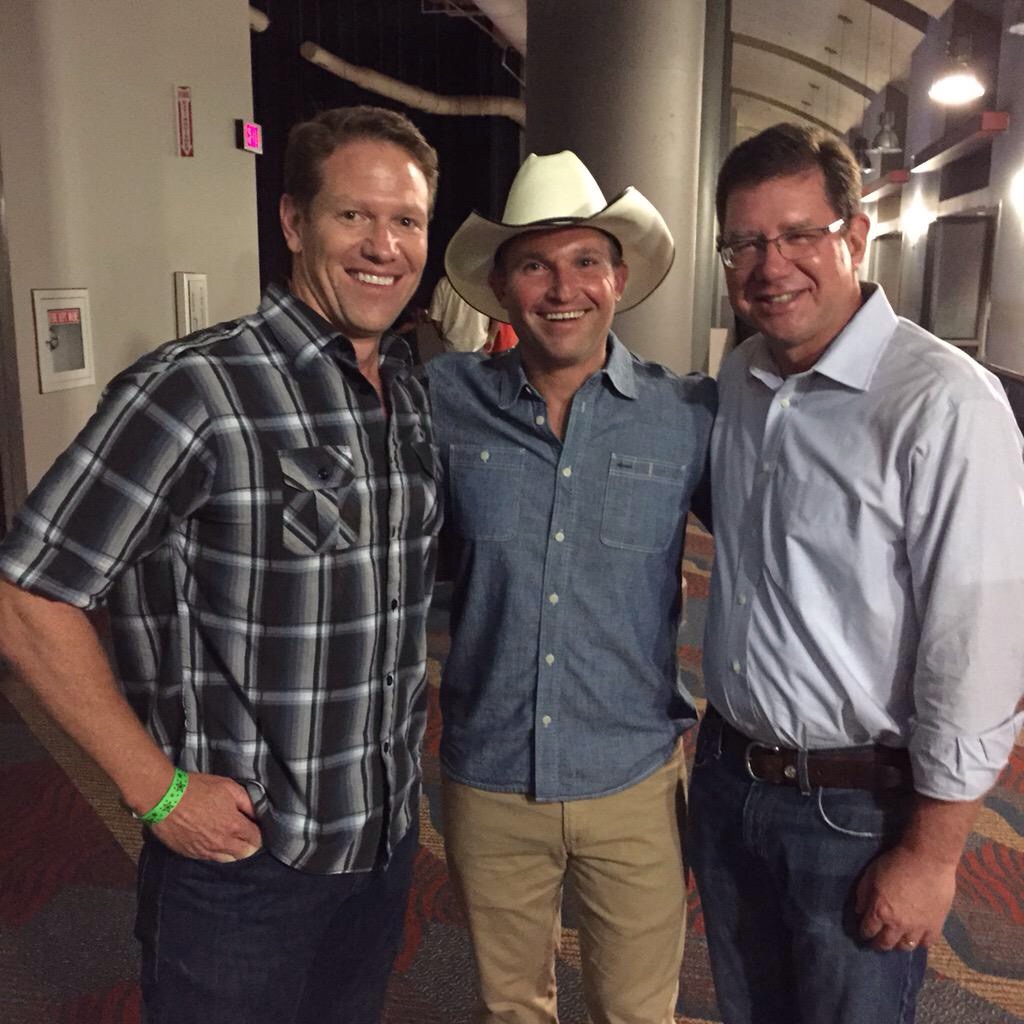 Curry's position since his narrow win over Alvin Brown in 2015 has boiled down to one of baiting his opponents into conflict before they realize their lack of leverage. Behind the bold rhetoric and the tie to power is an understanding that power reinforces itself, and the more absolute that power is, the more leverage one must keep opponents in check.
Biden boom
With the Rep. Al Lawson era ending in Northeast Florida, time is running out also for his vigorous defenses of the Joe Biden White House.
That's something you probably won't get from Aaron Bean if (or more like when) he's elected.
The latest from Lawson: an email touting the benefits of the Inflation Reduction Act, focusing on health care outcomes for the sprawling 5th Congressional District.
"For far too long, big corporations have forced many Americans to choose between paying for health care — including lifesaving medication and insurance coverage — and putting food on the table. With the Inflation Reduction Act now the law of the land, Democrats in Congress have taken bold steps to rein in out-of-control health care costs," said Lawson. "I'm proud to have voted for this transformational legislation to lower health care costs for families across my district."
The savings are specifically helping those on Affordable Care Act plans, where premiums go down for subgroups, including $16,000+ of savings for a senior citizen couple with a joint income of $70,000+. Millions will be saved on prescriptions, with insulin for seniors capped at $35 a dose.
Cakewalk
Rep. Clay Yarborough sidestepped a Primary challenge in Senate District 4, and barring a complete improbability, he will have a comfortable ride to a General Election win this November.
Yarborough, who currently represents House District 12, stepped down for the chance to succeed term-limited Aaron Bean in what is a Republican-leaning district. Fundraising has gone his way thus far.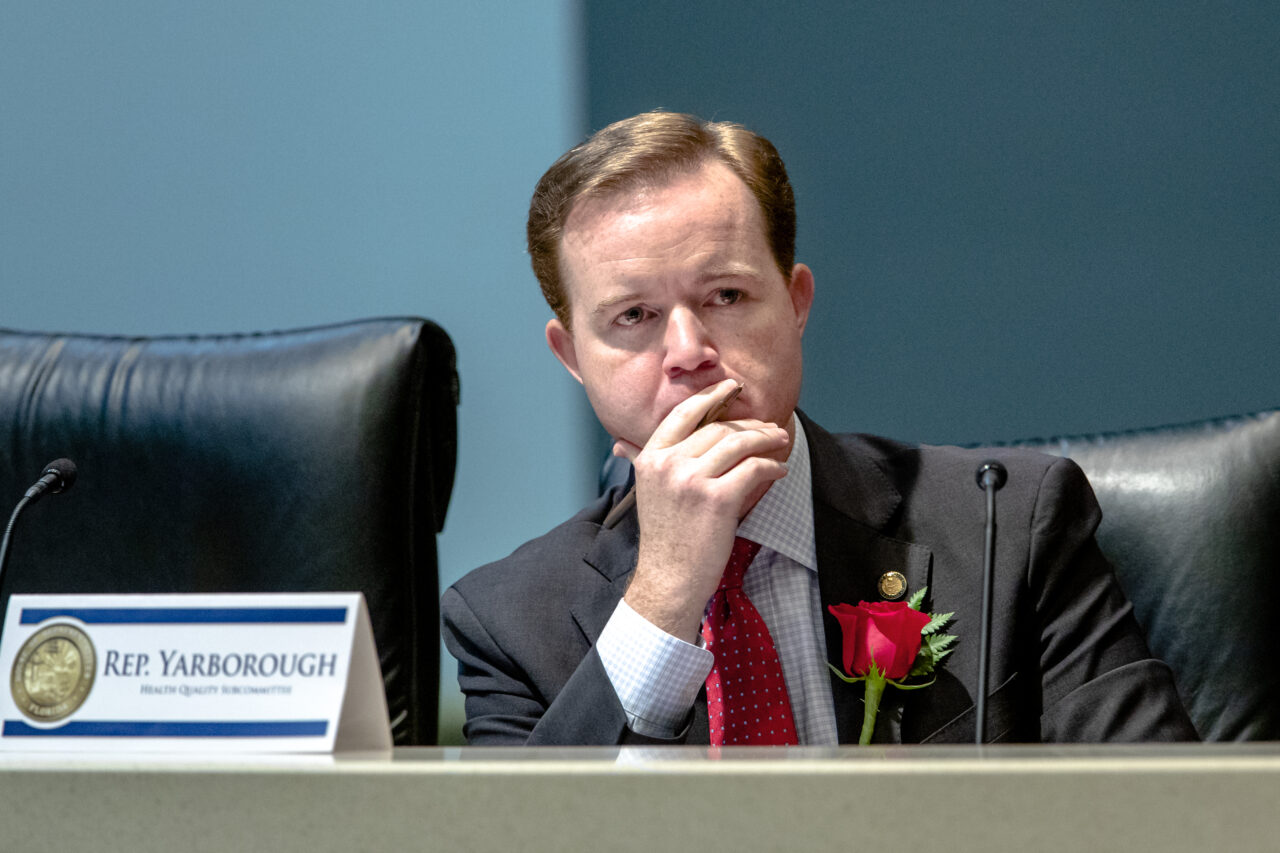 He heads into the General Election with nearly $220,000 in his campaign account and more than $175,000 in his Floridians for Conservative Values political committee. Democratic challenger Sharmin Smith of Jacksonville Beach has gotten one donation so far: $250 from the Florida NOW PAC.
Interestingly, Yarborough has shown some political independence from Gov. Ron DeSantis over the years, and evidence suggests that DeSantis might have preferred another Republican in the Senate race. But, ultimately, the Governor stayed out of this Primary, in which Yarborough was the choice of Senate leadership.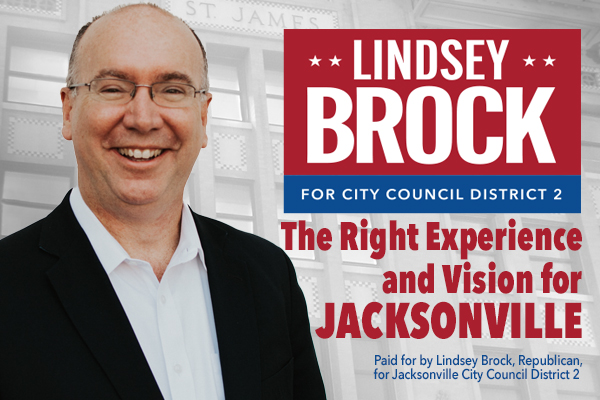 Debate drama
The second-place finisher in Tuesday's Jacksonville Sheriff election is trying to get the first-place finisher to agree to multiple debates sooner than later. But not just any debates, apparently, as she ruled out Monday night's Fraternal Order of Police event.
Democrat Lakesha Burton proposes three faceoffs with Republican TK Waters ahead of the November election to fill the rest of former Sheriff Mike Williams' term, through June 2023. She suggests Jacksonville University's Public Policy Institute, the League of Women Voters, and the Jacksonville Bar Association as potential hosts for debates.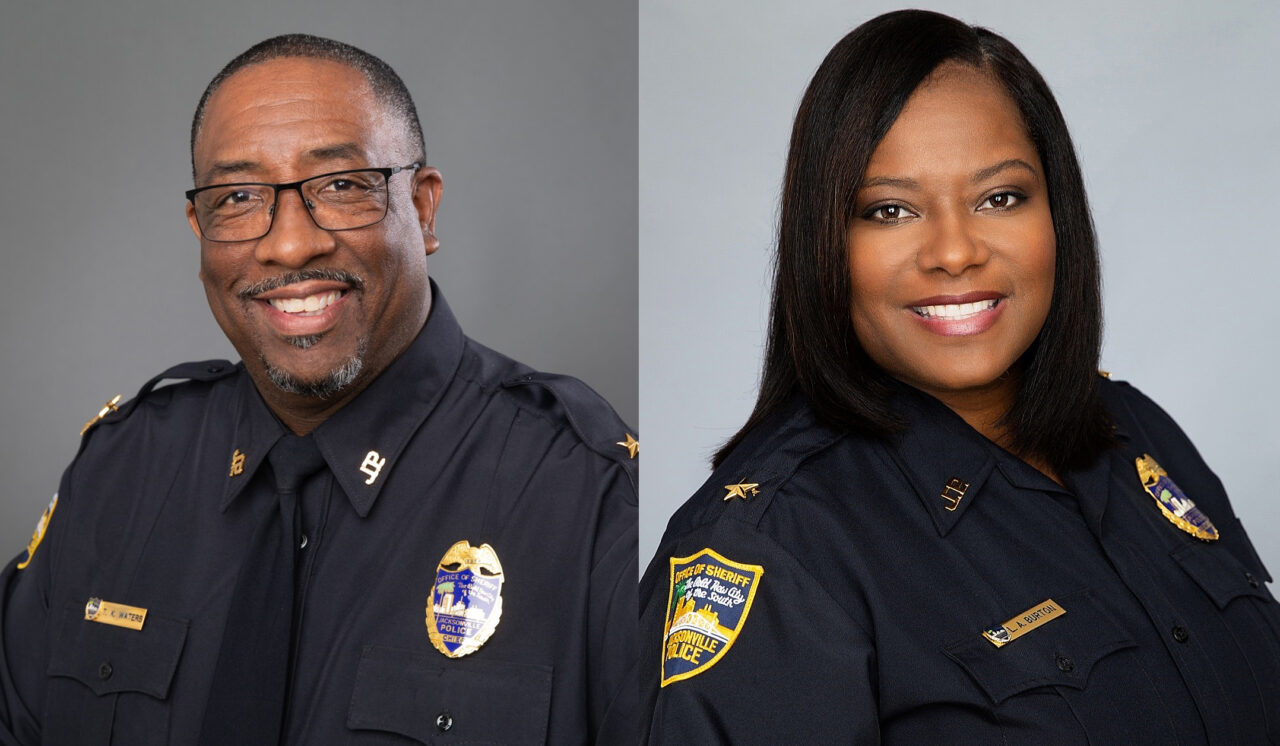 One debate is on: a Sept. 15 faceoff at WJCT hosted by JBA, which accords with what Burton seeks "in a public, fair and nonpartisan setting."
Burton nixed a potential Fraternal Order of Police (FOP) debate as one of those three debates, contending the forum imputed bias.
Burton backers spent much of the day defending the decision to skip the FOP event, which they contend would be biased toward Waters. Time will tell if voters buy that decision to skip the event.
Save the date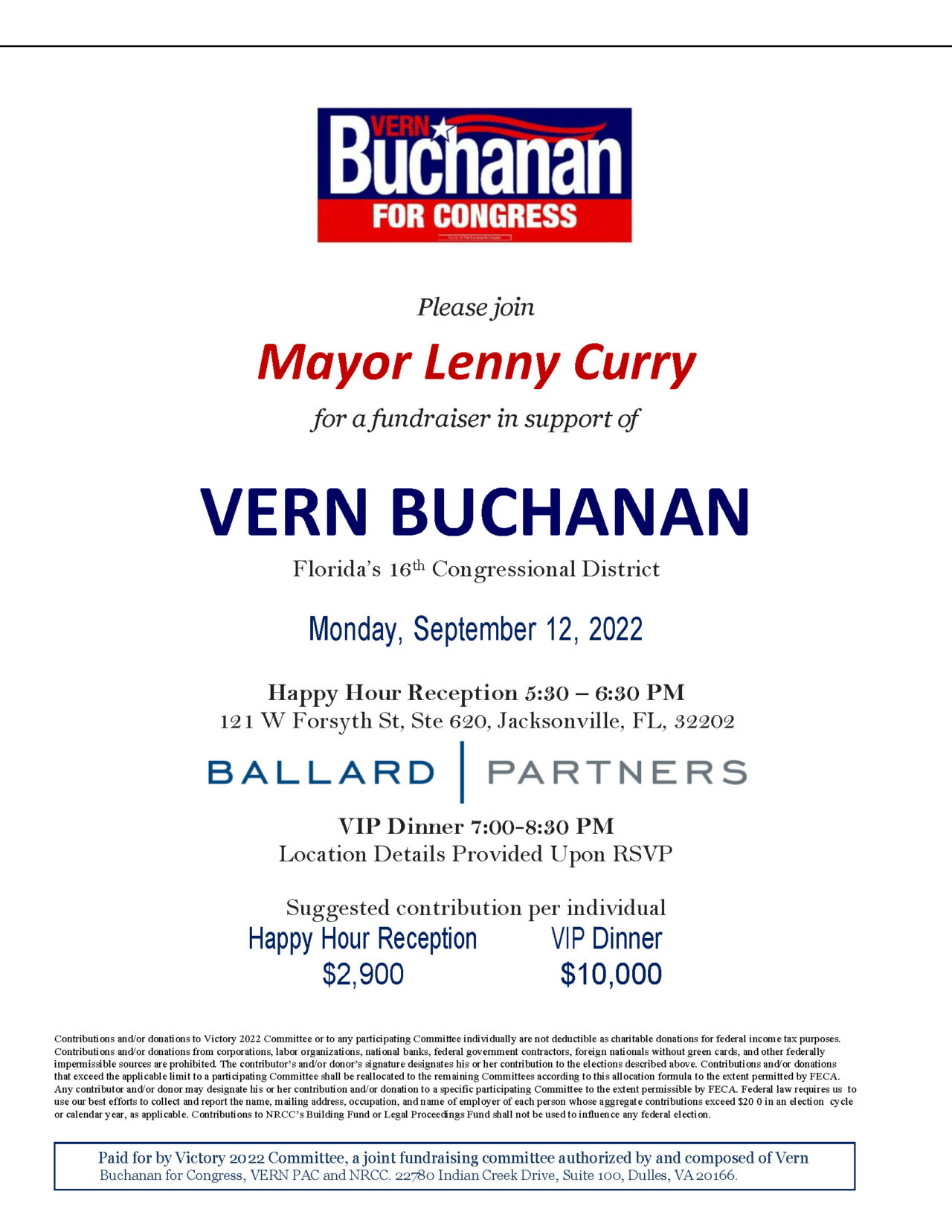 One more try
Former Congresswoman Corrine Brown couldn't get 10% in a Primary in Central Florida this month, but that doesn't mean she's not going to run again; it may even be in an election where our readers can actually vote.
That's what WJXT reports, in an interview this week, albeit without a direct quote.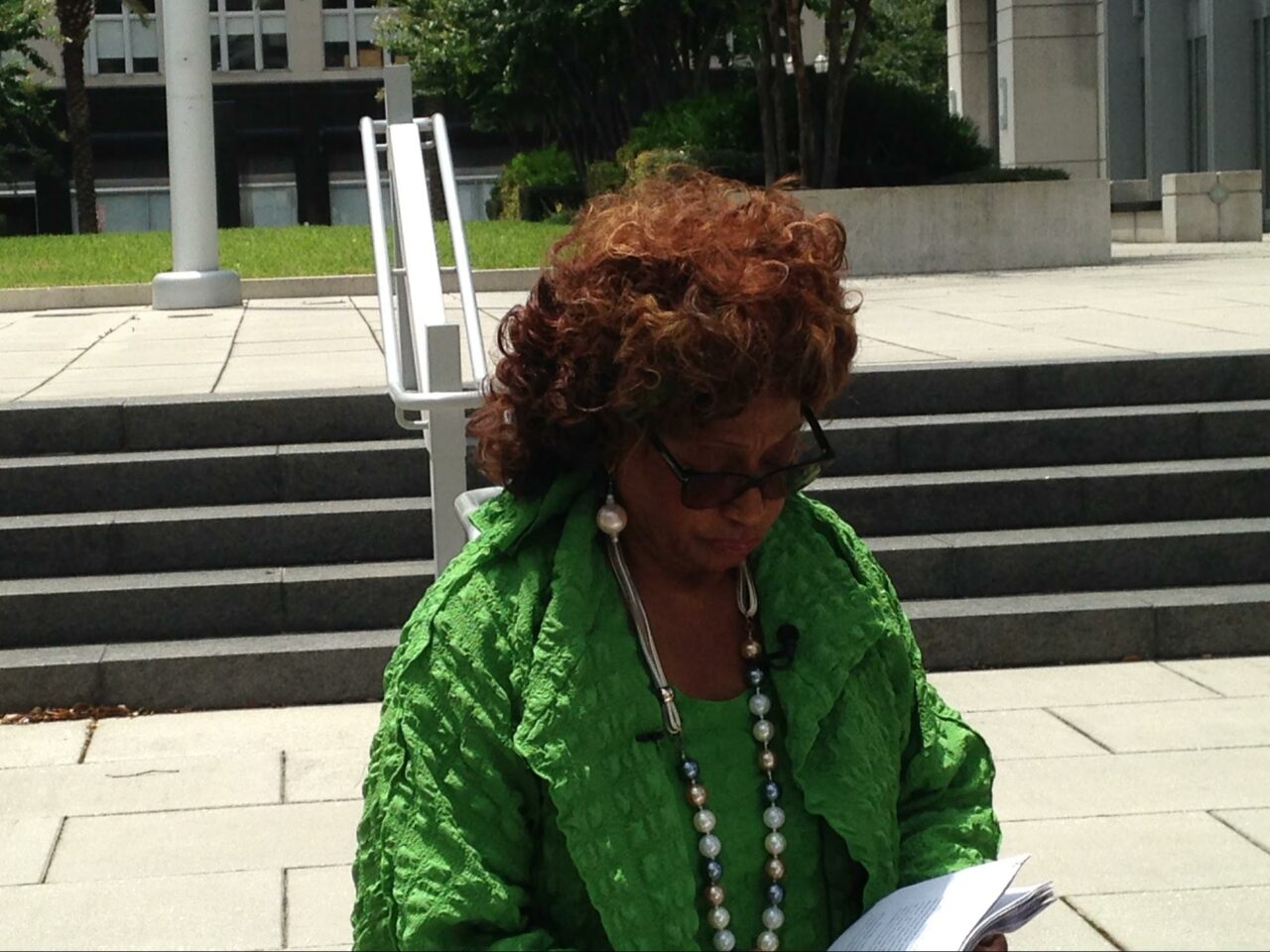 She also claimed that her legal battle, in which her One Door to Education charity was scrutinized for improper spending of donations, was not an issue for voters.
"I think it played a role with the media, but not with the people," Brown said. "The media … asked me questions about it."
It's unclear what else the media would ask a candidate parachuting into an out-of-area campaign, given her legal issues spanning back to 2016. But she clearly feels like it wasn't what defeated her last week.
Chamber cash
A former Jacksonville City Council member sought information on how the city's disbursements to the local Chamber of Commerce have been spent in one of his final acts on the Council.
Democrat Garrett Dennis wrote a letter to Council Auditor Kim Taylor for "some confirmation that money being sent to the nonprofit is being spent effectively" in the wake of Florida Politics reporting that the Chamber seeks $750,000 this year from the city, a higher threshold than recent years.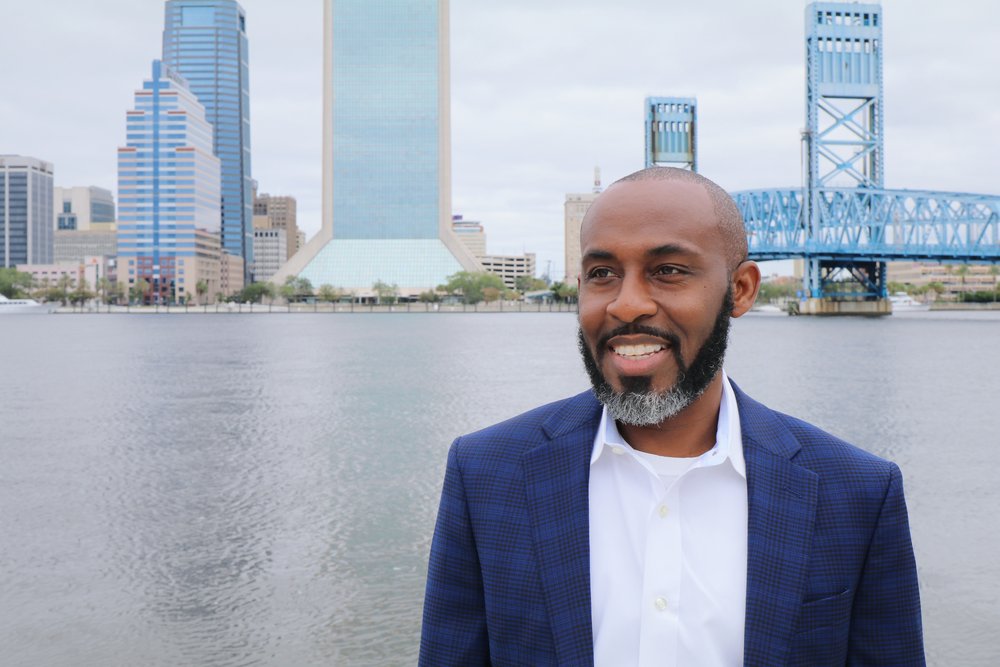 The money, per the bill summary, is earmarked exclusively for "advertising, target industry marketing to brand our region's key sub-clusters, and outreach to site selectors and corporate decision-makers."
Dennis wants more details, however, especially regarding what percentage of money is spent on "administrative functions, such as salaries and benefits."
The controversy over Chamber funding comes as CEO Daniel Davis readies to announce his own run for Mayor in 2023, entering a crowded field that already includes three Republicans, multiple Democrats, and NPA candidates.
Chamber spox Matt Galnor tells Jacksonville Today: "The funding is used solely for marketing Jacksonville outside of our region to attract capital investment, jobs and talent … We have consistently delivered on this investment, which is why it has been approved nearly unanimously by the City Council every year."
JSO jobs
Looking for a new gig?
Consider a civilian position with the Jacksonville Sheriff's Office.
JSO is holding a virtual job fair Wednesday afternoon for dispatcher and 911 operator positions. Starting salaries are $44,000 for these Police Emergency Communications Officer (PECO) roles.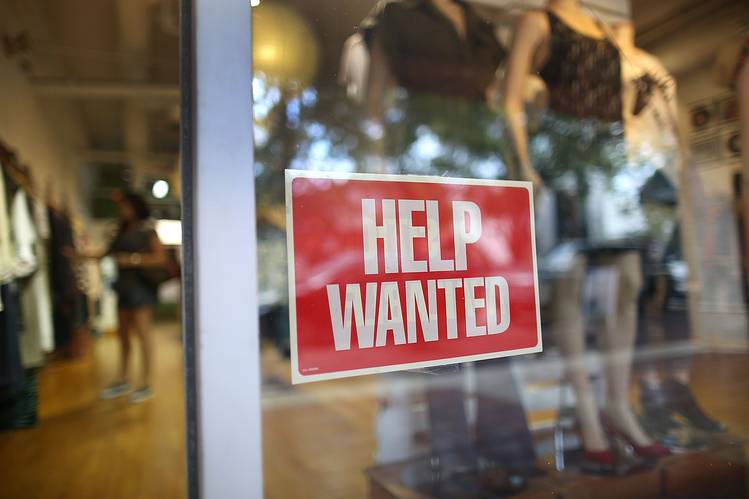 "Join the team that responds to emergency and non-emergency calls for service to protect the public and save lives. As an attendee, you will hear from current employees, leadership officials, and our civilian recruiter, and there will be an opportunity for a Questions and Answer session," reads the pitch.
A hard rain(s)
Development, climate change, and lack of resources (or prompt upkeep) all factor into deteriorating infrastructure. Everyday weather shouldn't cause roadways to become impassable, yet that's the situation in Nassau County.
Commissioners Thomas Ford and Klynt Farmer both represent Western Nassau districts that have a rural road infrastructure more typical of what used to cover Nassau County decades before the latest development explosion from I-95 east to the Amelia River.
"These inclement weather patterns that we're seeing, obviously it's not new for us," Farmer said at the last Commission meeting. "We're gaining up on the peak of hurricane season — we all talked about it in an email today that there's some tropic activity out there. I hope that it steers out into the Atlantic, and gets away from us, but it's something to be aware of."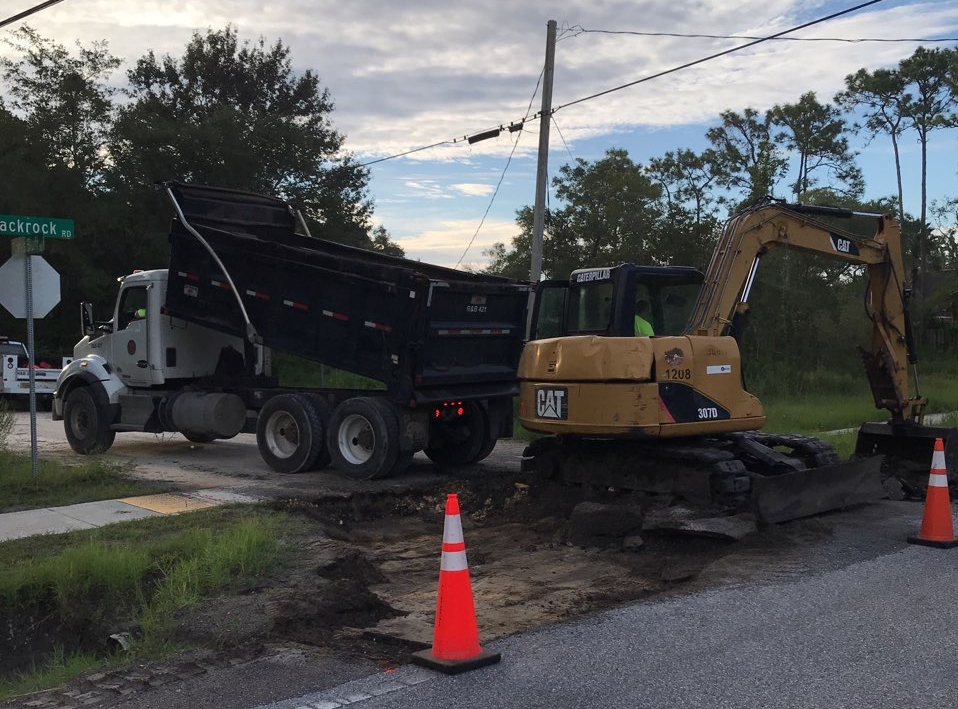 Earlier in the meeting, a Callahan resident complained about the rutted and continually flooded condition of River Road near her house. The road is scheduled for reworking in 2024, though it may be moved up if circumstances allow. Regardless, infrastructure problems caused by the usual summer rains are across the county.
"The afternoon weather patterns, we can grade a road and three hours later it's in worse shape than it was before it was graded," Farmer said. "So, I'd like to thank the fine men and women over there who are going out of their way to help us out or work overtime, or whatever the calls may require, to ensure that our citizens are able to get back into their homes."
It definitely gets Commissioners' attention when residents make their case in person to the Commission, Chair Jeff Gray said.
Two Beans
As Aaron Bean runs in November as the odds-on favorite to win Florida's 4th Congressional District, Fernandina Beach City Commissioner Bradley Bean — and Sen. Bean's son — will be on the same ballot in his attempt to become Fernandina's next Mayor.
Incumbent Mayor Mike Lednovich is up for re-election in his district, which means he can't run again for the position. Those eligible are current City Commissioners who aren't otherwise on the ballot, so into the ring comes Bean and Commissioner David Sturges, one of whom will be the next leader of the city.
Bean essentially kicked off the municipal campaign virtually when he recently changed his Facebook page banner to a "Bean for Mayor" image. His campaign is running on the slogan "Fernandina First."
The platform, rolled out on the campaign website, touches on campaign theme constants like jobs and economic growth. Bean also reiterates his commitment to the city parks and their oft-debated tree canopy.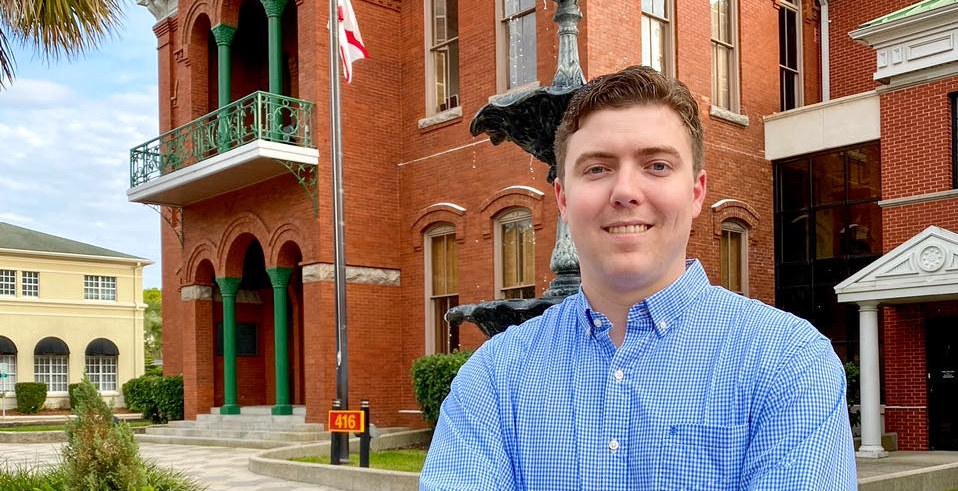 Unlike some other City Commission races, the campaign between Bean and Sturges is quiet on the money front — Sturges has no activity, while Bean's includes the $75 he gave his campaign and a $6 bank service charge.
Sturges, who represents District 2, also has yet to create a mayoral campaign presence online. He won election to the seat in a close 2020 runoff with Genece Minshew — 50.5% to 49.4%, a difference of 38 votes.
Sturges was the largest vote-getter in the first round of voting, taking around 43.4% of the vote, compared to 29.7% for Minshew and 26.7% for Alexandra Lajoux. Bean defeated Marian Phillips in a 55.7% to 44.2% victory that year.
The 2020 money race may signal what's ahead in this contest, in that Bean's likely to have the money advantage, though Sturges proved he can compete and win against a better-funded competitor.
That year, Bean put nearly $33,800 into his City Commission campaign and spent it down to the last cent. Sturges raised just over $9,100, spending nearly $7,700 of it while Minshew brought more than $23,400 into her campaign and spent almost $20,000.
From Asia with speed
JAXPORT entered into a new agreement with Singapore-based Sea Lead Shipping and Hong Kong-based T.S. Lines that will make the Port the shippers' first port of call on their Asia East Coast (AEC) container service.
Jacksonville became part of the AEC rotation this year, but at the back of the queue. Currently, ships dock first at Northeastern Ports and work their way down to Jacksonville, which is the last American Port before heading out.
The new rotation sends vessels to Nansha, Ningbo, Shanghai and Qingdao in China, Busan, South Korea, and Manzanillo, Mexico, before coming to Jacksonville. After that, there are scheduled stops in Charleston, South Carolina, Norfolk, Virginia, and Newark, New Jersey.
Local importers will save a full week of transit time under the new agreement, among the fastest shipping times between the Southeast United States and Asian ports.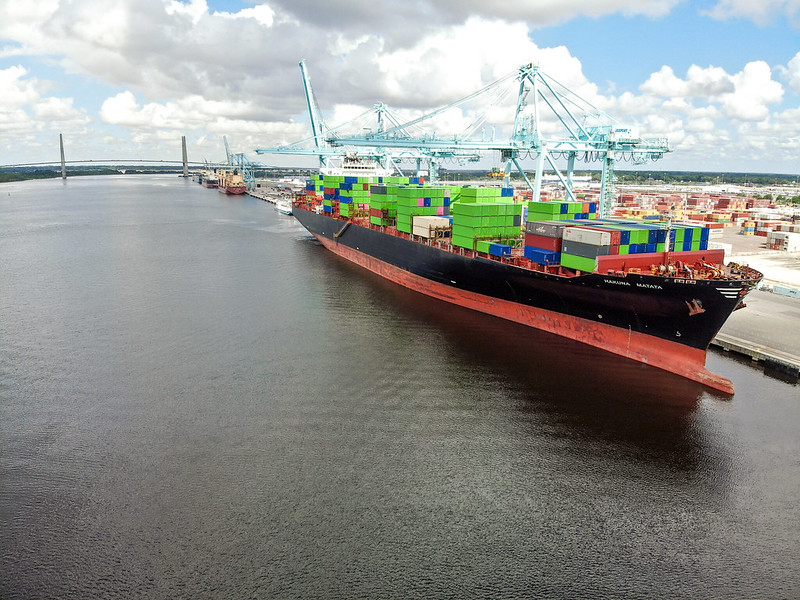 "Jacksonville's 47-foot harbor and uncongested facilities allow our vessels to arrive fully loaded, which provides greater flexibility for the volume and type of cargo we can move through JAXPORT," Cas Pouderoyen, Sea Lead's Managing Director of Americas, said in a statement. "Our vessels can work immediately upon arrival in Jacksonville due to no berth congestion there, providing enhanced schedule reliability on the East Coast."
The AEC service calls on JAXPORT's Blount Island Marine Terminal once every couple of weeks, moving through goods like "furniture, clothing and auto parts," along with providing export capabilities for raw materials like forest products and clay.
Tweet, tweet
We've known all along that he's an ultimate CEO, but now it's official 🏆

The @JaxBizJournal named JAXPORT CEO Eric Green a 2022 Ultimate CEO honoree. pic.twitter.com/LZNaLJGlAL

— JAXPORT (@JAXPORT) August 25, 2022
Battling back
It can be hard to maintain playoff momentum when the parent club jacks most of your roster for duty in the Majors, but while the Miami Marlins get the benefit of young stars like Jerar Encarnacion and Peyton Burdick, your hometown Jacksonville Jumbo Shrimp are dealing with a roster that looks much different from it did in May.
The Shrimp (66-58) lost six of their last 10 games going into this week's series at the Gwinnett Stripers (60-64). After pushing their record to more than 10 games over .500 and sticking around the top of their division, the Shrimp are in third place, 2.5 games back of International League East Division-leading Durham Bulls (68-55) and two games behind the second-place Lehigh Valley IronPigs (68-56).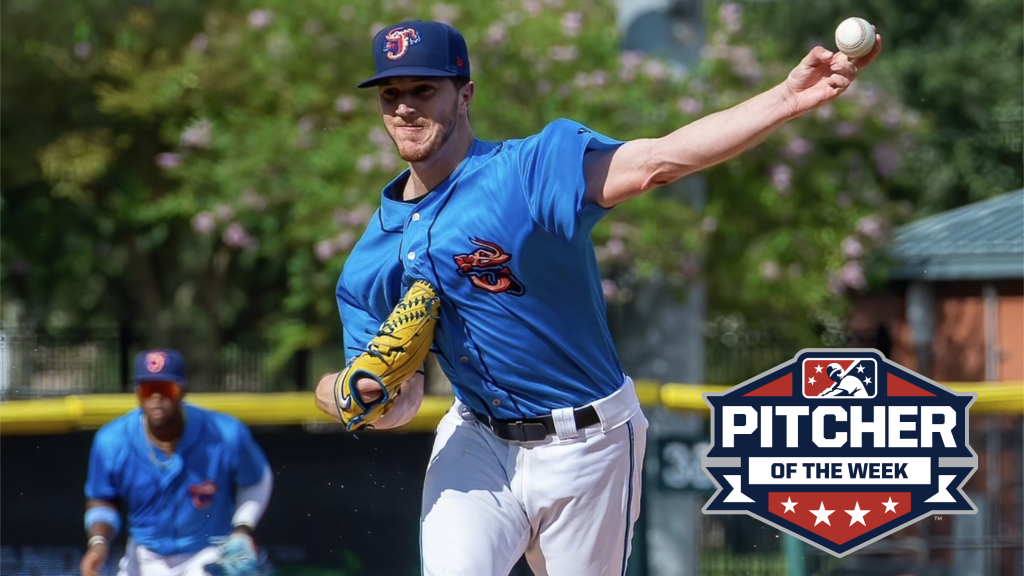 Jacksonville split its last home series, a rainy six-game set with the Norfolk Tides (56-66), but in that was a stellar performance from left-handed pitcher Trevor Roberts, who won the International League Pitcher of the Week honors for tossing six no-hit innings while striking out 12 on Thursday.
Roberts' time in town was part of a rehab assignment because of back spasms. The runner-up for 2021 Rookie of the Year, he's pitched in two games for the Shrimp this year. On his way up to the Marlins, Roberts made four starts with the AA-level Jacksonville team in 2019. He's struck out 28 batters in 26 innings with the Jumbo Shrimp in his career.