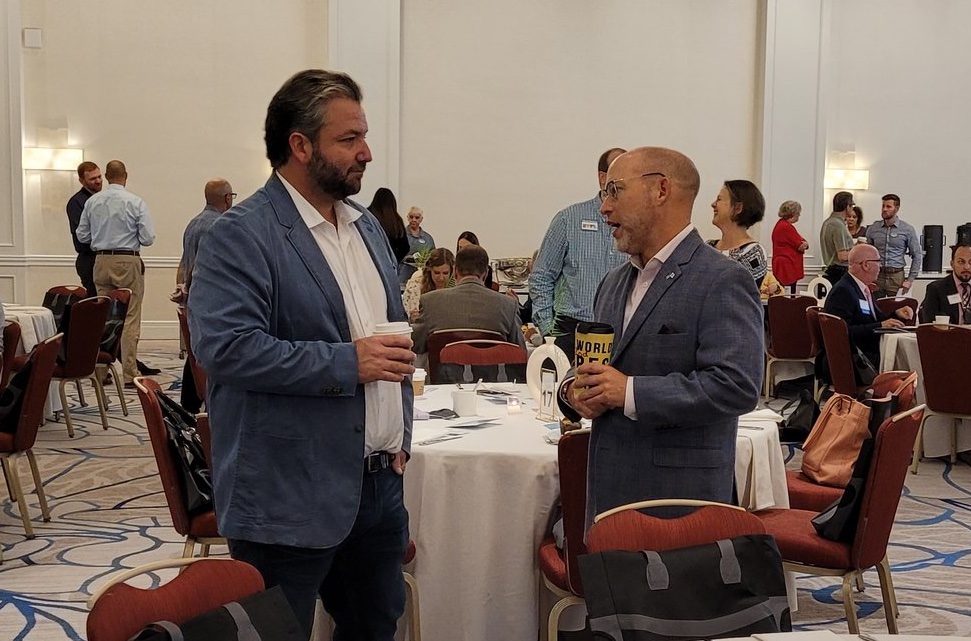 Workforce training and talent retention provided major subjects for discussion.
Business leaders and Florida lawmakers gathered in Estero to discuss Southwest Florida's greatest policy challenges. SWFL Inc., a chamber servicing Lee and Collier counties, hosted the State of the Region event at the Hyatt Regency Coconut Point.
Joshua Goergen, government affairs manager for SWFL Inc. and a former legislative staffer, said businesses through the coastal community have dealt with challenges both hiring and housing skilled workers.
"How can we as a community bring more housing for our workforce?" Goergen said. "And how we do that is really getting the local governments involved and trying to say, 'hey, we need a way for you guys to look in your comprehensive plans and your land development code.'"
From there, speakers touched on state policy, planning decisions and how elected leaders can address challenges.
Department of Economic Opportunity Secretary Dane Eagle said Florida should be in better shape than most of the nation, in part thanks to a lingering advantage created by Gov. Ron DeSantis pushing to reopen earlier than most places around the world during the 2020 COVID-19 pandemic. He said the state now hopes to improve the situation with workforce development programs, rural broadband and other measures.
In a video speech, Chief Financial Officer Jimmy Patronis also boasted of economic growth. "We get nearly 900 people each day moving to the great state of Florida because of the amazing opportunities we provide," he said.
But experts noted it's not always easy for those people to find a place to stay. Elected officials said it's a challenge that needs to be addressed with immediacy.
Of note, SWFL Inc. Executive Director Tiffany Esposito could not attend. Having recently won a GOP Primary in House District 77, she was called to Tallahassee by the Speaker's Office, Chamber officials said.
Rep. Lauren Melo, a Naples Republican and a Realtor, said she was impressed by presentations on ways dead retail areas have been converted around the country into affordable housing and hopes to see something here.
"It has to do with our local elected officials who designate these zoning areas," Melo said. "But I think there's also room for partnership. I think that we as state elected officials need to partner and figure out how we can all come to the table and come up with some ideas and create that partnership between the state and the local elected officials to come up with some solutions."
She was recently appointed to the CareerSource Florida board of directors and plans to tackle such issues on multiple fronts. But even at the event, she spoke to leaders of the Hyatt Regency who said they cannot fill job vacancies because no one can afford to live near the Southwest Florida hotel.
Rep. Kaylee Tuck, a Sebring Republican, works as a land-use lawyer. She said for too long, Florida leaders provided incremental changes to address problems like affordable housing. But particularly in her rural Heartland district, greater strides are needed now.
"We made some changes to where affordable housing can be in terms of zoning and I'd like to see a little bit more done because, especially like my area, they don't have a ton of apartments or housing other than single family," she said. "Affordable housing is becoming a major issue, especially when most of our workforce is teachers, police officers and those that can't really afford a huge down payment on anything like that."
Rep. Adam Botana, whose Bonita Springs-centered district hosted the event, said the problems around his coastal constituency involve high-priced communities that need workers serving residents. His own family marina sees employees drive 40 minutes from Cape Coral for a daily commute.
"It's not just the people, but frankly the employers, who are having problems finding people where the work is because it's so expensive to live here," he said.
Lee County Commissioner Kevin Ruane, a former Sanibel Mayor, said he has tried to work directly with Mayors around the county to emulate best practices from other communities. In Sanibel, a nonprofit was established to manage creation of affordable housing options on land provided by the city, for example. "If we were able to do it in Sanibel with land value there, everyone should be able to do it," he said.
Regardless of the challenges ahead, Rep. Spencer Roach, a North Fort Myers Republican, felt confident Florida would power ahead and find answers.
"We seem to be this economic model now where there is Florida, and then there is everybody else," he said. "We seem to be doing good as far as producing jobs and economic opportunities, but where we are challenged is finding that workforce to fill those jobs."