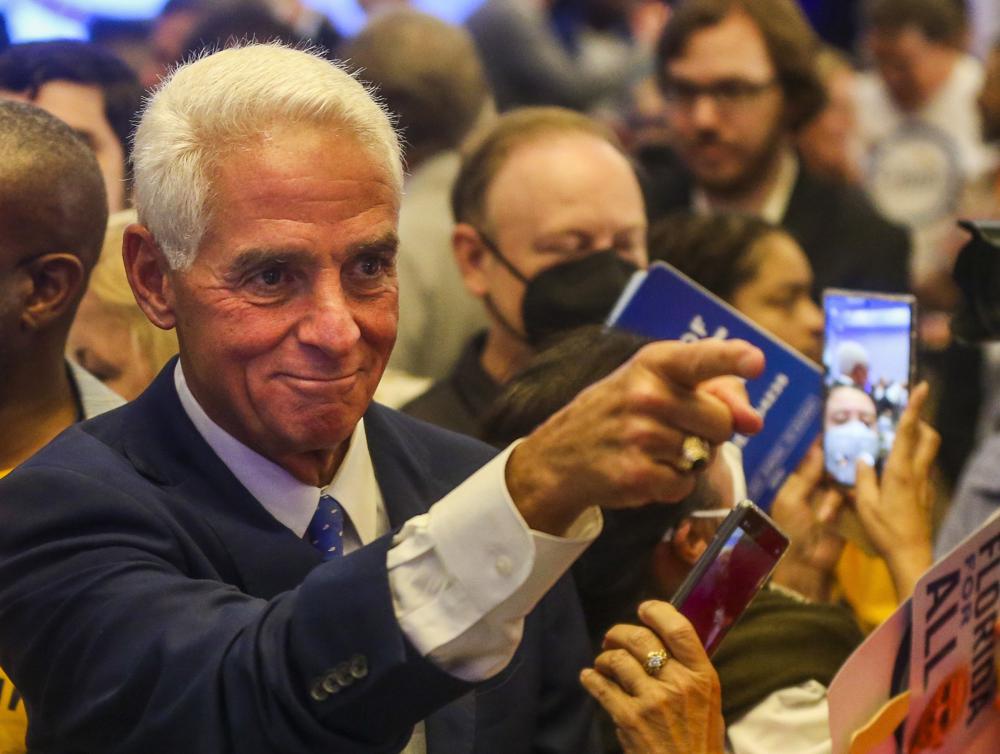 He attended the inaugural Blue Gala in 2013 as then-new member of the Democratic Party.
The full roster of current and former elected leaders speaking this year at the Miami-Dade Democratic Party's 2022 Blue Gala isn't out yet, but the man hoping to lead progressives statewide after Election Day is now a lock for the event.
On Wednesday, gubernatorial candidate and former U.S. Rep. Charlie Crist confirmed he will be among the speakers at the Blue Gala Sept. 9 at the Miami Beach Convention Center.
Word of his participation came four days after he selected United Teachers of Dade President Karla Hernández as his running mate and mere hours after he resigned from Congress to focus on the Governor's race.
In a statement accompanying the Blue Gala announcement, Crist took aim at Gov. Ron DeSantis, whom he hopes to unseat Nov. 8.
"Under Gov. DeSantis, Miami-Dade, like much of Florida, is facing an affordability crisis. Yet, we have a Governor who doesn't care. He'd rather inflame culture wars, attack a woman's right to choose, and take away our freedoms than address the real issues impacting everyday Floridians," he said.
"That's why this November, Floridians across the state will rally together to defeat Ron DeSantis — and build a Florida that truly works for everyone, not just the wealthy and connected."
Robert Dempster, Chair of the Miami-Dade Democratic Party, called Crist the progressives' "best chance to win back the Governor's Mansion in 2022" and their "best hope of stopping a Ron DeSantis presidential campaign before it begins."
"We know that Charlie Crist and Karla Hernández will fight for every vote in Miami-Dade County, and we are determined to support them every step of the way," he said.
The Blue Gala is a celebratory, fundraising and rallying event the Miami-Dade Democratic Party has annually since Nov. 17, 2013, when U.S. Rep. Joe Kennedy of Massachusetts delivered the keynote address.
Crist, at the time a new member of the Democratic Party, attended the inaugural event. He'd left the Republican Party the year prior after endorsing former President Barack Obama. He was also between jobs in elected office, having served as Governor from 2007 to 2011, and had just begun to mount a campaign to supplant then-Gov. Rick Scott the following year.
Based on comments from the 2022 Blue Gala's co-Chairs, Miami Gardens Sen. Shevrin Jones and Miami-Dade County Commissioner Eileen Higgins, much of this year's event will focus on tackling affordability issues and recent laws that disproportionately target minority and LGBTQ groups.
"Democrats are organizing this Gala so we can refocus our attention on the issues that matter to voters and (ensure) we have a strategy to win come November," said Higgins, who represents parts of Miami and Miami Beach and chairs the Transportation Steering Committee of the National Association of Counties.
"I've talked to Miami-Dade residents who are feeling the pain of our affordability crisis with the rising prices of everyday goods like gas, food and housing. Democrats at all levels of government are working to provide real relief for our residents while the other side is focused on a fake culture war."
Jones said he is fed up with "hateful laws" Republicans in the Legislature have passed recently, including one called Parental Rights in Education that restricts classroom instruction on gender and sexual identity. Critics have dubbed the measure, which has attracted legal challenges, "Don't Say Gay" for the chilling effect some teachers and members of the LGBTQ community worried it would have on efforts to include and recognize non-straight students.
"It's time for Democrats to stand up against Republicans and show Miami-Dade our vision for the future," Jones said. "We're ready to get our inflation under control, secure the rights and freedoms of everyone, and ensure every resident has the opportunity to thrive."
In its materials for the Blue Gala, the Miami-Dade Democratic Party notes it is moving to a year-round organizing model and needs "to raise funds like never before."
The 2022 Blue Gala is on Friday, Sept. 9, in the Sunset Vista Ballroom at the Miami Beach Convention Center. Doors open with a reception at 6 p.m. — cocktail attire required — followed by dinner from 7-9:30 p.m.
The event also includes the Blue Bash celebration from 8:30-11:30 p.m. with an open bar, dancing, music, dessert and speakers.
Tickets for the full Gala are $350; however, entry for the Blue Bash alone costs $75 apiece.